I have always enjoyed travelling the world to carry out on-the-ground research of unusual, and often exotic, investments. Back in 2006 and 2007, my travels inspired me to write two German-language books: Reisenotizen eines Börsenprofis ("Travelling Notes of a Stock Market Professional").
They became niche bestsellers in Germany and gained a bit of a cult following.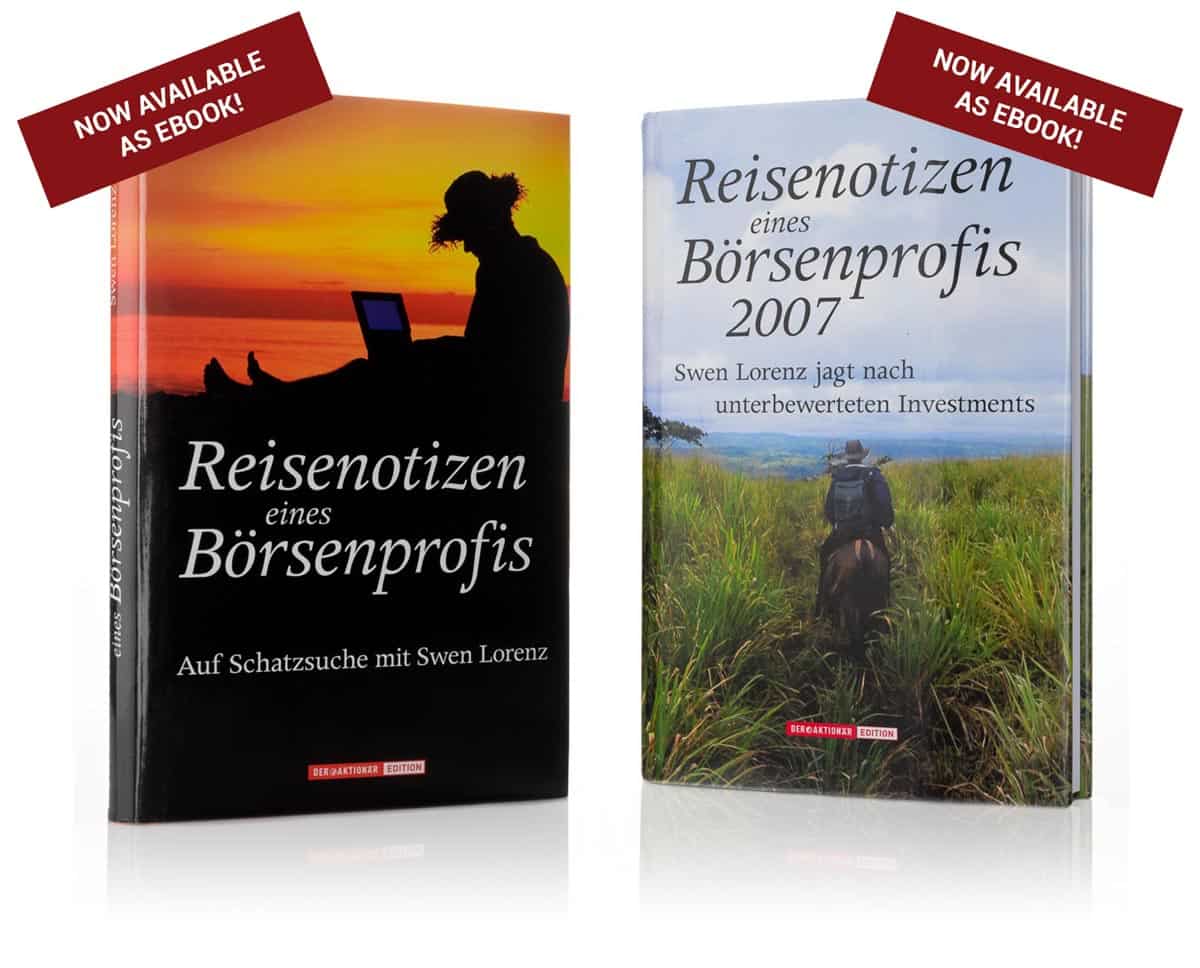 My two books from 2006/07
The hardcopies of the books are sold out and nowadays quite difficult to get hold of. The books retailed for EUR 24.80, and hard copies that surface on Amazon often ask for EUR 200. By arrangement with my publisher, I can now make the soft copies of the books available to readers of my blog. Please visit my web shop to buy them for USD 8.99 each.
Possibly the most exciting and lasting aspect of these two books are the "Special Editions" – a small print-run bound in exclusive, historical materials. The special editions have become true collectors' items.
Read on for details!
For the first Special Edition, I worked with London-based master bookbinder and craftsman Gavin Rookledge of Rook's Books to produce something truly unique using a material that was recovered from a centuries-old ship wreck.
Rook's Books created 130 copies of my 2006 book bound in reindeer hides from the wreck of the "MS Metta Catharina". This German freight ship had sunk in 1786, carrying some of the finest leather available in Europe at the time from tanneries in St. Petersburg. Incredibly, 200 years at the bottom of the ocean did not diminish the quality of these reindeer hides. When divers discovered them in the wreck in 1973, you could even still make out the stamps that the Russian tanners had applied to mark their product.
The reindeer hides were recovered during the 1980s, 1990s, and early 2000s. Eventually, all hides had been salvaged and that's when supply of these rare hides ended.
Some of these reindeer hides were purchased by leather goods makers in London's elite St. James's District. Prince Charles was known to have had a pair of shoes made out of the material, and similar products were usually sold for prices that reached thousands of British pounds.
My 2006 Special Edition is - to the best of my knowledge – the only finance book in the world bound in this material. It also uses particularly fine, handmade paper, and includes several historic fold-out maps which add further to its uniqueness.
About 100 copies of these books were sold in 2006, and a few leftover copies from my attic in autumn 2019. They sometimes appear on Amazon or eBay as collectible.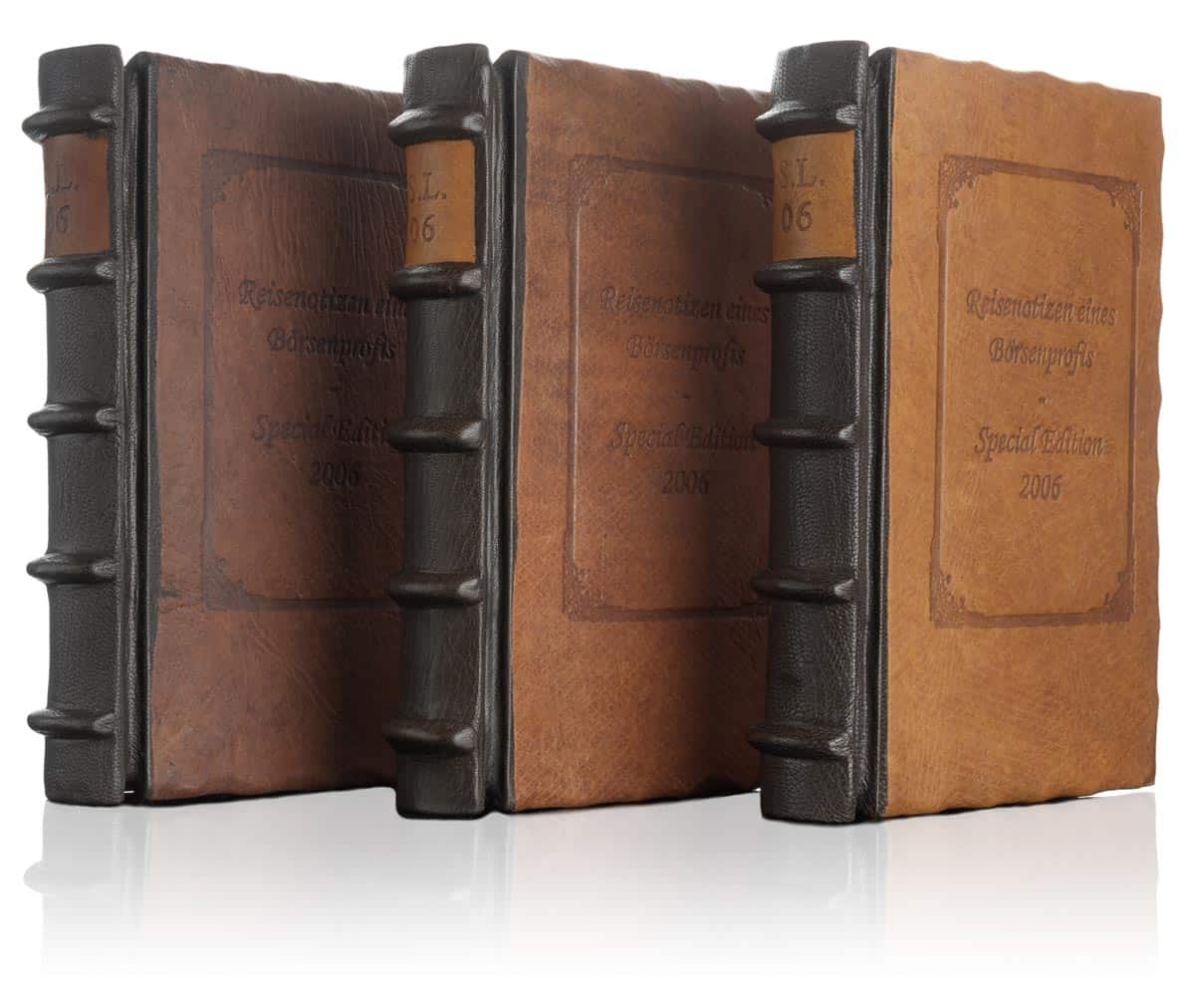 None of these books is exactly alike, due to the material used they are all unique
For the second Special Edition, I commissioned Karina Duebner, a German/Kazhak Princess and internationally renowned expert on antique Central Asian fabrics.
Together we sourced a collection of so-called suzani fabrics from Uzbekistan, i.e., from the heart of what used to be the legendary Silk Road. These suzanis were produced in the late 19th and early 20th century, often involving techniques that subsequently got lost. The pinnacle of an ancient textile art form, suzanis used to demonstrate the wealth and status of its owner. Many of them would have been given away as a dowry as part of wedding ceremonies.
Each of the suzanis used for my 2007 Special Edition is entirely unique. The printing and binding were once again handled by Rook's Books in London. This Special Edition, too, consisted of 130 books.
About 100 copies of these books were sold in 2007. In summer 2019, I unearthed two boxes of copies that I had kept in storage for future use - and forgotten about! I made these last available copies available to my readers. They sometimes appear on Amazon or eBay as collectible.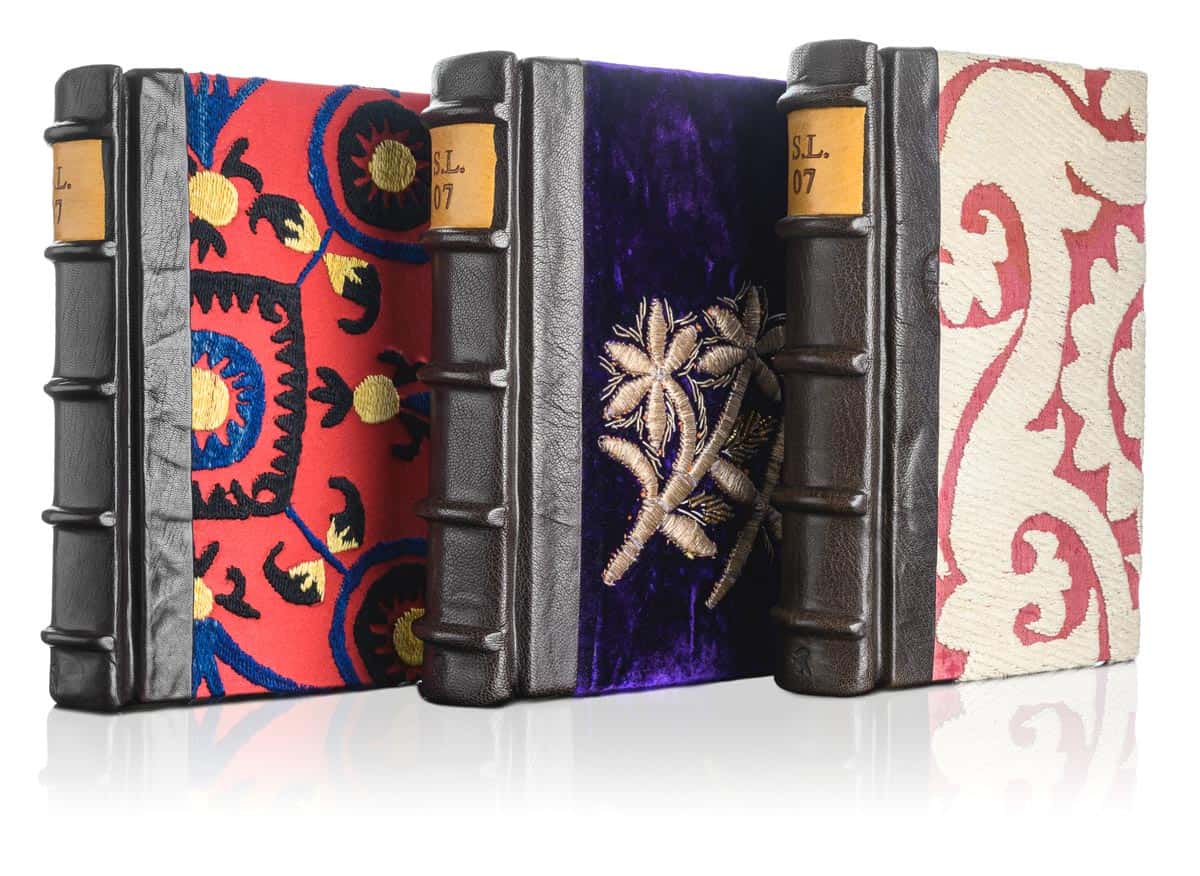 A small selection of the range of different Suzanis we used
Readers often ask me:
"Are you going to write another book?"
"Will this book be available in English?"
"If you write a book in English, will there also be a German version?"
The answer to all of this is "Yes" - and there'll be not just one new book, but three!
Book #1 (in 2021:) Discovering exciting investments around the world.
Book #2 (in 2022): Collected thoughts on investment strategy.
Book #3 (in 2023:) Trendspotting to predict the next ten years.
If you liked the books that I published in 2006/07, you'll will certainly LOVE these ones. I want them to be more than just my musings put into print, and I do have a number of ideas to make them extra special - hence "Special Editions".
Each book will be handmade, using rare, valuable materials, and only a limited number of these books will be made available.
The complete trilogy is now available to pre-order - and you can even participate in its making.
If you pre-order now, you'll get the chance to help create a set of outstanding books, learn something new, network with other investors, and add a valuable collectible to your bookshelf.
If you aren't interested in actively contributing at all, you can of course still place a pre-order, and have the books delivered on publication. I'm planning to include one or the other timely investment idea, so getting them early might also turn out profitable.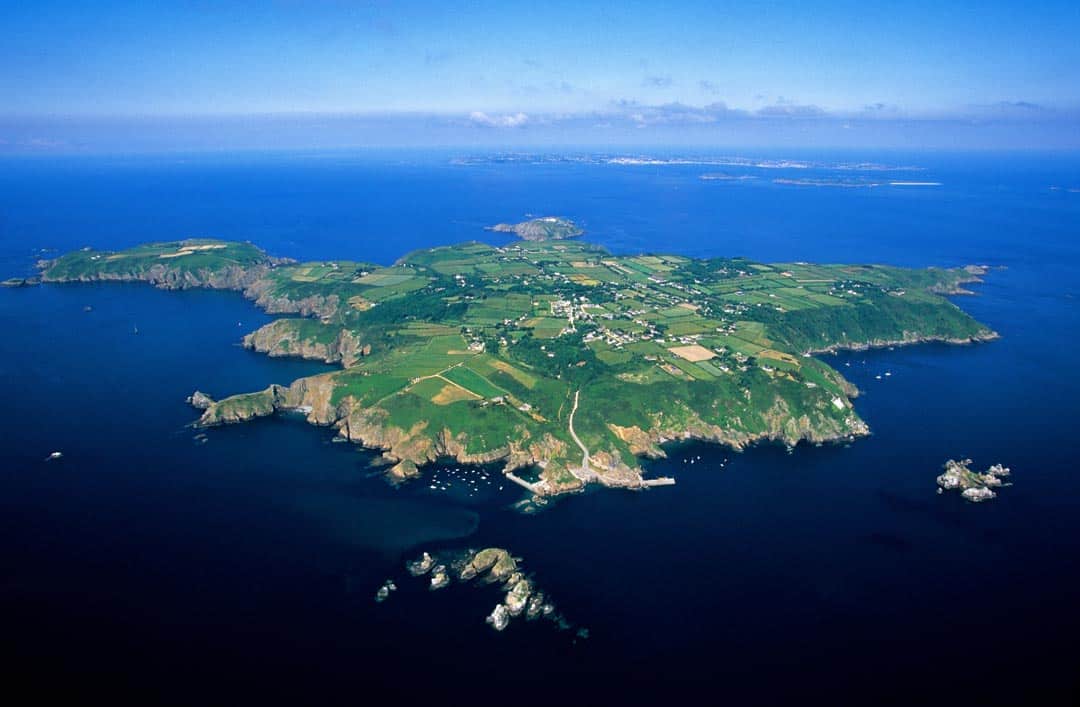 For those who want to combine an exciting investment with the possibility of a lifestyle change (now, or later), Sark is worth looking at.
In many ways, the tiny island in the English Channel is the investment opportunity of a decade.
As a self-governing, debt-free, low-tax jurisdiction, it's also the ideal "Plan B".
Anyone (irrespective of nationality) can buy property on Sark for investment purposes. The current real estate price level is similar to Zone 3 in London, and there's probably only going to be one direction during the 2020s: up.
Sark real estate prices will likely increase by a factor of three, for a start. Prices on the neighbouring island, Guernsey, are already at a much higher level. A country estate on Guernsey will set you back between GBP 5m and GBP 10m, compared to GBP 1.5m to GBP 2m on Sark. Even investors from Guernsey have now started to recognise the arbitrage opportunity. Sark prices are bound to equalise.
Do you want in?
In ten years, anyone who owns something on Sark should be very happy.
If you want in, I recommend you check out "How (and why) to move to Sark". The second edition of my handbook includes a revised and expanded chapter on real estate investments. That's all the information you'll need to investigate this opportunity further and make it happen for yourself.
You can now order this second edition (including a support package) for USD 699 (GBP 499 / EUR 599).