Investing in Turkey:
Seismic changes after the election?
INVESTOR TRIP TO ISTANBUL
24-26 May 2023
Times of change for Turkey
Some hands-on, real-life research on the country's investment opportunities.
15 Undervalued-Shares.com readers and myself embarked to Turkey at a time of potentially significant political change – the presidential elections taking place on 14 May 2023.
Our visit was designed to:
Have Turkish companies present their investment case to us.
Learn about Turkey in general – economy, politics, and people.
Meet like-minded individuals.
Over three intense days of nonstop fact-finding, we looked at several promising companies, learned about the difficulty in accessing Turkish stocks, and got quite some illuminating insights into Turkey's changing economic landscape. It was a mind-expanding (and fun!) trip, which allowed us to hear (and see) a different set of narratives than the ones usually presented by much of the mainstream media.
Times of change for Turkey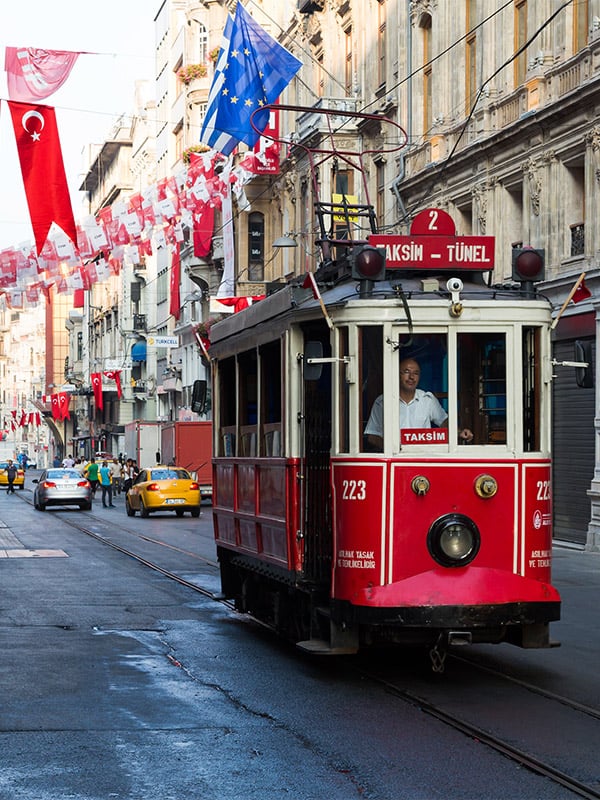 Image: M101Studio / Shutterstock.com
The group
15 participants from the UK, Germany, Cyprus, Austria, the US, Channel Islands, and Australia – all with a professional background, such as fund management, family office, HNWI investor, equity analyst, or similar.
The activities
We took a curious look at the Turkish market just ahead of its major elections.
Does the country provide a favourable environment for investors, despite its issues and risks?
What are the Turkish companies worth taking a closer look?
Our visit entailed meetings with publicly listed companies across a range of industries, as well as local experts, investors, and entrepreneurs. High-quality access was ensured through local contacts.
Not only did the personal presentations by C-suite executives prove hugely informative, we also learned a lot about the equity market in general, as well as Turkey's growth potential.
Outside of the immediate investing aspects, we got some broader insights into Turkey's changing economic landscape. The expensive parts of Istanbul oftentimes felt more vibrant – and pleasant – than some cities in the Western part of the Mediterranean!
As always with such trips, there was no shortage of fun activities, too. The group quickly bonded over dinner and drinks, and everyone made valuable new professional contacts, and new friends. As one participant put it: "If someone had told me before I left to come here that being in the company of such an amazing group of people with such impressive and inspiring individual stories would've been an even bigger enjoyment than all the company meetings, I would not have believed them - but it absolutely was."
The companies
We listened to presentations by the following firms:
Akbank
One of Turkey's largest banks
ISIN TRAAKBNK91N6, IS:AKBNK
Coca Cola Içecek
Beverages producer
ISIN TRECOLA00011, IS:CCOLA
Mavi Giyim Sanayi Ve Ticaret
Denim and jeans-wear brand
ISIN TREMAVI00037, IS:MAVI
Migros Ticaret
Turkey's leading supermarket chain
ISIN TREMGTI00012, IS:MGROS
MLP Care / MLP Saglik Hizmetleri
Turkey's largest private hospital group
ISIN TREMLPC00021, IS:MPARK
Sabanci Holding
One of Turkey's leading holding companies
ISIN TRASAHOL91Q5, IS:SAHOL
TOFAŞ
Automobile manufacturer
ISIN TRATOASO91H3, IS:TOASO
ÜNLÜ & Co.
Turkey's leading provider of investment advisory and asset management products
ISIN TREUNCO00023, IS:UNLU
What participants said
How does Turkey stack up from the perspective of foreign investors?
Here's what participants thought after three days of deep-diving into the country.
"Wait for another steep devaluation of the Turkish Lira, and then prepare to strike."
"Some individual stocks could do really well. ÜNLÜ could perform very strongly when foreign investment flows into Turkey again."
"Turkey is interesting to learn how banks and other companies can navigate inflationary times. Maybe we all need to learn from them given what's happening in Europe and the US right now."
"Strong growth from eager consumers makes up for a lot of the other sins."
"The strong interest from domestic investors has led to Turkish stocks currently being not as cheap as you'd think."
"Because of the high inflation rate, it is VERY difficult to make any sense of the figures published by Turkish companies."
"It's remarkable that despite the well-known difficult situation of the Turkish economy, these companies just accept the externalities for what they are and deal with them."
"Turkey is a place for diversifying some of your wealth away from Western welfare states."
Interested in similar events?
"When do you do another such trip? Where to?", was one of the questions that came up during the visit.
There will indeed be more such trips, and they will all be published on this website.
Don't forget: as a Lifetime Member, you always get priority booking!