Equities in Poland:
Undervalued and awaiting discovery?
INVESTOR TRIP TO WARSAW & KRAKOW
16-19 September 2020
Europe's overlooked growth champion
Discover an up-and-coming European destination for equity investments. Discover Poland!
Poland's stock market features nearly 800 listed companies. It is one of the cheapest equity markets not just in Europe, but worldwide!
Few investors know of the country's successes:
30 years of consecutive economic growth.
First Eastern European country to have achieved "developed country" status.
Second-fastest ever rise from poverty to high-income (behind South Korea).
They have been missing out on:
Some hidden gems that have already taken off. E.g., CD Projekt (game developer) up 600 times since 2008.
Next-generation companies in sectors such as IT, biotech, healthcare.
Lots of discovery potential (less than 20% of Polish equities are covered by research).
Which companies should investors look at right now?
You will soon be able to find out! Join me and a group of fund managers and private investors from the UK, Germany and Finland (among others) as we embark on a four-day trip to Warsaw and Krakow this summer (16-19 September 2020).
Get a deeper understanding of the Polish market, look at several promising companies, and enjoy some local experiences as well as networking with likeminded individuals all at the same time!
Europe's overlooked growth champion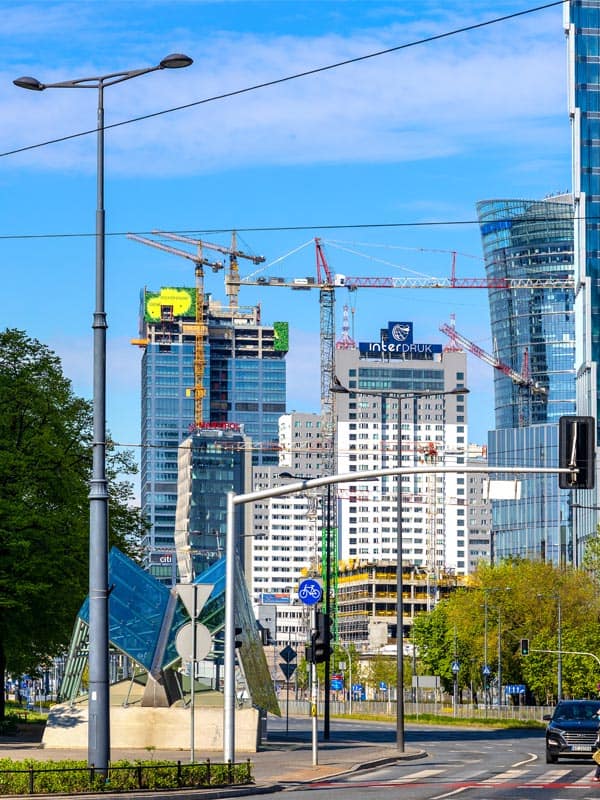 Image: ArtMediaFactory / Shutterstock.com
A packed four days to showcase Poland at its best - both economically and culturally.
Day 1 - 16 September 2020 (Wednesday)
Drinks and dinner at a traditional, upmarket restaurant in Warsaw's Old Town.
Brief intro talk: "Why now is a good time to look at Polish equities – the three driving factors for the next years" (speaker tbd)
Anyone who arrives early enough in Warsaw is advised to get to the Old Town earlier and explore the neighbourhood, which is one of the city's main tourist attractions. Interesting sights include the Royal Castle, the incredible antiques shop Lapidarium Antyki, the market stalls in the iconic Old Town Square, and the many traditional pubs and ice-cream parlours sprinkled around the area. The entire neighbourhood can easily be explored by foot.
Day 3 - 18 September 2020 (Friday)
Morning session in collaboration with IPOPEMA Securities. 
Company presentations in the meeting rooms at the Raffles Hotel.
25-minute slots with six companies (mixture of small/mid/large-cap companies).
Confirmed list of companies include LiveChat, 11 bit studios, and GPW (Warsaw Stock Exchange). 
Light lunch with further presentation about the equity market of Poland (details tbd).
Participants can choose between one of the following options (or mix both):
Option #1
Visit to the POLIN Museum of the History of Polish Jews (modern) and/or Warsaw Uprising Museum (traditional). Both are highly recommended, and can be accommodated in one quick visit (they are within a short taxi drive of each other). Alternatively, Nowy Swiat offers a relaxing stroll among Warsaw's top designer boutiques and elegant cafés.
Option #2
Visit to a shooting range with an insane selection of weapons. In Poland, anyone can fire any weapon provided they are with a supervisor. Limited availability, needs pre-booking with time slots. Possibility to visit one museum (see option #1), followed by the shooting range (10-minute taxi drive from the city centre).
Drinks and dinner at the Warsaw Soho Factory, one of the city's 24/7 restaurants operated by its best-known chef. Option to end the evening with a short walk and a nightcap in nearby Praga, the "other side" of historic Warsaw to the East of the Vistula river. It is nowadays home to hipster cafés, co-working spaces (including Google Campus), and start-ups.
Day 4 - 19 September 2020 (Saturday, optional)
Guided tour of Krakow's Old Town, including Wawel Castle. Both are UNESCO World Heritage Sites.
Low-key lunch in a local, historic restaurant near the Jewish quarter.
Guided tour of the Wieliczka Salt Mine, another UNESCO World Heritage Site.
Return to Warsaw in the late afternoon, with no fixed plans for Saturday evening. We can split up in groups and everyone does what they fancy. Options include:
Visit to the Pinball Machine Museum for an evening of gaming and drinks.
Dinner in Poznanska, the liveliest restaurant and bar area of Central Warsaw.
The infamous beerhall-style U Szwejka (also near Poznanska).
Those who want to visit Auschwitz should stay in Krakow for one night and visit the following day. Krakow also has its own airport with connections to many European cities.
What you should know before booking a flight to Warsaw.
Group size
Currently planned for a maximum of 33 guests. We have made preparations to be COVID-19-compliant.
The official language of the trip is English, though I expect at least 50% of participants will be from the DACH region.
Cost
EUR 725 p.p. for the Warsaw package:
Includes participation in all meetings, local transport, lunches, coffee breaks, as well as dinner/drinks on Wednesday/Thursday/Friday.
Add-on: EUR 225 p.p. for the day trip to Krakow:
Includes transport to Krakow, lunch, and tour guide.
Both packages exclude the activity on Saturday evening which will be spontaneously self-organised. Also not included are any transportation costs to/from Poland, as well as accommodation.
Payment by bank transfer at the time of booking.
Hotels
Because of the different preferences for the type and price of accommodation, everyone will have to arrange their own. Warsaw offers countless options in all price ranges.
Recommendations include:
Raffles Europejski Warsaw, the recently renovated Grand Dame of Warsaw hotels and the quasi-headquarter of the trip (trips leave from there). Rooms circa EUR 270 per night.
Hotel Bristol, exactly opposite the Raffles, 4 stars. Rooms circa EUR 190 per night.
Hotel Bellotto, 5 minutes by foot from the Raffles. Rooms circa EUR 170 per night.
Airbnb has a lot of high-quality offerings at all price levels in Warsaw.
Uber is recommended for transport (the 30-minute trip from the airport to Central Warsaw is just EUR 8).
Warsaw is completely safe (safer than many Western European cities).
Covid-19
Right now, nothing seems to be standing in the way of this trip. Needless to say, I would like to accommodate any individual concerns as much as possible.
Hotels in Warsaw can easily be booked with free cancellation up until 24h before arrival. Airlines currently offer a lot of additional flexibility with flight tickets.
If you cancel your participation in my activities up to 14 days before the trip, I can offer a 50% refund. From 00:00am on 1 September 2020, no refund is possible.
For anyone who cancels, I will endeavour my best to find a paying replacement. If successful, you will get 100% of your payment reimbursed.
If travel restrictions issued by the Polish government came in the way of the event, the trip will be moved to a new date.
Please don't hesitate to contact me for any specific questions or concerns.
Video
A professional videographer will join parts of the trip, to produce one or two short videos for Undervalued-Shares.com. All participants agree that they might appear in the video (as well as in some social media posts that some participants might share).
All the details, summarised in one handy document.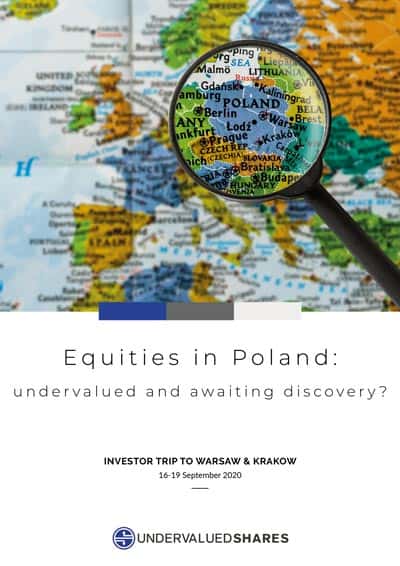 This trip is fully booked. If you are interested in similar events, please let me know and I'll keep you in the loop.