Equities in Poland:
Undervalued and awaiting discovery?
INVESTOR TRIP TO WARSAW & KRAKOW
16-19 September 2020
Europe's overlooked growth champion
Discover an up-and-coming European destination for equity investments. Discover Poland!
Poland's stock market features nearly 800 listed companies. It is one of the cheapest equity markets not just in Europe, but worldwide!
Few investors know of the country's successes:
30 years of consecutive economic growth.
First Eastern European country to have achieved "developed country" status.
Second-fastest ever rise from poverty to high-income (behind South Korea).
They have been missing out on:
Some hidden gems that have already taken off. E.g., CD Projekt (game developer) up 600 times since 2008.
Next-generation companies in sectors such as IT, biotech, healthcare.
Lots of discovery potential (less than 20% of Polish equities are covered by research).
Which companies should investors look at right now?
30 Undervalued-Shares.com readers and myself embarked on an investor trip to Warsaw and Krakow to find out.
Over a packed four days, we got a deeper understanding of the Polish market, looked at several promising companies, and enjoyed some local experiences as well as networking with likeminded individuals all at the same time!
Europe's overlooked growth champion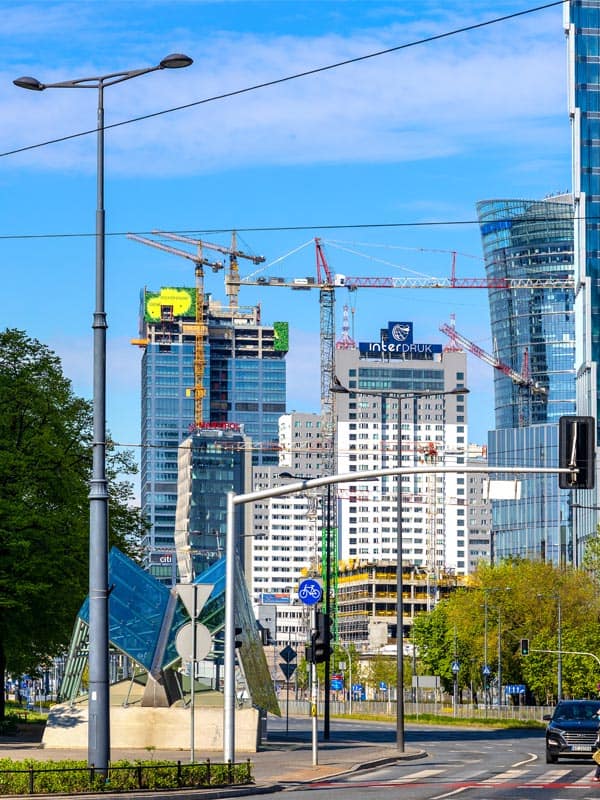 Image: ArtMediaFactory / Shutterstock.com
The group
30 participants from the UK, Germany and Finland (among others) – a healthy mix of fund managers and private investors.
The partners
Many thanks to
who helped organise presentations from a dozen listed companies, as well as background talks about the entire Polish investment landscape.
The activities
Discovering Poland as an up-and-coming European destination for equity investments was key.
What are the Polish companies that investors should look at right now?
A dozen companies – a mixture of small/mid/large-cap firms, predominantly from the tech and high-growth industries – presented their investment case. Some very promising candidates indeed!
We also got plenty of insights into the Polish private equity market and its future outlook.
Besides the informative part, some fun was had, too! Museums, shopping or shooting range – the group's cultural needs were surely met. Over dinner and drinks at some of Warsaw's finest establishments, new friendships were made, and new professional relationships forged.
The presentations
We listened to presentations by the following firms (download their investor presentations by clicking on the corresponding links):
Comp Capital Group (PDF, 2MB)
IT security solutions for the retail and service sector, EUR 80m market cap
ISIN PLCMP0000017
GPW (PDF, 1MB)
Operator of the Warsaw Stock Exchange, EUR 421m market cap
ISIN PLGPW0000017
LiveChat (PDF, 4MB)
Chat software that supports sales and customer service, EUR 520m market cap
ISIN PLLVTSF00010
PBKM Polski Bank Komórek Macierzystych (PDF, 1MB)
Stem cell bank, EUR 164m market cap
ISIN PLPBKM000012
Playway (link to corporate website)
Developer and producer of video and mobile games, EUR 775m market cap
ISIN PLPLAYW00015
Pure Biologics (PDF, 6MB)
Development of biological drugs and therapeutical medical devices, EUR 28m market cap
ISIN PLPRBLG00010
Selvita (link to corporate website)
Laboratory research and development services, EUR 169m market cap
ISIN PLSLVCR00029
Synektik Group (PDF, 3MB)
Producer of radiopharmaceuticals and IT solutions, EUR 43m market cap
ISIN PLSNKTK00019
Ten Square (PDF, 1MB)
Developer of "free to play" games, EUR 926m market cap
ISIN PLTSQGM00016
Vigo Systems (PDF, 2MB)
Production of uncooled, photon infrared detectors, EUR 92m market cap
ISIN PLVIGOS00015
This 2-minute summary video gives you a first impression of what we were up to.
The Polish investment landscape
Would you have known that almost 800 Polish companies are publicly traded?
Watch my interview with Adrian Kowollik, Managing Partner of East Value Research, for the ins and outs of the Polish market.
Poland's new pension system
Could the launch of "PPK" provide the crucial spark for the undervalued Polish equity market?
I've interviewed Łukasz Jańczak, Deputy Head of Equity Research of IPOPEMA Securities, to find out.
Value among venture capital and private equity investments
Would you have known that the world's best bicycle comes from Poland?
Watch my interview with Maciej Kraus, Managing Partner of Movens Capital, to discover investment opportunities outside the public company space.
30 years of economic changes in Poland
How has Poland's economy developed over the past three decades?
I've interviewed Andreas Männicke, founder of East Stock Informationsdienste, to get his unique perspective (note: this video is in German).
Interested in similar events?
The investor trip to Poland wasn't my first trip for Undervalued-Shares.com readers – far from it. And it certainly won't be the last!
Any potential future trips will be published on this website. (And don't forget: as a Lifetime Member, you always get priority booking!)