"My readers regularly benefited from stories that I broke earlier; dug into deeper; drew unconventional but prescient conclusions from."
"My readers regularly benefited from stories that I broke earlier; dug into deeper; drew unconventional but prescient conclusions from."
My name is Swen Lorenz. I've launched Undervalued-Shares.com to serve as an inspiration and research resource for other investors.
Here is what this website provides:
Easy-to-invest opportunities
A focus on liquid, well-known companies that anyone with a brokerage account can easily buy and sell (with the very occasional small-cap share or alternative asset class thrown in).
DIY investing
A philosophy based on private investors taking charge of their own investments, instead of paying a lot of fees to – mostly mediocre – financial services companies.
Community
A network of investors around the world, i.e., not limited to any country or area.
My trademark product is extensive, investigative research reports. Hard-hitting, more exclusive and more useful than anything you will likely find on other websites. Available for an absolute steal, at USD 49 per year for an Annual Membership, or as part of my more extensive USD 999 Lifetime Membership package.
I also publish a free weekly column. My Weekly Dispatches provide observations about markets, investments, and random other subjects. They will teach you new investment strategies, and give you new ideas that you can research further.
Everything you find on this website has been written by myself. What you get is 100% genuinely me.
It is solely and entirely your own responsibility to make investment decisions. Please read my disclaimer to be clear about what this website can (and cannot) deliver.
My website does not provide specific investment advice, and you will have to make your own investment decisions.
NB: If you are more interested in management related subjects, I recommend my other blog, swen-lorenz.com, which is aimed at entrepreneurs and people interested in financial independence.
I am entirely open to collaborations, provided they make sense for both parties and are in line with my brand values.
If you are interested, we can discuss:
Interviews and discussions (written or on video).
Speaking engagements (including at universities).
Joint events for readers.
I also offer an affiliate marketing programme with attractive conditions.
Please do not hesitate to drop me a line to discuss any ideas or questions you have. I reply to every email personally.
Find below a selection of media reports about my work in the world of investing.
Interview with Germany's "Börsen Radio Network"
Global search for investment ideas 
BRN is Germany's #1 talk radio channel for investors, and has been broadcasting for over 20 years. Swen talked to Sebastian Leben about his quest to find investments around the world, his recent research trip to the US, and his current view of Gazprom. Listening to the interview requires a registration, which is free and takes less than a minute.
In spring 2019, I researched frontier investing in Uzbekistan. This used to be as closed-up a country as North Korea, and I was part of one of the first investor trips there. The Financial Times reported about our trip and I briefly appear in the video - it's fun to watch!
A feature-length article in the Financial Times about Uzbekistan and the investments that are now available in the country. In the paywalled article (free for FT subscribers), I briefly state why now is the time to look at this particular frontier market.
The Dutch "Telegraaf", the Netherland's largest daily newspaper, picked up on my research about a take-over situation on the Amsterdam stock exchange. The article doesn't offer anything new in itself, but it's good to see how far and wide some of my research travels.
(PDF - 393KB)
Germany's "Smart Investor", which I consider the highest-quality German investment magazine, reported extensively about Gazprom. The article, titled "Gazprom - probably the world's cheapest share" quoted my research. The magazine is for subscribers only but can be purchased as a single copy on www.smartinvestor.de.
Relaunch of Master Investor Show
The Master Investor Show was relaunched under my leadership. This is a 3 minute summary video of the event.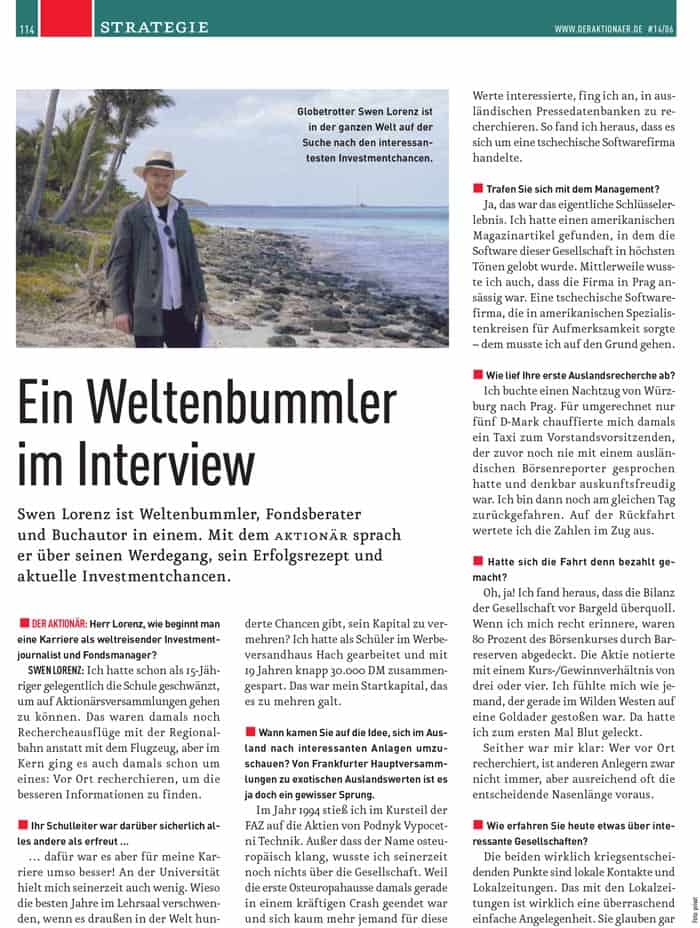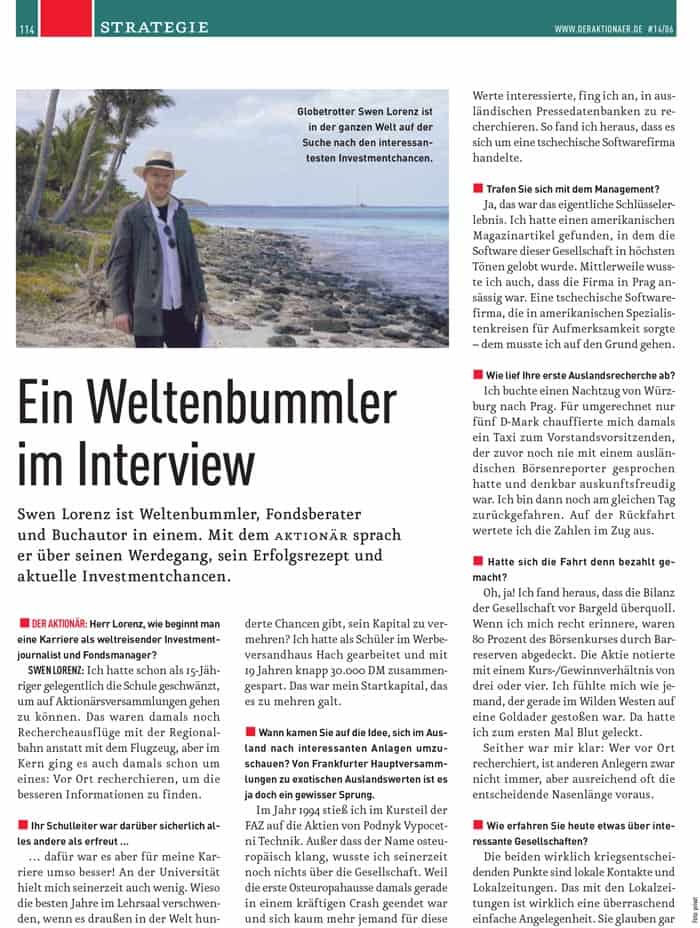 Leading German investment magazine, Der Aktionaer, interviewing me about my travelling and how I find interesting investments along the way. This is 2006 vintage but the approach hasn't change since then. I have been at this for a while!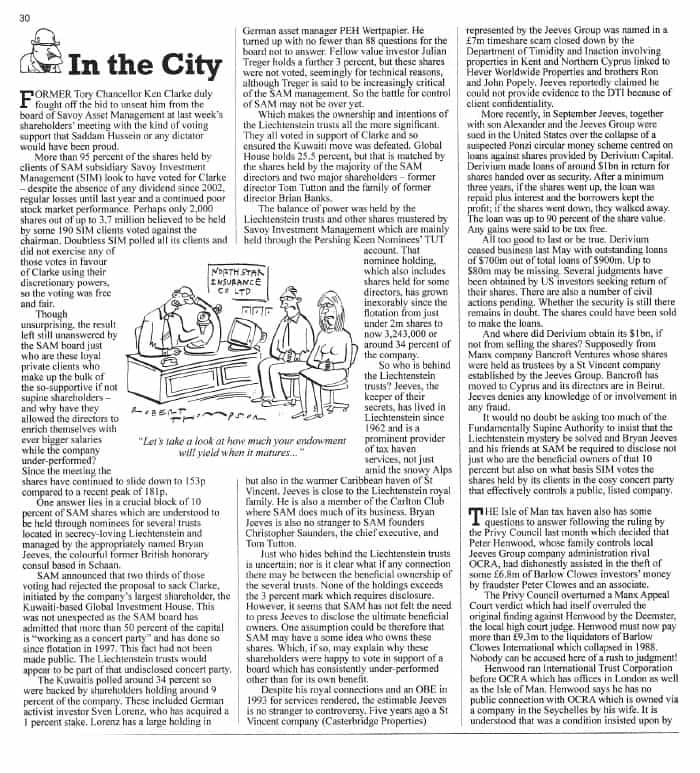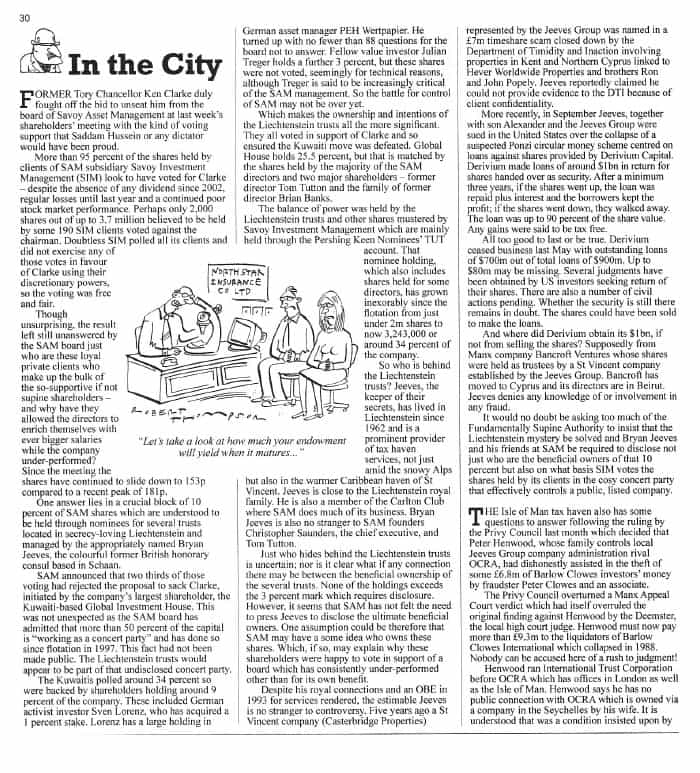 The UK's no. 1 satire magazine published an investigative report about the hostile take-over attempt at Savoy Asset Management, which had the backing of Kuwait's ruling family. I was involved on the side of the shareholders that pressed for changes. Savoy subsequently fled into the arms of a White Knight, which resolved the issues in a lucrative way.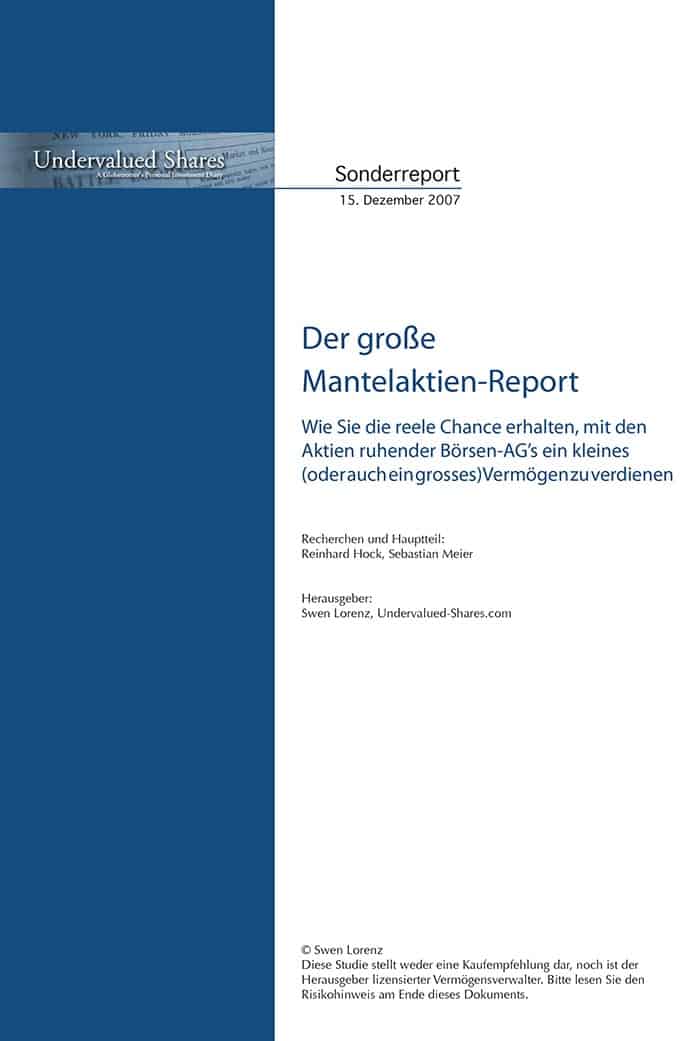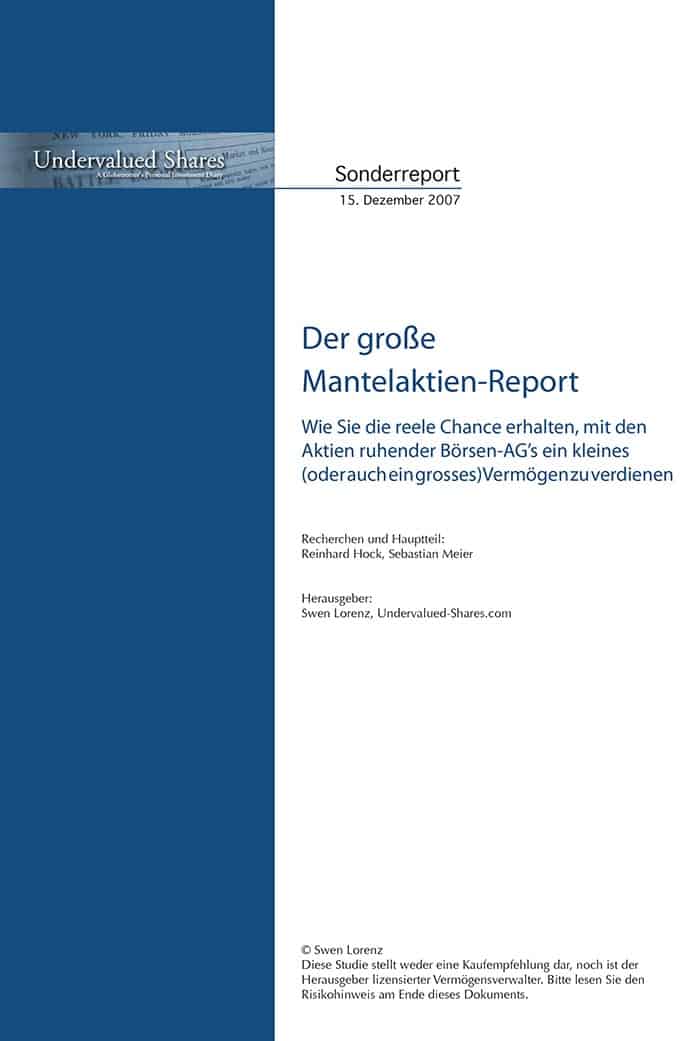 In 2007 I published the most extensive ever report on listed shell companies in Germany. A corporate finance firm keeps it on their website as reference material.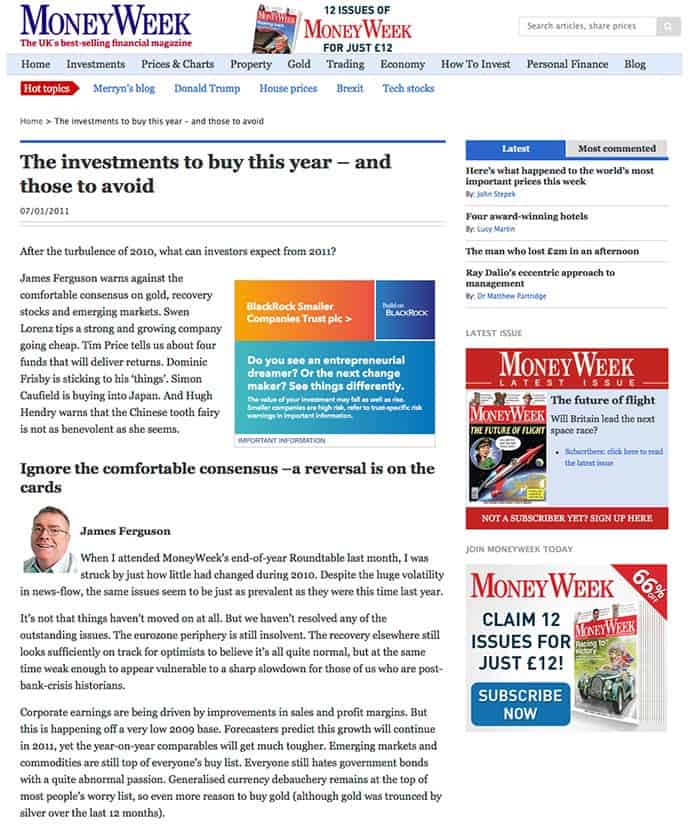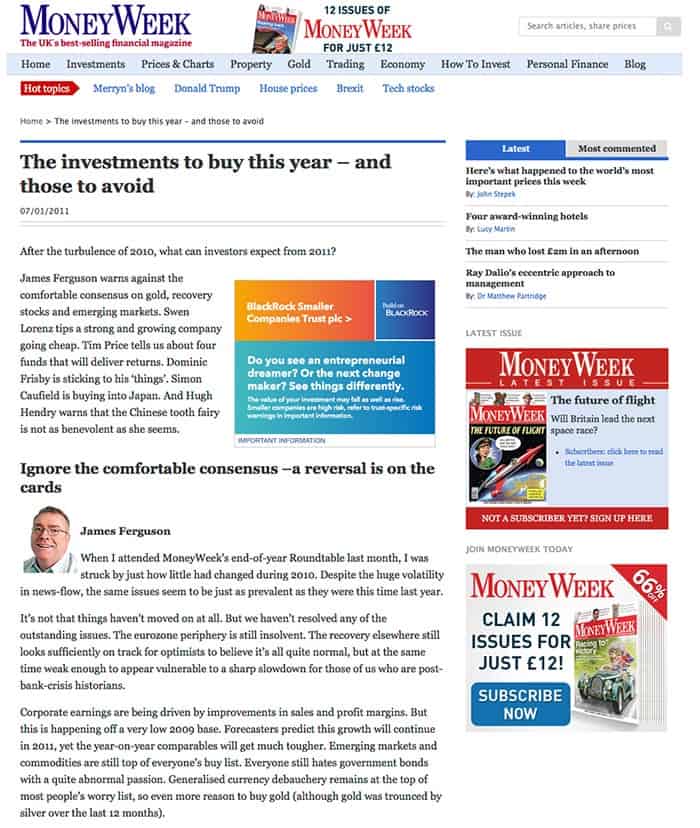 UK investment magazine, MoneyWeek, invited me to their year-end roundtable where each expert had to introduce one share.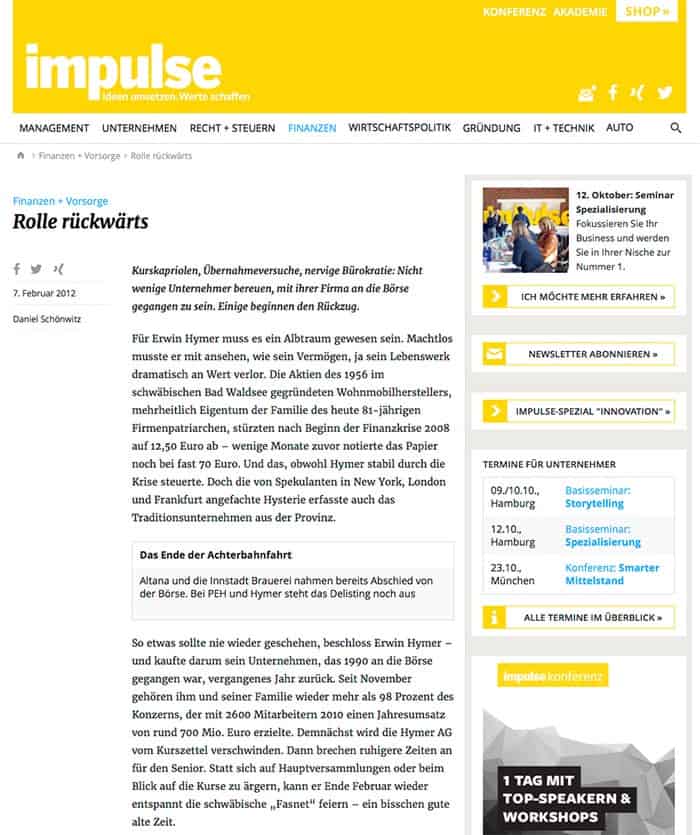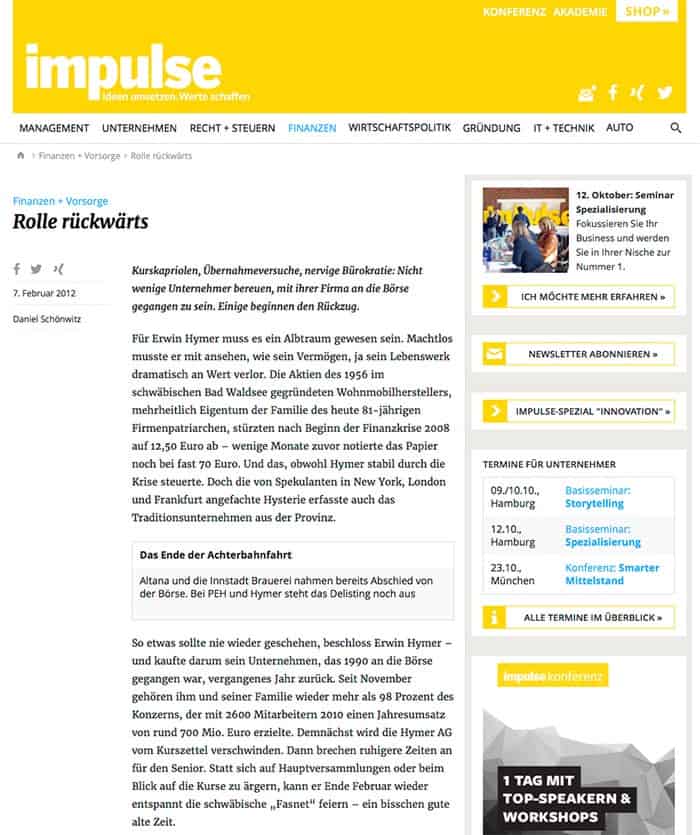 German business magazine Impulse calling me a "controversial investor". A public company had asked to investigate an activist attack I had staged. All accusations, which the mainstream media distributed widely without ever (!) speaking to me, were later proven baseless.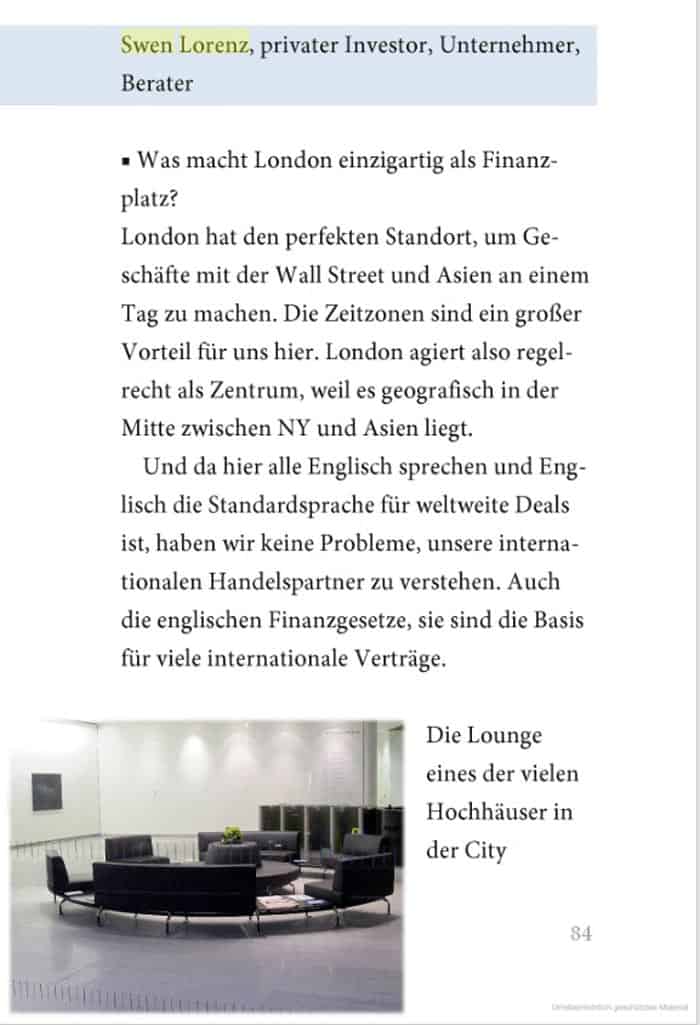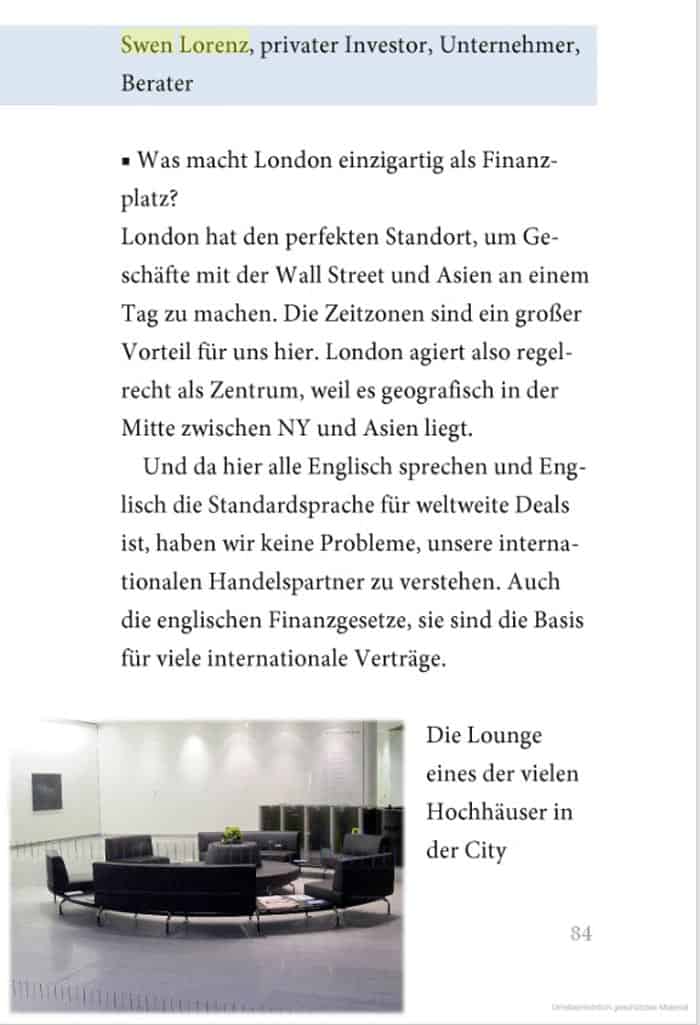 How Londoners view their financial market
A German academic book "How Londoners view their financial market - Voices from the City" interviewing me about my views of just that, i.e. how does London fare as financial centre.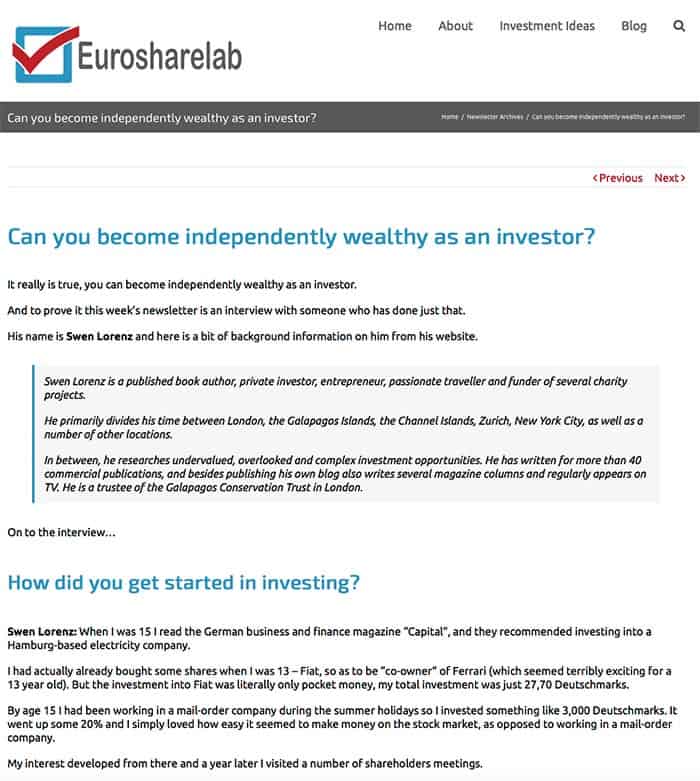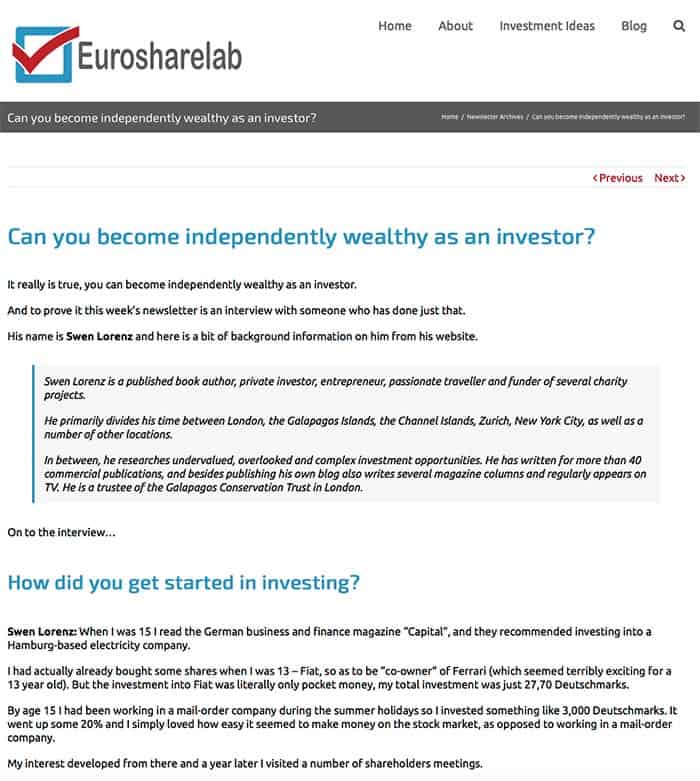 "How to become independently wealthy as an investor", a fun higher-level interview with the brilliant author of Eurosharelab.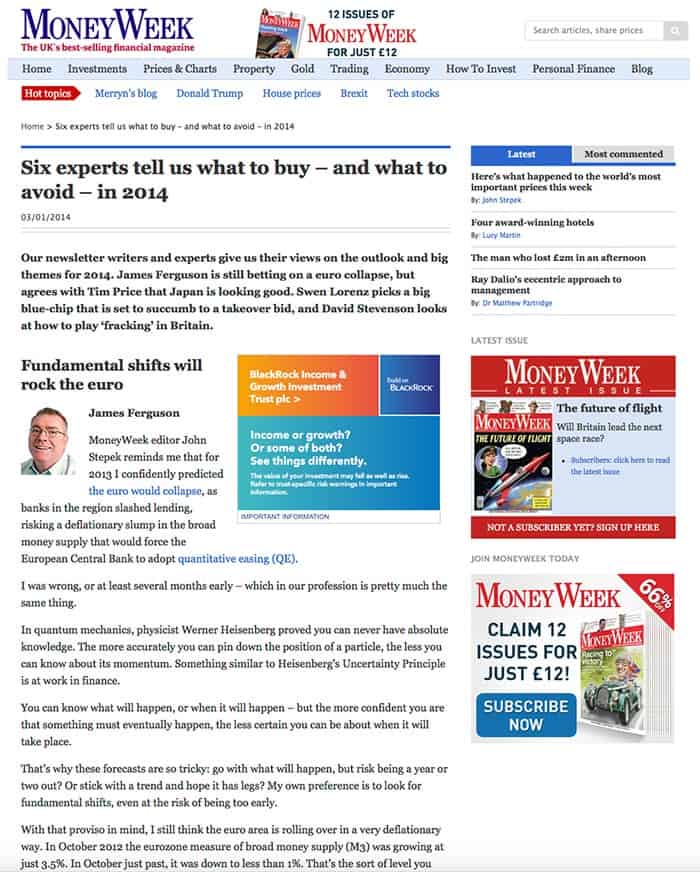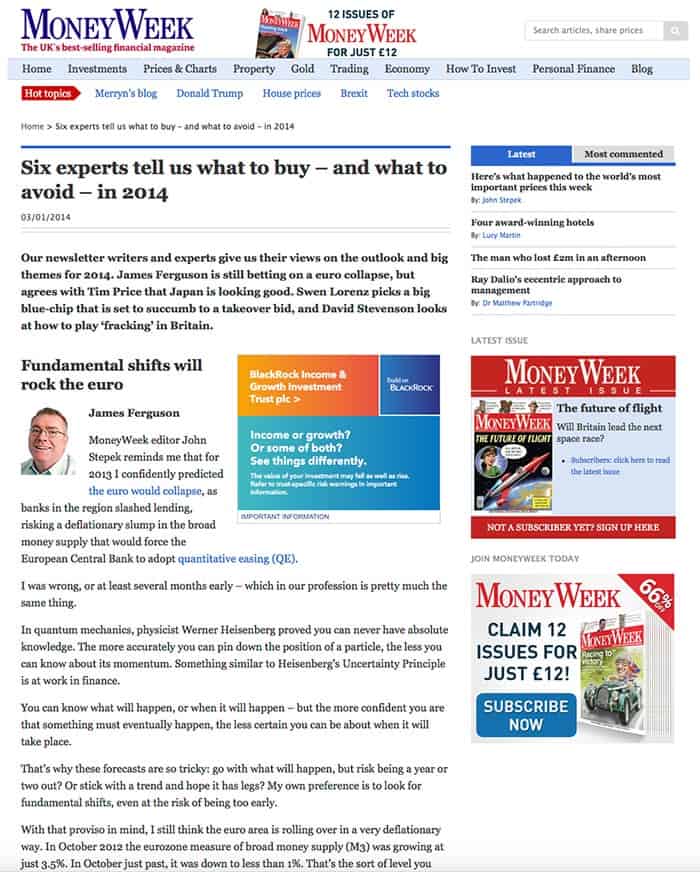 In late 2013, I tipped AstraZeneca being ripe for a take-over bid. Lo and behold, just a few weeks later Pfizer launched a take-over attempt. Nothing beats keeping your ears on the track and having a far-flung network of high-calibre contacts.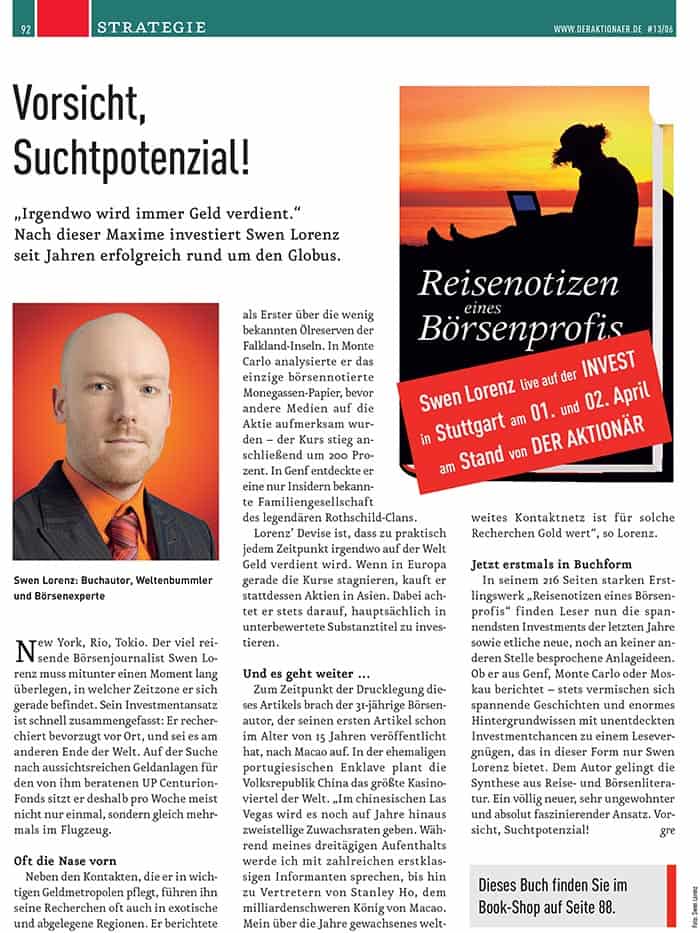 "Health warning - Addictive!", the leading German investment magazine Der Aktionaer writing about my first book.
Questions? Feedback? I love hearing from my readers, and I always reply personally.