Galapagos Islands luxury cruise for friends and readers
German-language guide: 30 October – 6 November 2021
16 spaces – SOLD OUT
English-language guide: 6 – 13 November 2021
16 spaces – GUEST LIST CLOSED
Organised by myself, based on my local insider knowledge. 
Possibility for individual extensions, e.g. to visit Macchu Pichu or Quito (Ecuador).
COVID-19 rebooking guarantee.

Discover unlimited beauty
Meet Darwin's giant tortoises and swim with marine iguanas on a once-in-a-lifetime trip.
My Galapagos Islands trips are back by popular demand.
These islands are regularly ranked "The world's no. 1 island destination". They are one of the last untouched places on earth, featuring unique animals that you will not get to see anywhere else. Best of all, the animals aren't afraid of humans. As the saying goes: "In the Galapagos Islands, you don't observe animals, you mingle with them!"
I have organised seven such trips in the past, the most recent one in 2018. Each time, my guests were blown away both by the islands and overall experience. Also, many lasting new friendships were formed.
My new Galapagos adventure in 2021 boasts the following:
7-day cruise on a 4 ½ star boat, experiencing the best that Galapagos has to offer.
Accompanied by two of the best naturalist guides (handpicked by myself, out of all 800 local guides).
A week with likeminded people instead of random tourists.
There is space for 16 passengers on both of these trips (8 double cabins). I will be both a regular guest and the unofficial second guide on these trips. Having lived there for four years, I will be telling you the stuff no one else dares to say out loud!
Discover unlimited beauty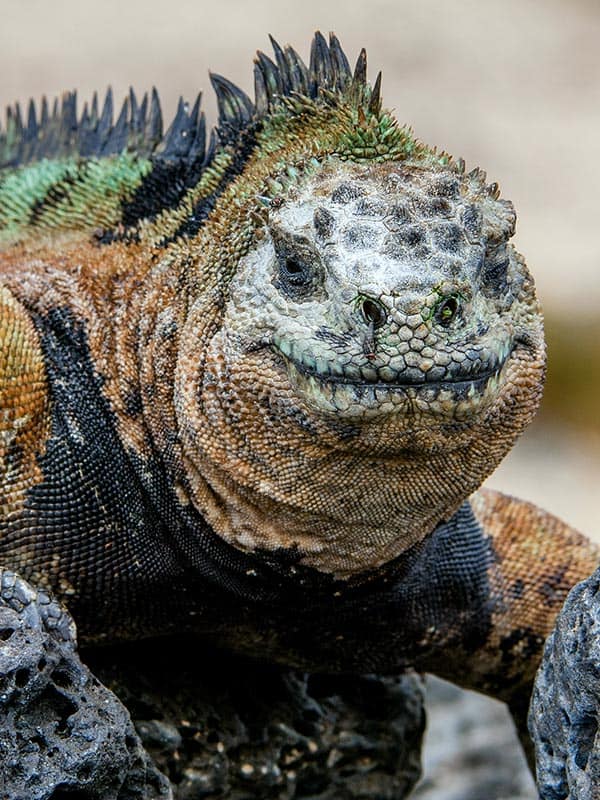 A carefully selected travel package
Naturalist guide
Each day, we will spend 12 hours a day in the company of a guide. Having the right guide is the make-or-break factor for any Galapagos trip.
For the English-language group, I've secured my friend Richard, a guide who usually gets booked by West Coast billionaires and similar celebrity clients. He is a legend and insiders have long agreed that he is the no. 1 guide out of all 800! I have been on one other cruise with Richard and even I am excited about the prospect of yet another one.
For the German-language group, I have roped in the most experienced guide for German-speaking visitors. Switzerland-born Pati has lived in Galapagos for nearly 30 years. Outside of her naturalist guiding, she has many tales to tell about local life. What's more, Pati and I used to be neighbours when I lived on the islands, so I dare say that I know her well.
My entire trip organisation is based on using my network of long-standing personal friends on the island to get us the best, most comfortable, and safest option for your trip.
Itinerary
Each of the two itineraries will have you see some of the Crown Jewels of the Galapagos. The archipelago is too big to see everything on a single trip, but we'll squeeze as much into your week as possible! The English-language group will tour the Eastern half of the archipelago while the German-language group will sail to the West - both equally spectacular.
Timing
November offers an attractive niche between seasons (as well as cheaper international flights). It is the month before sweltering heat sets in, there is no overcrowding at sites, and we'll enjoy lots of special seasonal sights, such as migrating whales, nesting blue-footed boobies, and sea lion babies on the beaches.
Value for money
My package offers the right balance of "intelligent luxury", i.e. a high-end experience without spending unnecessary money.
Flexibility
If you are short on time, you can use my trip to travel out on Friday and be back home the following week Sunday evening (= 6 weekdays away from work). If you have more time, I can help you with booking an extension. E.g., explore Quito in Ecuador, or visit Macchu Pichu in Peru. I have lots of advice for any such plan.
Networking
My 2018 group now meets for an annual dinner and some have ended up doing business and investment projects together. Speak of new friendships getting formed!
COVID-19
Galapagos already resumed tourism in August 2020. The islands currently require one negative PCR test done no more than 72 hours before entering Ecuador; or a vaccination card or equivalent, with complete immunisation, issued at least 14 days before entering Ecuador. Alternatively, travellers who have overcome infection may present a medical certificate.
Duration: 7 days
Dates:
German-language group: 30 October (Saturday) – 6 November (Saturday) 2021

English-language group: 6 November (Saturday) – 13 November (Saturday) 2021
Price: USD 7,295 p.p. in a double cabin
Includes:
7 nights on a

4 ½ star boat

(double cabin).
Domestic return flight from Quito or Guayaquil to Baltra-Galapagos.
USD 100 park entrance fee.
All local transport in Galapagos, incl. VIP lounge on arrival.
All food and non-alcoholic beverages.
Unlimited satellite WiFi onboard.
Not included:
International flights to/from Ecuador.
Tips for the crew and guide (voluntary).
USD 20 biocontrol fee, payable in cash at the domestic flight check-in.
Dietary requirements: The boat can easily cater to all special requirements.
Single guests: The boat only has double cabins. I will try to pair up single visitors.
Equipment: The boat has equipment for snorkeling, kayaking and other activities onboard. It is not possible to go diving from cruise ships in Galapagos; diving trips need to be arranged separately (as extension of the trip).
Payment: 100% in advance within 2 weeks of booking by bank transfer in USD.
COVID-19 rebooking guarantee: Should you be prevented from travelling by coronavirus-related reasons, you can rebook the same cruise for another date without any additional fees.
Cancellation: Refunds aren't possible, but bookings can be transferred to another person (possibly involving a fee for changing the local flight).
Visas: EU/US citizens do not require a visa for Ecuador/Galapagos. For all other citizenships please check with your respective embassy or consulate. Passports need to be valid for 6 months after the departure date.
Snapshots from my 2018 trip
I handle the entire organisation of this trip myself, from beginning to end.
Bookings are now closed but I might organise a similar trip in the future.
If you are interested in joining such a future trip, or if you have any questions at all, simply drop me an email.