Scandinavian Tobacco – a comeback for cigars?
Allegedly, we are about to see "the end of a decade of wellness mania".
Vegan restaurants will struggle, boozing will be back even among health-obsessed fashionistas, and smoking will once again be considered cool.
That's according to Elle, the women's magazine that is published in 45 countries and read online by 100m every month.
Could it be true?
The long feature article published by Elle triggered me to check if there was an investment that would stand to benefit from such a trend.
What better company to look at than the world's leading producer of the most luxurious, manliest and smelliest smoking products of them all – Scandinavian Tobacco Group, producer of no less than 4bn cigars per year.
It's a stock that one of my readers pointed out at our recent reader event in Hamburg, Germany.
As it turns out, the little-known stock from Denmark is actually an interesting investment.
A leader in the true sense of the word
Scandinavian Tobacco Group (ISIN DK0060696300, CO:STG) is a company steeped in heritage.
It launched in 1961, when three Danish tobacco companies merged their activities:
Augustinus Fabrikker, founded in 1750.
W. Obel, founded in 1787.
Færchs Fabrikker, founded in 1869.
In 2010, Scandinavian Tobacco also merged with the cigars and pipe tobacco business of Swedish Match. (This was the company that was inextricably linked to Ivar Kreuger, the legendary "Match King" who in the 1920s created one of history's biggest Ponzi schemes.)
Headquartered in Denmark and listed on the Copenhagen Nasdaq market, Scandinavian Tobacco has kept a relatively low profile. After all, who would expect a cigar manufacturer to be based out of a Nordic country?
It's anything but a small company, though:
10,000 employees worldwide.
Active in >100 countries.
Sales of ≈EUR 1.2bn (DKK 9bn).
Measured by volume, Scandinavian Tobacco is the biggest cigar manufacturer in the world.
Keeping a somewhat low profile has probably helped Scandinavian Tobacco stay out of the limelight during the years when companies associated with old-fashioned vices were a target of much criticism.
Reading its annual report, it's refreshing to see how unashamedly upfront Scandinavian Tobacco is about what it does:
"For more than 250 years, we have produced premium tobacco products embedded with textures, flavours and aromas derived from crops in optimal climates throughout the world. We take pride in our portfolio of leading international and regional brands which are all developed, refined and innovated by talented artisans who are passionate about what they do."
No apologies, no pussyfooting.
Smoking is what Scandinavian Tobacco is about, and even its annual report makes it all look hugely enjoyable and sexy.
Being the largest operator in an industry that few others would dare to venture into nowadays has given Scandinavian Tobacco a fairly unique opportunity.
The sector's consolidator
There are many smaller cigar brands in the world, and few who would (or could) buy them.
If the owner of a smaller cigar brand wanted to sell, they'd have few potential acquirers to turn to. Brands that are too small to compete with the marketing budgets of the big guys often decide to sell out and lean on someone else's shoulders. Scandinavian Tobacco has been using its market position to become the #1 consolidator of the industry, and it can buy smaller brands on the cheap because there is so little competition.
The Danes have actively acquired companies, most recently Alec Bradley for USD 72.5m, and smaller brands Room 101, Toraño, and Royal Agio before that.
It also bought Thompson and Co., a major Internet and catalogue cigar retailer.
Its ability to put smaller brands into its global sales channels is one of the reasons why Scandinavian Tobacco can afford to offer an attractive price to owners of such brands, and still create plenty of value for its own shareholders.
Today, its brand portfolio consists of no less than 200 (!) brands.
Cigar brands include world-renowned Macanudo (the largest premium handmade cigar brand in the US in terms of sales volumes), CAO, Diesel, La Gloria Cubana, Mehari's, Panter, Signature, La Paz, and Punch and Partagas.
Pipe tobacco brands produced by Scandinavian Tobacco include Captain Black, Erinmore, Borkum Riff and W.Ø. Larsen.
In Europe, the company dominates the cigar market in the UK (>50% market share), France (>50%), the Netherlands (>60%), and Belgium (>90%).
Its online retailing subsidiary is also worth a mention. CigarsInternational.com is the industry leader in online and direct marketing of premium cigars, with an active client base of nearly 1m US consumers and an annual distribution of 20m copies of its catalogue. (EU-based readers will not be able to access the website because of EU regulation.)
Most importantly, though, it's all making lots of money for Scandinavian Tobacco's shareholders.
Making
tobacco leafs

hay for shareholders

While the firm pursues a sensible approach to sustainability with regards to protecting the environment and other aspects, it doesn't go overboard and primarily focuses on serving customers and creating shareholder value.

When Scandinavian Tobacco went public in 2016, it was the largest European IPO of that year. The stock hasn't moved much since then, but this wasn't for a lack of earnings.

In 2022, the company increased sales by 6% to DKK 8.8bn compared to DKK 8.2bn in 2021 (DKK 1 = EUR 0.13). Net profits increased from DKK 1.4bn to DKK 1.5bn. That's a net profit margin on revenue of 16.8%, and a return on invested capital of 14.3%.

Shareholders benefited immediately, with DKK 1.4bn (EUR 187m) returned to them last year. Following onto its earnings per share of DKK 16.2 (EUR 2.17), Scandinavian Tobacco paid out a dividend per share of DKK 8.25 (EUR 1.10) and bought back 5.7m shares for a market value of DKK 776m (EUR 104m). The total capital allocation sent to shareholders corresponded to about 11% of the company's market value, in a single year.

For 2024, the current consensus estimates earnings per share of DKK 14.4 (EUR 1.93) and a dividend payment of DKK 9 (EUR 1.20). Following the release of the company's Q3/2023 results earlier this month, the stock rallied 10%. However, even at its current price of DKK 114 (EUR 15.28), it still comes with a dividend yield of 8.7%, which is further supported by significant share buybacks. In early November 2023, the board of Scandinavian Tobacco approved another share buyback programme of up to DKK 850m. The stock has a price/earnings ratio of <8.
Source: Scandinavian Tobacco website (click on image to enlarge).
Worth a puff for investors?
Since going public nine years ago, the stock has only gone sideways. The reason why tobacco stocks have been neglected by the market doesn't need any further elaboration.
The question is, is this going to change anytime?
I think the Elle article has something to it. I recently wrote about a comeback of fossil fuel stocks, because there is a shift back to accepting the reality of the energy industry. I have never been a smoker myself, but long felt that the anti-smoking stance of many Western societies had gone a bit too far. Smoking has formed part of human culture not for centuries but millennia, after all. Experience shows that when the pendulum goes a bit too far into one direction, it eventually goes the other way again. Increased acceptance of tobacco products may well be on the cards.
Scandinavian Tobacco, for once, definitely intends to ride the opportunities in its industry.
As the company put it in its most recent annual report:
"Our vision is to become the undisputed and sustainable global leader in cigars. Today, we are a clear number one within handmade cigars in the US, and within machine-rolled cigars we hold market leading positions in many European countries. We aim to build further on these strongholds in the future by growing organically and through mergers and acquisitions in the cigar and Next Generation product categories. …
Creating shareholder value is fundamental to Scandinavian Tobacco Group. We strive to do even better in the years ahead and based on our vision and the strategy Rolling Towards 2025, we have set the direction for future growth, EBITDA margin improvement, strong cash flow and a persistent high level of returns to our shareholders. In parallel, we will drive our enhanced sustainability agenda."
The company has a strategic plan for the time leading up to 2025, called "Rolling Towards 2025". The plan is based around "Must-Win Battles". This is the lingo that a company's leadership should use, because business IS battle.
Scandinavian Tobacco seems to be doing an excellent job in combining the opportunities in its existing brand portfolio with those that present themselves in M&A, and adding new generation smoking products to the mix.
Of course, other tobacco stocks are cheap, too – and in many cases, even cheaper.
Scandinavian Tobacco might lend itself to investors who are keen on secure cash flow, high dividend payments, and the feeling of investing in a sector that they have a personal affinity to.
For those who are eager to learn more, I recommend the 81-page presentation of Scandinavian Tobacco's Capital Markets Day 2021. Also, the Capital Markets Day 2023 is just around the corner. It will take place on 21 November 2023, and anyone who is interested can register to attend in person (London) or online.
As with all stocks you read about on Undervalued-Shares.com, do your own research.
New report: robotics stock with massive upside
My latest research report – published this Thursday – features a company that I've been following for years.
Its share price is currently down-and-out, but the underlying fundamentals are looking good – possibly, better than ever!
One of the world's best long-term investors just invested a triple-digit million amount in this company, hovering up stock around its current price level.
He believes that it's about to make a massive leap forward.
What could this leap consist of?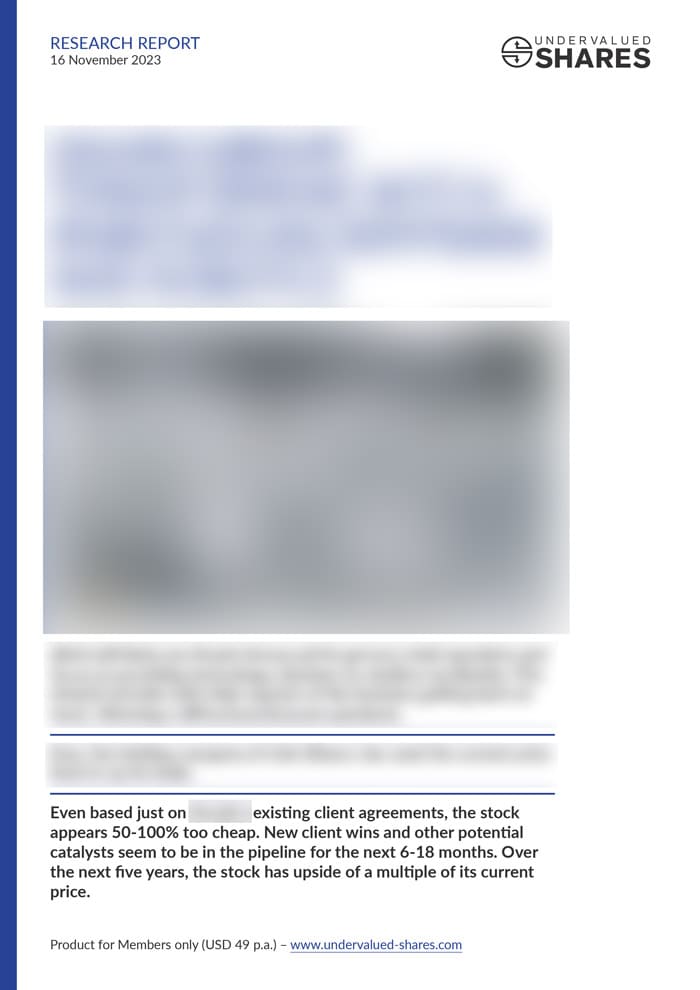 New report: robotics stock with massive upside
My latest research report – published this Thursday – features a company that I've been following for years.
Its share price is currently down-and-out, but the underlying fundamentals are looking good – possibly, better than ever!
One of the world's best long-term investors just invested a triple-digit million amount in this company, hovering up stock around its current price level.
He believes that it's about to make a massive leap forward.
What could this leap consist of?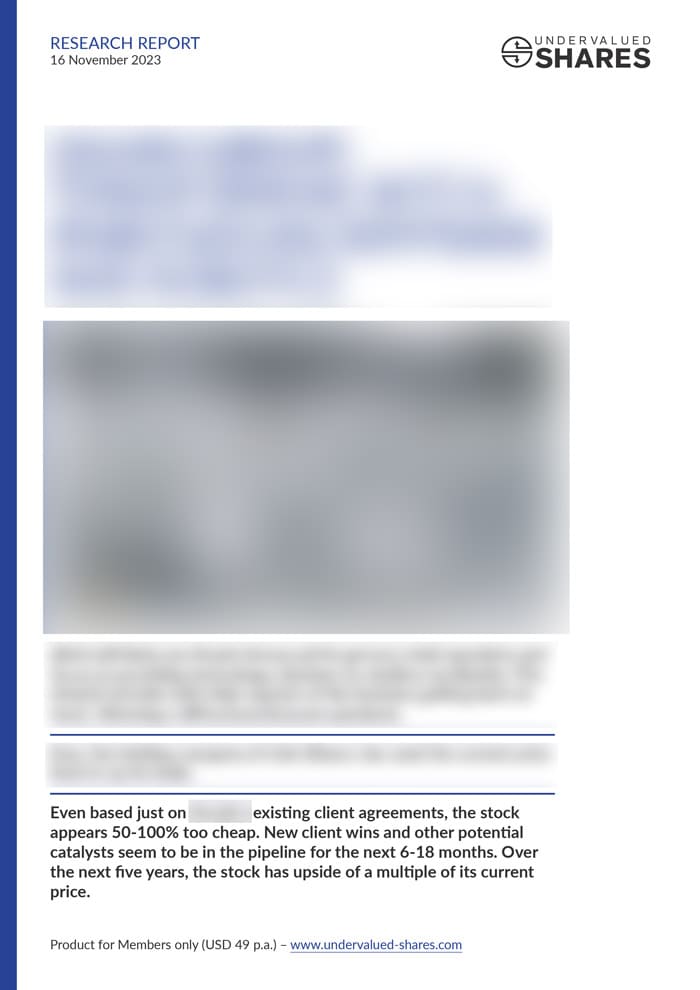 Print this article
Did you find this article useful and enjoyable? If you want to read my next articles right when they come out, please sign up to my email list.
Share this post: