Bains Mer Monaco – a surprise coup for Monaco's casino company
Image by 54115341 / Shutterstock.com
While the Nasdaq index and other important markets went through a trough, the share of Société des Bains de Mer (SBM) reached a new record.
SBM (ISIN MC0000031187, Euronext:BAIN) is the publicly listed sovereign wealth fund of Monaco. The majority of its shares are held by the country's ruling family, and SBM has long been famously disinterested in its shareholders or stock price.
What then propelled the stock price to dizzying heights, and is there more to come?
To give you the good news first, it does look like the stock price has further to run over the coming 12-18 months. It's likely going to breach the EUR 100 threshold soon.
SBM at a glance (for new readers)
This is one unusual company, and it starts with its name: "Société des Bains de Mer et du Cercle des Etrangers à Monaco" means "Society of Sea Baths and Circle of Foreigners in Monaco". When it was founded in 1863, gambling was frowned upon. To provide a cover of legitimacy for visiting Monte-Carlo, the company chose a name that made it sound like it was a normal holiday destination and a place where to mingle and recuperate.
Of course, gambling in the famous Monte-Carlo Casino was the real reason many travelled to the tiny jurisdiction on the edge of the Mediterranean. It was a place where to gamble legally at a time when games of fortune were banned in most European countries. SBM later gained an edge because of the sheer glamour associated with gambling in Monte-Carlo.
The company once purchased 100,000 square metres (about 25 acres) of prime land in Monaco for the proverbial song. At the time, Monaco was nearly bankrupt. Much of it consisted of farmland, and many residents live in subsistence. In the 1850s, a piece of land in Monaco famously changed hands in exchange for a dinner for 12.
Over the decades, SBM has built its portfolio of activities, including a property portfolio in Monaco that comprises the Hôtel de Paris and the Hôtel Hermitage, the world-famous Casino de Monte-Carlo, the Café de Paris in Casino Square, and even the opera building. The company operates 20 restaurants, the spa Les Thermes Marins, and Jimmy'z nightclub.
Less known is its growing presence in residential property. SBM owns apartments and villas, it rents out permanent residences in some of its hotels, and it has built the now world-famous One Monte-Carlo residential complex right on Casino Square. The company's portfolio of rental properties yields over EUR 100m in income per year. At the usual multiples, the rental portfolio alone probably covers the entire market cap of the company. That's despite rental properties being just a sideline!
You can read about all of this (and much more) in my August 2019 report on SBM – probably the single most in-depth piece of research available about this company. Even though SBM owns some of the world's most widely recognised real estate, it isn't covered by a single analyst. When I first reported about the company in 2004, shares were trading at EUR 18.80 (split-adjusted), which was even below the value of SBM's cash reserves. Even though they are now trading above EUR 90, the share price still doesn't reflect the value of the underlying assets.
Importantly, one of these assets could be sold in the not too distant future and cause a massive windfall for SBM.
SBM's deal with a French SPAC
In my 2019 report, I touched upon SBM's stake in Betclic Everest, an online gambling company run by a French entrepreneur. SBM had purchased the stake in 2009 as a strategic investment: it planned to relaunch the Casino Monte-Carlo brand as an online gambling destination, and Betclic Everest was its chosen partner to do so.
However, these plans never succeeded, and the entire project was called off in 2015. Instead, the investment in Betclic Everest turned into a costly liability. After an initial investment of EUR 70m, SBM had to up the sum to EUR 140m. The company subsequently hid the stake in the far-end corner of its balance sheet, and most SBM shareholders even forget that this investment ever existed, even though SBM continued to value it at EUR 115m.
In my 2019 report, I wrote that SBM "might get a lucky escape" from this investment. Even I couldn't imagine back then just how lucky an escape that was going to be.
In March 2022, SBM stock was under the same pressure as other equities around the world. However, it then started to rise and outperform broader markets. Observers were puzzled. With a bit of digging on the Internet (because of SBM's proclivity to sell itself short), we now know what happened.
France saw a major transaction involving a SPAC (special purpose acquisition company), which SBM became a part of. The French entrepreneur who had built Betclic Everest had also built Banijay, the world's #1 independent TV production company and one of the largest owners of content and IP rights. Stéphane Courbit is not well known outside of France, but within his home country he is one of the most outstanding entrepreneurial success stories. Starting as an intern to a TV producer in the early 1990, he now controls a multi-billion media empire and ranks among France's wealthiest self-made business people.
On 17 May 2022, it became apparent why the stock of SBM was rallying. SBM sold its stake in Betclic Everest to FL Entertainment, a new holding company controlled by Courbit. SBM was going to get stock in the new company and cash.
FL Entertainment, in turn, announced it was also going to purchase Banijay. Once Courbit had united all of his media assets under the helm of FL Entertainment, he was going to merge the company with Pegasus Entrepreneurs, a Euronext-listed SPAC.
As the press release put it: "FL Entertainment will be Europe's most disruptive and diversified entertainment organization, merging Banijay AV production capabilities with Betclic sports betting competencies. The merger of Betclic and Banijay, will allow FL Entertainment to become the best platform to pursue growth opportunities in tech and innovations disrupting traditional entertainment markets and audiences."
You can read more about it in the May 2022 investor presentation of FL Entertainment.
The SPAC merger received little attention outside of France, but it represented one of the more noteworthy transactions in this space. In 2022, FL Entertainment is projected to generate EUR 3.8bn in revenue and achieve an EBITDA of EUR 645m. Depending on whose projection for valuation multiples you'd like to believe, the resulting company was going to be worth somewhere between EUR 4-8bn.
At a time when many other SPACs were struggling, the combination of Pegasus Entrepreneurs and FL Entertainment proved a strong proposition. The EUR 650m in cash provided by the SPAC's investors included the largest "PIPE" (private investment in public equity) that a European-listed SPAC had ever seen.
100% of Pegasus Entrepreneurs shareholders voted in favour of the deal.
Backers included:
Bernard Arnault, who through his shareholding in LVMH (ISIN FR0000121014, Euronext:LVMH) is one of the world's richest people with a ≈USD 150bn fortune.
Jean Pierre Mustier, one of the world's best-connected former banking CEOs, who readers will remember from my November 2019 report on UniCredit. Mustier is a repeat-collaborator of Arnault.
Tikehau Capital (ISIN FR0013230612, Euronext:TKO), a London-based finance company that experienced a meteoric rise after Mustier took a stake and helped with its expansion strategy.
How does SBM fit into all this?
In early July 2022, Amsterdam-listed Pegasus Entrepreneurs became FL Entertainment (ISIN NL0015000X07, AMS:FLE). SBM agreed a deal whereby it received EUR 425m in cash for its participation in the overall deal, and another EUR 425m worth of stock in the new company.
SBM owns 42.5m shares in the company, and the stock is currently trading at EUR 10.3. Whereas SBM had recently valued its stake in Betclic Everest at just EUR 115m, it now owns a stake worth EUR 437m based on current market prices, and that's after cashing out an initial EUR 425m already. What's more, FL Entertainment has interesting growth perspectives. The sponsors of the SPAC transaction have agreed to receive 50% of their pay based on the stock price's performance. The stock needs to be above EUR 11.50 for them to receive another 25% of their pay, and above EUR 13 for the final 25%. In the meantime, the SPAC's sponsors are under a 36-month lock-up agreement, and various other large investors have also committed to lock-ups.
SBM has a lock-up of just 12 months, the second shortest among all the large investors. From July 2023, the company will be free to sell its stake. Its shares amount to a 10.39% economic stake and a 5.36% voting stake, i.e. it's small enough to sell the shares through a private placement if or when that was desired.
Will SBM cash out?
The investment in FL Entertainment isn't part of SBM's core activities. The Betclic Everest investment had weighed on the company's balance sheet for over a decade. With a 5.36% voting stake, SBM has no control over the fate of FL Entertainment. Given these circumstances, I'd say it's more likely than not that SBM will eventually decide to sell. A cash influx totalling over EUR 800m is a highly significant event for a company with a market cap of EUR 2.2bn.
With underlying figures like these, it's no wonder the SBM stock price has rallied.
Nota bene, Bernard Arnault is also a 5% shareholder of SBM, through LVMH. This was a deal done within the upper echelons of France's business and financial community.
It comes at a time when SBM has wind under its wings, in general.
What else is new at SBM?
Even without the coup involving the Betclic Everest stake, SBM shareholders were in for a good year.
Following a loss of EUR 79.1m during the pandemic, the company swung back to a EUR 76.4m net profit during its fiscal year 2021/22 (ended 30 March 2022) – three times its pre-pandemic profit of EUR 26.1m.
During the first quarter of 2022/23, the good times continued:
The gambling division booked revenue that was 12% higher than pre-pandemic.
The hotel division's revenue was 15% above the pre-pandemic level.
The group revenue surpassed the pre-pandemic level by 18%.
One particularly positive contributor to the group revenue and profit is the rental division. During the pandemic, SBM launched its One Monte-Carlo residential complex on a formerly underutilised site. SBM's rental income is going from strength to strength, and margins earned from investments in rental properties built on the company's existing landbank are extraordinarily high.
Monaco continues to be the world's most expensive real estate location, and SBM is the second biggest beneficiary of it. The company is outdone only by the Pastor family, who have made a double-digit billion fortune on the back of building and renting out thousands of apartments in Monaco. Since you cannot co-invest with the Pastors, SBM represents the only publicly listed vehicle for buying yourself a tiny slice of Monaco.
In February 2022, it emerged that the average real estate price in the Principality had broken through the EUR 50,000/sqm barrier. Residential real estate in the world's best-known tax haven for the rich and famous ranks from EUR 20,000-115,000 per square metre. Since 2020, prices are up 9%. Over the past ten years, prices have risen 75%.
Some of the real estate held by SBM is difficult to value. E.g., while the Hôtel de Paris is extraordinarily glamourous, it never contributed much to the company's income because it's horrendously expensive to operate. On the other hand, should SBM ever decide to convert the hotel into residential property, this building alone would probably be worth nearly as much as the company's current market cap.
You could easily trash-talk SBM's portfolio. The opera building, for instance, is probably more of a liability than anything else because SBM has to subsidise cultural events that benefit Monaco as a whole.
Just as much, you can come up with some fantastical valuations for the company's portfolio. E.g., the Hôtel de Paris already offers some permanent apartment rentals, so the idea of squeezing more super-prime rental income out of the hotel portfolio isn't far-fetched.
In any case, following the transaction involving FL Entertainment, it has become a bit easier to value SBM. With the prospect of a >EUR 400m influx of cash once this stake is sold, the current market cap of EUR 2.2bn does look pretty cheap.
Cheap enough, in any case, for the company to ask the upcoming annual general meeting on 23 September 2022 for authorisation to purchase stock for prices up to EUR 110 (a buy-back of up to 5% of its shares). In doing so, the company's management has given a strong indication that it feels its own stock undervalued.
SBM is also carrying out some governance reforms, such as doing away with the board's entitlement to 3% of the company's profits.
Is SBM gearing up to become more of a "normal" company and increase its appeal to investors?
For now, its annual reports and other regulatory publications are published in French only. That alone acts to slow down the stock's attraction. However, this could be easily fixed.
Change at a company like SBM doesn't happen quickly, and it shouldn't. Not bending too quickly to the prevailing Zeitgeist has served SBM (and Monaco) rather well over the decades. It's also made SBM a decent long-term investment. Since I first reported about it in 2004, the stock is up nearly 400% even if you leave dividends aside. Remarkably, it is now probably just as undervalued as it was at a seemingly lower price in 2004. How so? Prices in Monaco have gone stratospheric since then, thanks in no small part to the age-old adage that the rich get richer faster than the rest of the population.
The Principality's ruler, Prince Albert II, is keen to keep increasing the jurisdiction's attractiveness as a place to visit, live in, or do business with. Anyone wanting to learn more about Monaco's general outlook should read this 1 June 2022 long-read feature published by the Financial Times about the ruler's plans. As can be seen from the article, the ruling family has a multi-decade, multi-generation approach to its investment.
For everyone else, the right question to ask is probably: "Should I still buy SBM?"
If you have a long-term investment horizon and want to put some money into an undervalued company with a proven business model and a (literally!) strong moat, then SBM is definitely still worth considering. After all, even the company itself believes that its stock represents good value at prices below EUR 110.
With a view to the next 12-18 months, a large one-off profit in the hundreds of millions and a potential special dividend could also do the stock a world of good.
Correction (20 September 2022):
An earlier version of this article misstated the amount of income that SBM's portfolio of rental properties yields per year. It is over EUR 100m, not EUR 31m. The article originally also referred incorrectly to the real estate value in relation to SBM's current market cap. At the usual multiples, the rental property alone probably covers the company's entire market cap of EUR 2.2bn, not just EUR 1bn. In addition, the original article incorrectly laid out the terms of the sale of SBM's stake in Betclic Everest to FL Entertainment. SBM was going to get both stock in the newly formed group and cash, not just shares. Finally, the earlier version also misstated the value that SBM yielded from this transaction. As the article now correctly notes, SBM cashed out an initial EUR 425m already, in addition to owning a stake worth 425m based on current market prices.
How to own a (tiny) piece of Monaco
Monaco continues to be the world's most expensive real estate location.
Over the past ten years, prices have risen 75%; the rich and famous now have to fork out between EUR 20,000-115,000 per square metre for residential real estate.
If you ever wanted to buy yourself a tiny slice in the Principality, SBM remains the only publicly listed vehicle to do so.
It's also one of Europe's most mysterious (and fascinating) companies – and it's never been analysed in as much detail as in this in-depth report.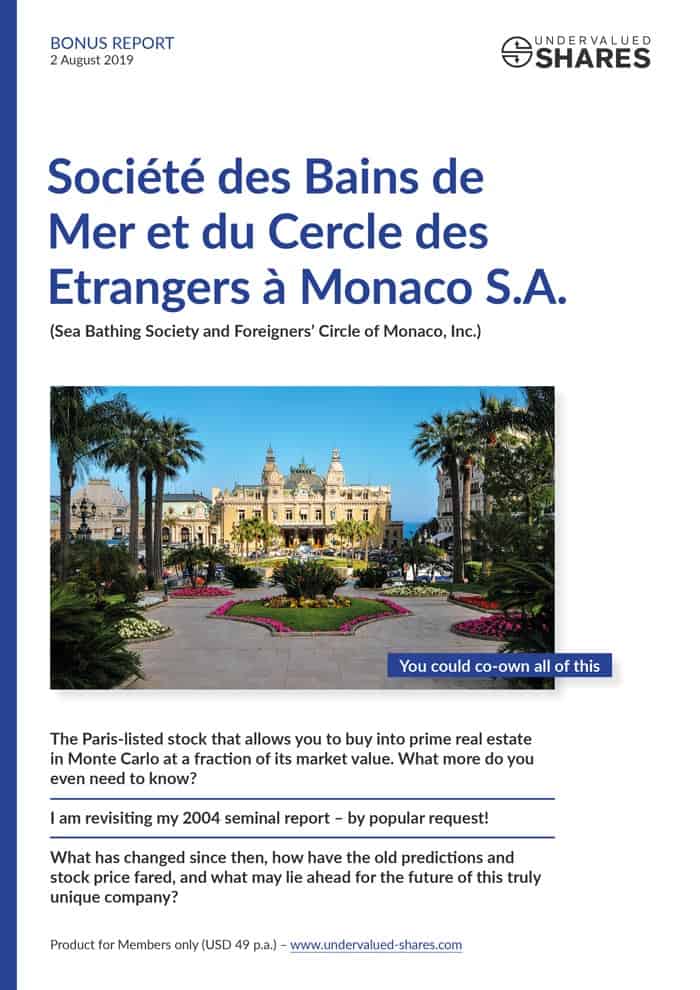 How to own a (tiny) piece of Monaco
Monaco continues to be the world's most expensive real estate location.
Over the past ten years, prices have risen 75%; the rich and famous now have to fork out between EUR 20,000-115,000 per square metre for residential real estate.
If you ever wanted to buy yourself a tiny slice in the Principality, SBM remains the only publicly listed vehicle to do so.
It's also one of Europe's most mysterious (and fascinating) companies – and it's never been analysed in as much detail as in this in-depth report.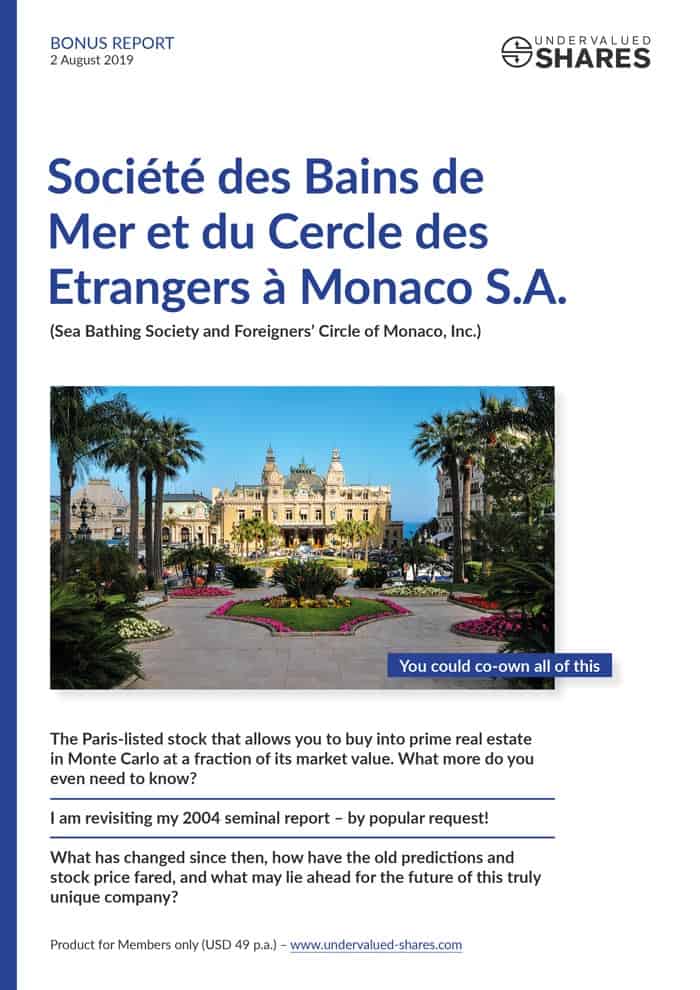 Print this article
Did you find this article useful and enjoyable? If you want to read my next articles right when they come out, please sign up to my email list.
Share this post: