Bougainville Copper: it's looking serious this time
It's been 33 years since the outbreak of a civil war forced the closure of the copper mine on the island of Bougainville in Papua New Guinea.
The stock of Bougainville Copper (ISIN PG0008526520) has been tossed around by waves of speculation ever since. Yours truly was involved in some of it, as I published several extensive reports about the potential reopening in the early 2000s.
It wasn't supposed to be – at least not then.
The USD 225m market cap company still has legal rights to the mine, which could yield a staggering USD 75bn worth of copper at current prices (or even more if we see rising prices thanks to a copper super-cycle).
While the world was distracted by the war in Ukraine, the share price of Bougainville Copper once again got moving.
After my two cautious articles in March 2020 and April 2021, it looks like there is reason for growing optimism. Today's article will explain why I have started to change my view to a more positive stance.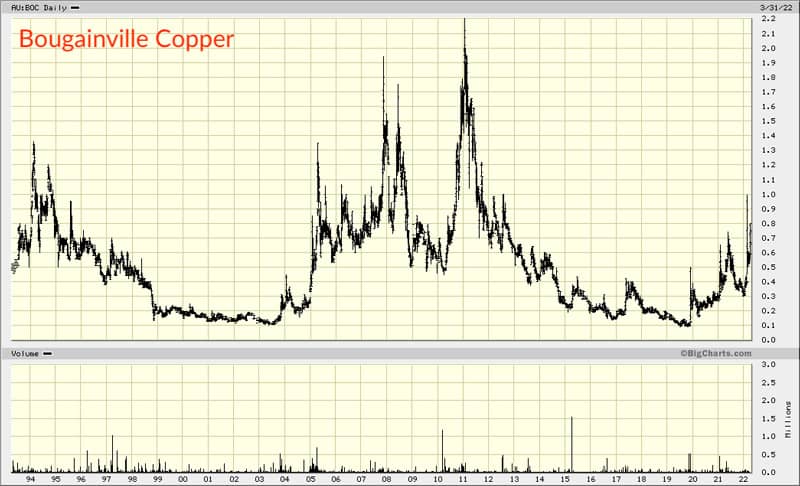 Recent developments in politics
Since 1989, the company officials of Bougainville Copper haven't had actual control over the mining assets nor the future path of the Panguna mine.
At this stage, it's all down to politics.
Major stakeholders in this saga are:
The government of Papua New Guinea, since Bougainville still belongs to the country.
The Autonomous Bougainville Government (ABG), which was formed to deliver on Papua New Guinea's promise of a greater degree of self-rule for the ethnically distinct island.
The landowners and tribes of Bougainville, i.e. the groups that were most affected by the mine, the civil war, and the environmental damage caused by the mine.
The ≈300,000 people of Bougainville, who have voting rights in elections and referenda.
Following a peace agreement in 2001, the island's main stakeholders have long struggled to move forward. It was only in 2019 that a referendum on the island's independence finally took place. During the ensuing years, the mine has stayed shut, and the island's residents remain among the poorest people on earth with an average annual income of just USD 1,300. This puts Bougainville on par with war-torn African nations, and at just half the level of Papua New Guinea's national level of income. It's also not even half the level of income the island enjoyed before hostilities broke out. The island's population is living off a subsistence-level economy.
However, the political situation in Bougainville has visibly improved of late, and there is finally a realistic opportunity for an economic revival.
The independence referendum of 2019 – supported by 99.7% of all voters – led to the definition of two key dates:
In 2023, Papua New Guinea is supposed to hand over many powers to Bougainville, help draft a new constitution for the island, and amend its own constitution to make way for full independence.
In 2027, Bougainville should assume all sovereign powers, declare its independence, and become the world's first new nation since South Sudan in 2011.
Nothing focusses the mind as much as a clear deadline, and this apparently holds true even in Bougainville.
On 11 February 2022, Business Advantage PNG reported:
"Landowners and Bougainville government reach agreement over Panguna copper mine
A 'joint resolution' was signed by landowners and the Autonomous Bougainville Government (ABG). … According to the ABG, the resolution was signed by 'clan chiefs and representatives from the five major clans of the Panguna area – Basikang, Kurabang, Bakoringu, Barapang and Mantaa' following a three-day summit last week.
The Panguna mine is considered Bougainville's major economic asset, with its revenues essential to support an independent nation.
The ABG has committed itself to work together with the landowner groups 'to facilitate the process towards the re-opening of the mine'."
The following day, the share price of Bougainville Copper shot up 150%, from AUD 0.40 to AUD 1.00.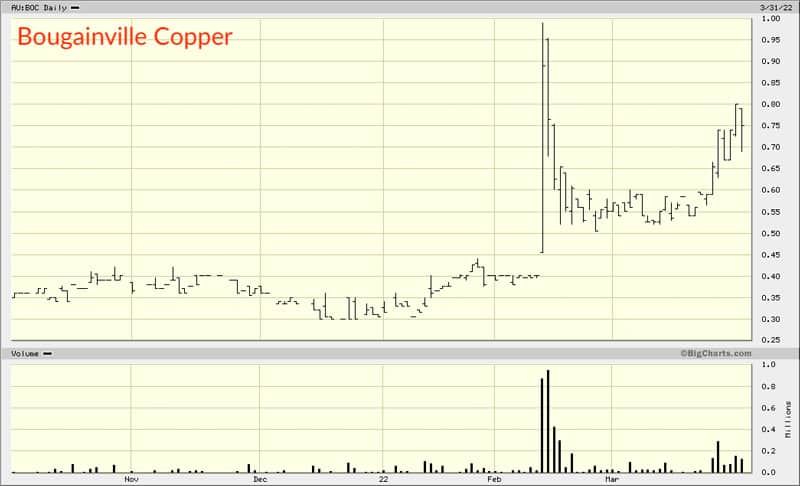 Does the joint resolution set Bougainville Copper on a path towards guaranteed re-opening?
Not at all. However, the dynamics are now looking much more solid and the company may yet become a (somewhat surprising) winner of the island's political dynamics.
Bougainville Copper remains in pole position
The Bougainville Copper company of today is quite different from the Bougainville Copper that I reported about in 2004 and 2007.
Back then, the company was still majority-owned by Rio Tinto (ISIN GB0007188757), the Australian mining giant that had created Bougainville Copper in the 1960s and controlled it through a 53.8% shareholding. Back then, Papua New Guinea was a minority shareholder with a 19% stake.
Today, the same company is 36.4% owned by the government of Papua New Guinea and 36.4% owned by the ABG.
In 2016, Rio Tinto carried out what I consider an ingenious move: it gifted its shares to the respective governments. "Thanks, we are outta here."
I strongly believe that no negotiation can ever be successful if you aren't willing to get up from the table and leave. With its shareholding, Rio Tinto was stuck with the problem and seemingly desperate to resolve it. As a non-shareholder, Rio Tinto can get involved where it sees fit and leave it to the other parties to approach with an ask.
Why does this make sense for shareholders of Bougainville Copper?
The company still holds ownership rights to the mine. These ownership rights are disputed, and they are intermingled with complex potential claims for damages – for environmental damage and its potential role in the events leading up to the civil war.
The governments of Bougainville and Papua New Guinea would easily have it in their sovereign power to simply negate any ownership claims by the company. However, reopening the mine will require someone to stump up a cool USD 6bn. How likely is it that you can find a reputable investor for a USD 6bn investment project if the previous owner just got expropriated at the stroke of a pen?
You'd probably get Chinese investors interested, meaning the fledgling nation would become economically dependent on a Communist regime with a less than savoury track record in human rights. How advisable would that be given Bougainville's history? You be the judge.
It'd be much more feasible and advantageous to utilise Bougainville Copper and negotiate a deal that draws a line under the past and is a win-win for everyone:
Rio Tinto knows more about mining in Bougainville than any other company on the planet. Without a doubt, gifting the shares to Papua New Guinea and the ABG did not involve Rio Tinto handing over its know-how and data. Anyone other than Rio Tinto will find it a lot harder and more expensive to get the mine to reopen. For a young nation that has just lost decades, working with Rio Tinto would ensure the mine reopens in the fastest possible way.
The ABG could get a few quick wins for its people by making a legal settlement with Rio Tinto part of a reopening deal. In July 2021, Rio Tinto agreed to have independent assessors look at the environmental damage caused by the old mine – most likely to have room for negotiation at a later stage. As part of an all-encompassing agreement, the Australian mining giant could easily throw a few hundred million dollars into the mix to do good stuff in Bougainville, such as cleaning up some of the environmental mess or investing in schools and hospitals. Also, given that the reopening requires a USD 6bn investment, Rio Tinto can become a major shareholder again by simply backing a share issue. Having a publicly listed Western mining company with established environmental and social standards as major shareholder would be highly beneficial, given the public pressure that mining companies operate under nowadays. In fact, given its history on the island, Rio Tinto would probably turn out to be the most responsible mine operator the Bougainvilleans could ever wish for.
As part of all this, Papua New Guinea could finally transfer its shares to Bougainville (as has already been agreed), and this part of the share capital could be distributed to the people of Bougainville. Every man, woman and child of the island could receive ≈500 shares in Bougainville Copper for free (and still leave the ABG with its existing stake). In a jurisdiction where the average income is just USD 1,300 per year, getting shares that might be worth one or two thousand dollars by then would provide a massive boost to peoples' personal fortunes, and make everyone a financial stakeholder in the mine.
A pipedream? Indeed, there are many hurdles.
None of this will happen overnight
In previous articles, I had voiced my scepticism about this tropical, underdeveloped island – or ANY tropical, underdeveloped island, for that matter – to ever get its act together.
This is not a part of the world that is renowned for good governance and getting important steps towards economic development off the ground. Papua New Guinea, too, is a basket case.
There are manifold issues that have yet to be resolved:
Technically speaking, the independence referendum of 2019 wasn't even legally binding.
Papua New Guinea was supposed to transfer its shares in Bougainville Copper to the ABG, but it has failed to do so up to now.
It's STILL not entirely clear whether Bougainville's "independence" will be true independence and statehood, or some kind of associated status with Papua New Guinea, as is the case with many micronations. Given its extraordinary level of ethnic diversity, Papua New Guinea may yet get second thoughts about letting the Bougainvilleans enjoy full independence. An independent Bougainville could set a precedent for other provinces to also "break away" and threaten Papua New Guinea's remaining national unity. The challenges for this entire process are summarised in this excellent 19 November 2021 article published by the Lowy Institute and in this 25 March 2022 analysis by The McGill International Review.
The "international community" had promised Bougainville to support its independence if the referendum voted in favour of such a step. For anyone who believes the international community actually honors agreements, please call me urgently – I have a bridge to sell to you.
That all said, at no time during the over two decades that I have been following this story have things looked as promising as they do now. There are some remarkable dynamics at work, and we may yet find that, at long last, all the stars are finally about to be aligned for Bougainville to gain full independence and for Bougainville Copper to play the lead role in reopening the mine. Indeed, having the dates of 2023 and 2027 as markers in the ground should greatly help everyone to finally get their act together. For the people of Bougainville and their desire to be independent, it's truly now or never. The same probably holds true for the reopening of the Panguna mine.
The share price tells the same story. Following a significant boost in mid-February 2022, the stock at first came down again, but it's been edging upwards following the initial consolidation. There seems to be precious little reporting about the stock right now, without a doubt also caused by the fact that everyone is distracted by the events in Ukraine.
A potential super-cycle for copper is a mere bonus, as are the 12m ounces of gold that come with the Panguna mine.
The hope that Bougainville Copper could be involved in a lucrative, mutually agreed reopening of the giant Panguna mine seems to have a higher degree of justification than at any time during the past decades. Bougainville could go from being one of the world's poorest countries to being one of the richest, given that the value of the copper reserves is several hundred times their current annual economic output. It'd be a challenge to have Bougainville avoid the resource curse that befell many other similar countries, but that's a luxury problem to have for a country with few viable options for building a modern economy.
Just what exactly all of this could do to the share price remains anyone's guess.
On the one hand, you have one of the world's largest copper deposits. It'd require investments of about USD 6bn to get the mine going, but there'd be USD 75bn worth of copper to be exploited.
On the other hand, much depends on the conditions on which Bougainville Copper would be able to raise funding. The current share capital of 401m shares would be diluted, and the issue price of new shares would play a major factor in the stock's valuation.
On the whole, the following two factors seem likely:
Despite the need for USD 6bn in fresh funding, the stock would probably at first rise to several times its current level. The earnings potential from the giant copper reserve is simply too vast for Bougainville Copper to be worth only AUD 301m (USD 225m), as is currently the case. After all, this is not an exploration company but it's all about fully explored, proven reserves in the ground.
Between now and an actual agreement to reopen the mine under the leadership of the old company, there'll probably be multiple waves of speculation and multiple setbacks. This will remain a very volatile stock, which traders can make use of by buying after bad news and selling during the almost inevitable next hype.
Case in point, on the morning before I published this article, the stock of Bougainville Copper was suspended from trading on the Australian Stock Exchange since the company had failed to file its audited annual report on time (you can see all regulatory announcements on the Australian Stock Exchange website). The Papua New Guineans who are now in charge at Bougainville Copper promised to have these document filed "on or before Monday 4 April 2022" to heal the breach of regulations and have the stock reinstated for trading, but for now, the stock is suspended from trading, and the optics of such a glitch are beyond embarrassing. That's governance standards, Papua New Guinean style. It remains to be seen where the stock reopens when trading resumes. This incident could be an opportunity, though, if you are keen on loading up at (hopefully) a lower price.
As I wrote in my March 2020 article:
"The best-working formula for Bougainville Copper has so far been: buy when things look absolutely hopeless and depressing and sell whenever you see the usual raft of mainstream media players reporting about the story."
None of that has changed, albeit the next wave of speculation could be much more powerful than recent ones because of the current political dynamics.
Bougainville Copper is a speculative stock, and a truly unique investment story. If anything, it makes for some fascinating reading. By popular demand, I'll continue to follow it with periodic updates in my Weekly Dispatches.
Another opportunity for crisis investing!
Did you know that Argentina has made it a national priority to increase its energy production?
Pampa Energía, the country's largest energy producer, is the best stock to play this emerging new trend. Its stock is down 60% from its high, but it has already started to turn around.
If you like buying the dollar for 10 pence, you will love this story.
Exclusively for Undervalued-Shares.com Lifetime Members!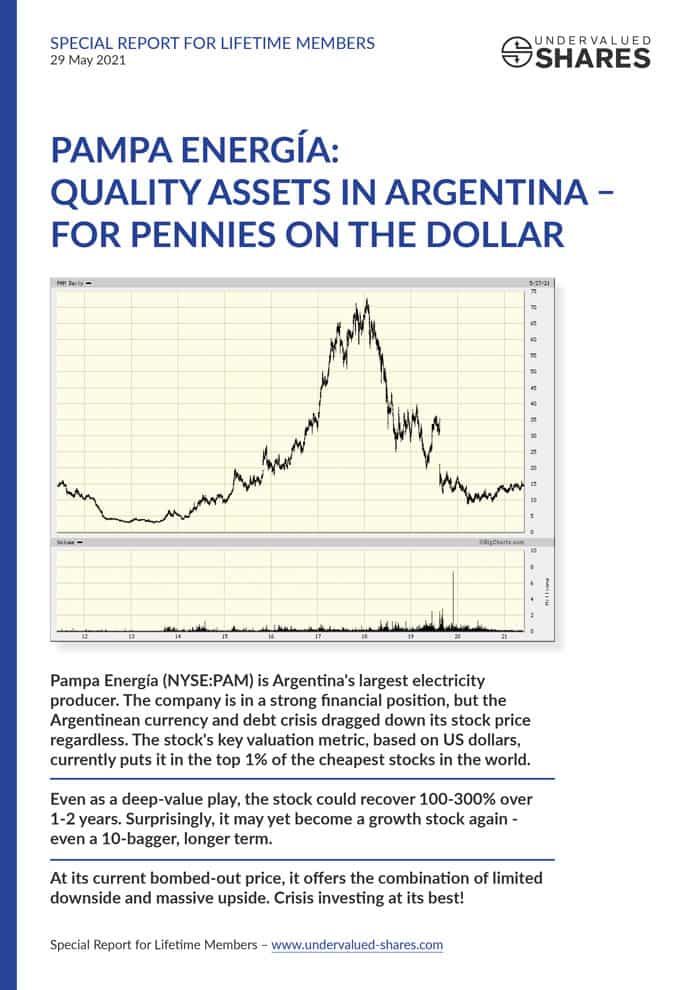 Another opportunity for crisis investing!
Did you know that Argentina has made it a national priority to increase its energy production?
Pampa Energía, the country's largest energy producer, is the best stock to play this emerging new trend. Its stock is down 60% from its high, but it has already started to turn around.
If you like buying the dollar for 10 pence, you will love this story.
Exclusively for Undervalued-Shares.com Lifetime Members!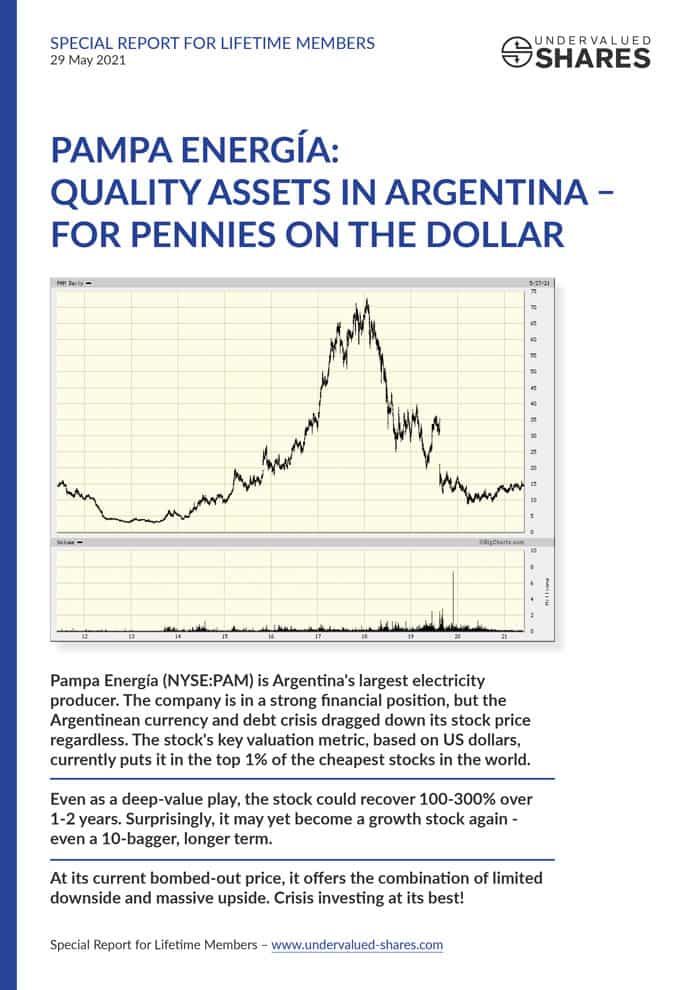 Print this article
Did you find this article useful and enjoyable? If you want to read my next articles right when they come out, please sign up to my email list.
Share this post: