Bougainville Copper – new game, new luck?
Does this company even need an introduction? I first wrote about it in 2004, and my name has been tied to it ever since. Bougainville Copper (ISIN PG0008526520) is an Australian-listed copper company which lost its main asset due to a civil war on the island of Bougainville during the 1990s.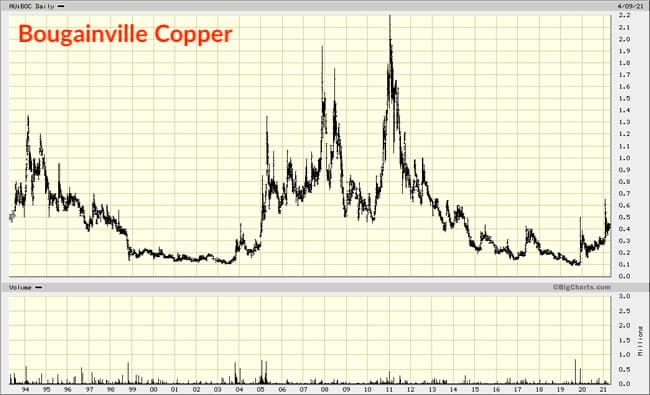 For an all-round overview of the Bougainville Copper story - a constant plaything of speculators - please refer back to my Weekly Dispatch of 13 March 2020.
As I wrote at the time:
"The best-working formula for Bougainville Copper has so far been: buy when things look absolutely hopeless and depressing and sell whenever you see the usual raft of mainstream media players reporting about the story."
It looks like we are there yet again. If anything, the stock's chart and recent news from the local media seems promising.
For a short-term punt, now is probably a good moment to look at this again. Since I know how many of my readers are still following this stock, I thought it'd be worth pointing out my recent observations.
"Prospects of Panguna re-opening brighten"
Such was the headline in Radio New Zealand on 11 March 2021.
"There is renewed talk of bringing the closed mine back into production, initiated by the Panguna Development Company Ltd, which has brought together almost all the landowner groups.
…
Agreement has been reached to support the former miner, Bougainville Copper Ltd's quest for an exploration licence, and for the landowners to be given shares in the company."
It's remarkable news, if it's confirmed by political action. Have the landowners come to their senses after all?
In 2019, 98% of Bougainville's residents had voted to seek independence from Papua New Guinea. Much as this was the strongest-possible endorsement for the island finally going it alone, there simply isn't any money to pay for it. The remote tropical island of 250,000 residents has a per capita income of just USD 1,100, which makes it one of the poorest places on earth. One could hope that Papua New Guinea would help out, but that country's public finances aren't exactly bedded on roses either.
How to pay for the independence that the people of Bougainville have sought – and fought for – for decades?
The copper in the ground could certainly provide the answer. Bougainville hosts one of the world's largest copper reserves. The price of copper has been rallying of late and is currently trading near its all-time high.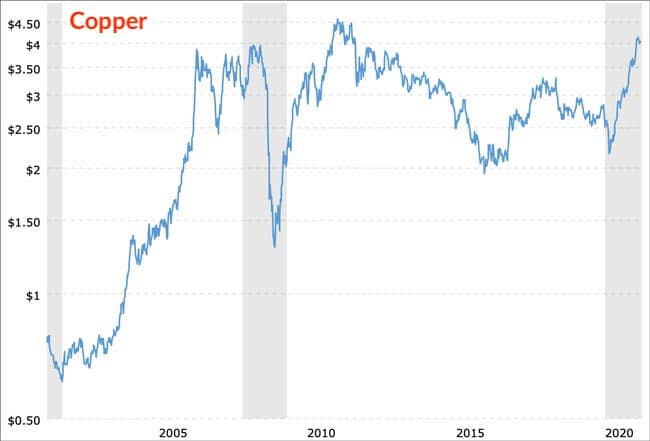 Getting the dormant Panguna mine back into operation could not just pay for independence, but make Bougainville one of the wealthiest jurisdictions on earth. What's more, with today's mining technology it could be done without wrecking the entire island and poisoning its people. The Panguna Mine V2.0 could be a different game altogether.
Who has the most expertise to make it happen?
That'd be Rio Tinto (ISIN GB0007188757), the former majority owner of Bougainville Copper.
"Former" because Rio Tinto gifted its shares to the peoples of Papua New Guinea and Bougainville in 2016. Formally, the Australian mining giant is no longer involved with Bougainville Copper. However, as I described last year, the move could have been a clever ruse. Needless to say, restarting the mine will cost a billion (or two, or five). It also requires a lot of expertise. Why not go to the mining giant that has both available on tap?
It's a common sense realisation that some of the landowners seem to have arrived at, based on the Radio New Zealand report.
Not that this would be the first time. On numerous occasions, there had been talk of the landowners seeking the involvement of Rio Tinto. Each time, though, politics got in the way.
Will this time be any different?
God only knows, and I have voiced my concerns about tropical island politics before. Also, keep in mind there are several other companies that vie for the massive Panguna copper deposit.
That all said, the stock market might just need a new round of media reporting and hope. Bougainville Copper is a tiny outfit with an ASD 170m (USD 130m) market cap and the stock's upside in the case of reviving the mine would be enormous. Any glimmer of hope can lead to an overnight doubling of the stock, as has been the case on numerous occasions in the past. Just check the long-term chart that goes back all the way to the 1990s.
The stock already experienced a run-up in January 2021, probably on the back of well-informed investors with access to local politics piling in. It's come back since, but the chart's formation looks like there is more to come.
Will it, won't it? ‍‍🤷‍♂️ ️
All I know is that Bougainville Copper has reliably produced one short-term hype after another. It's been doing so since the 1990s, and it'd be surprising if there weren't a few more such run-ups in the making.
If this type of playing short-term volatility is to your liking, then now is probably a good time indeed to move this back onto your radar.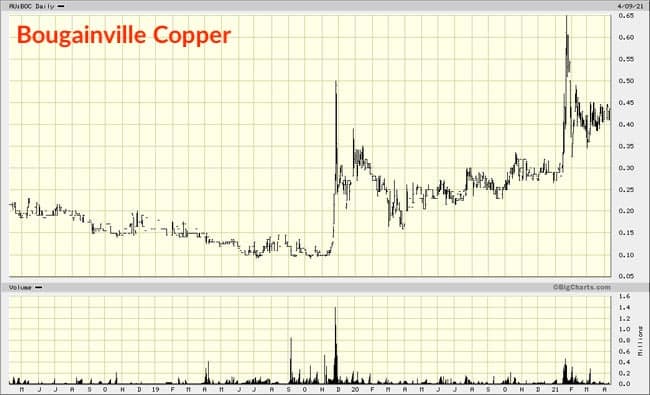 Print this article
Did you find this article useful and enjoyable? If you want to read my next articles right when they come out, please sign up to my email list.
Share this post:

My latest report: Crisis investing in Argentina
Is Argentina the world's most out-of-favour stock market?
It currently is near historic lows, but there is a good chance for the tide to turn. The surge in global food prices is a powerful catalyst for a country where 70% of exports are agricultural products.
What's the best way to play this theme?
A company that owns some of the country's best assets!
It's a crisis investing opportunity par excellence, and it's all revealed in my latest research report.