Playboy Group – the world's cheapest global brand?
Image by Casimiro PT / Shutterstock.com
You can only whisper it, but what is one of the world's leading brands associated with sex is actually a publicly listed company.
To keep it all a bit more discreet, the company's official name is PLBY Group.
Few would even know that you can buy stock in it.
And many of those who knew and did, probably wish they hadn't. Since its peak price in April 2021, the stock has lost a staggering 97%.
Is now the time to buy into a valuable brand at a rock-bottom price?
Trials and tribulations of a mega-brand
No article about Playboy would be complete without touching on its legendary founder, Hugh Hefner.
With a USD 1,000 loan from his mother, Hefner started Playboy in 1953. Following a meteoric rise that put both himself and the magazine at the forefront of the sexual revolution, Hefner became rich enough to build himself the infamous Playboy Mansion and spend the rest of his life pursuing the kind of lifestyle depicted in his magazine. At its peak in the early 1970s, Playboy sold 7.2m copies a month. For decades, global celebrities, including names such as Marilyn Monroe, Kate Moss, Madonna, and Steve Jobs, vied to be interviewed by the magazine.
Playboy was never full-on pornography, nor was it tame enough to be read in the office. It created a genre of its own and became popular the world over. Its logo and mascot, the stylized silhouette of a rabbit wearing a tuxedo bow tie, is instantly recognisable and a cult icon in its own right.
Sadly, as a business, the formula stopped working a long time ago.
Drunk on fame and the fringe benefits of publishing such a magazine, Hefner dropped the ball on managing the company.
New competitors joined the fray, first in the form of Penthouse magazine and later the so-called lads' mags such as Maxim and FHM. Pornographic videos became more easily available through video tapes and pay-TV, and eventually through free channels on the Internet. With sex becoming ubiquitous, Playboy gradually lost its cultural relevance.
In 1998, Hefner's daughter Christie took over. It was during her reign that I first looked at the stock, when the legal predecessor to today's company was listed under its full name.
Even back then, the stock was always relatively cheap compared to the presumed value of its global brand. However, it proved a value trap of sorts. In 2011, Playboy was taken private at a valuation of a comparatively paltry USD 207m. Christie Hefner had stepped down in 2009, and a new generation of investors were trying their luck to turn the company around after several decades of slow, gradual decline and profitability issues. As part of the changes, Playboy magazine stopped showing full nudity on its cover pages from 2015. The company tried hard to adapt to changing times and create a niche for itself.
It re-emerged during the SPAC craze of the early 2020s, when private equity investor Rizvi Traverse Management took the company back to public markets in its new guise as PLBY Group.
The company had just stopped publishing its magazine in hardcopy form, which at the time was losing USD 7m a month. A new era of utilising the Playboy brand online and for licensing deals beckoned. During the initial hype, the stock rallied from USD 10 to as high as USD 60 in April 2021.
It's now trading at just USD 1.80, and the company's market cap is down to USD 130m.
When cheap money drives strategy
As a sucker for nostalgia and well-known brands, I've long wanted to see if Playboy offered an interesting investment case.
After all, the power of its brand seems undiminished:
Playboy products are still sold in 180 countries.
It remains the 21st most licensed brand in the world.
90% of Generation Z is aware of the brand.
Given such figures, why did the stock drop 97%?
In retrospective, one particular budget line in the company's use of proceeds from the IPO tells a big part of the story.
Following its SPAC transaction, the CEO "invested" USD 17.5m into purchasing a private jet. Slapping the Playboy logo onto the jet and securing Hugh Hefner's jet registration number "N950PB" should serve as marketing tools, but who really bought into that story? Here was another CEO who fell into the lifestyle trap that a company like Playboy can provide.
In retrospective, much of the company's latest incarnation as publicly listed looks like it was a phenomenon of the SPAC mania and era of cheap money. E.g., instead of focussing on growing and milking the legendary brand name, PLBY Group set out to purchase and grow a raft of new brand names:
"Honey Birdette" for luxury lingerie.
"Lovers" for sexual wellness and health products.
"Dream" as an online platform similar to the infamous OnlyFans website.
Along the way, PLBY Group jumped on the NFT bandwagon and partnered with an Indian gaming group. The company was truly all over the place. Even when you read through the previous years' reports backwards, it's difficult to keep track of all the brand names, acquisitions, and growth initiatives.
With the end of cheap money and investors asking for the operation to actually make money, things recently went into reverse.
Cobbler, stick to your trade
Of late, PLBY Group has started to focus.
Honey Birdette has gone up for sale, and so has Lovers, as well as the company's private jet and art collection.
With these assets getting shed, what's the supposed new way forward?
In its quest to go back to the roots, PLBY Group is trying to establish itself as the more acceptable version of OnlyFans – the platform where content creators (mostly women) can sell their content (mostly of a raunchy nature) to online fans.
I opened a user account to look around, only to find a platform that seemed pedestrian, with uninspiring content.
Trying to present some of its content as "wholesome" and including a section on "body positivity" may work for some demographics, and give PLBY Group's platform an angle that makes it distinctively different from OnlyFans. After all, it's not the 1980s anymore, no matter how much middle-aged farts like myself love to relish their memories of Miami Vice and the original Magnum PI series. Credit to PLBY Group for its efforts to adapt to a changing media landscape and evolving consumer tastes.
Does it work, though?
The company's financial reports are currently difficult to interpret, because they're a hotchpotch of different activities, with lots of one-off items thrown in. It's obvious, though, that PLBY Group is struggling with profitability. Unsurprisingly, the market seemed unconvinced of the entire investment case of late.
Focussing on licensing its legacy brand and creating direct-to-consumer services that are distinct from its competitors seems a wise approach overall. There may even be wisdom in turning its back on the Baby Boomer audience, and repositioning the brand as something that appeals to the next generation. Having a heritage-rich brand does not need to preclude the idea of adapting to changing times.
Last but not least, assuming reasonable sales proceeds from the pending asset sales, PLBY Group could end up entirely debt-free. Once debt-free and with such an iconic brand as well as a reasonably clear strategy, the equity story could be given another chance by investors.
However, at least for a while longer, PLBY Group comes across as a company that can count itself lucky just to survive. Given management's past track record and the current lacklustre performance of its content creator platform, what are the odds that an exciting new investment case will emerge from the rubble of this SPAC transaction? I'd place that well below 50%, and possibly a lot lower.
My baseline expectation is that PLBY Group – both the stock and the company – is facing a few uninspiring years. I remember how shareholders felt screwed when Playboy was taken private at a rock-bottom price in 2011, and we may see a repeat.
Even after a 97% drop in share price and an overall valuation that seems cheap relative to the undoubted potential of the brand, PLBY Group doesn't (yet) look like a stock I'd want to buy into. In a few years, the situation could be different. After having this brand on my investment radar for nearly 30 years, I'll sure keep monitoring it.
Another underutilised brand with global appeal
There is a much more interesting company to take a look at while you wait for PLBY Group to evolve: Dr. Martens plc.
The producer of the eponymous boots, commonly known as "Doc Martens", "Docs" or "DMs", is a true bargain for contrarian investors.
It is a successful, timeless brand, and currently offers the perfect chance to buy into it at an even lower price.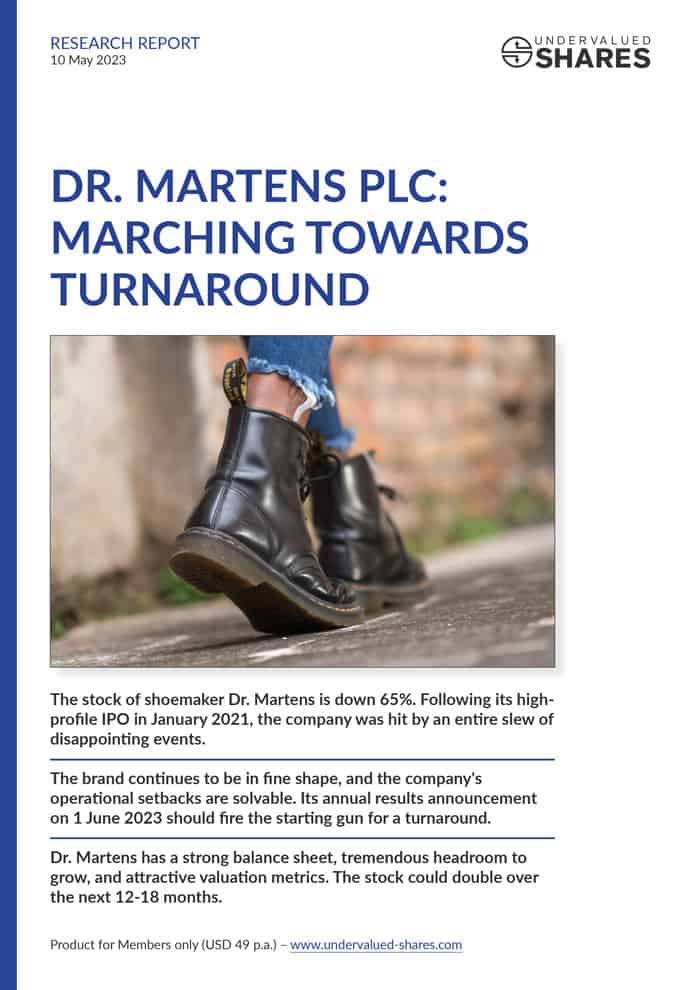 Another underutilised brand with global appeal
There is a much more interesting company to take a look at while you wait for PLBY Group to evolve: Dr. Martens plc.
The producer of the eponymous boots, commonly known as "Doc Martens", "Docs" or "DMs", is a true bargain for contrarian investors.
It is a successful, timeless brand, and currently offers the perfect chance to buy into it at an even lower price.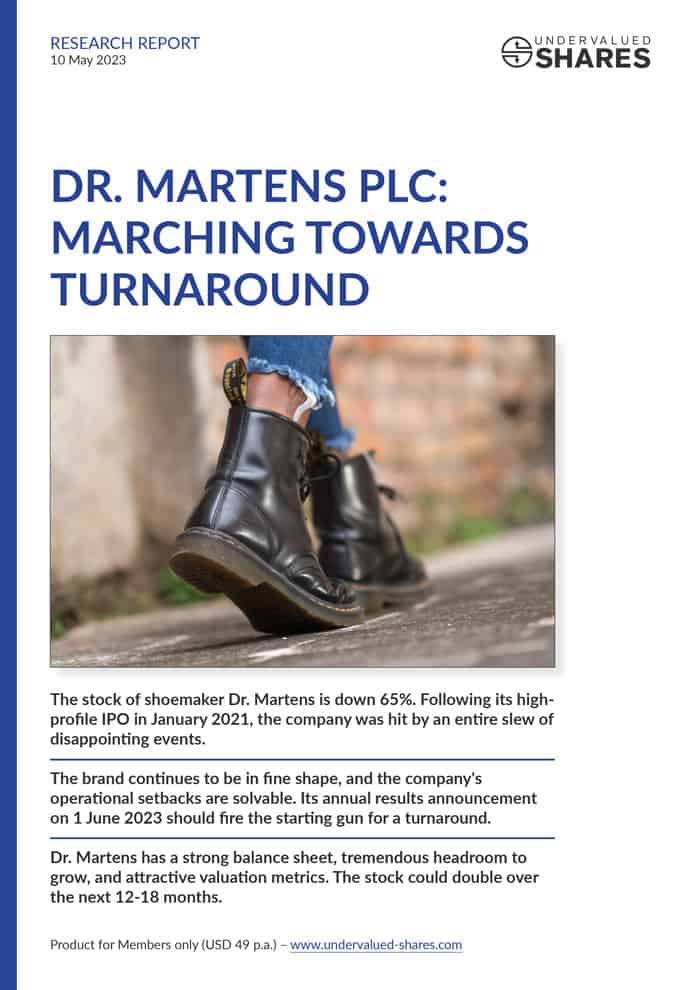 Print this article
Did you find this article useful and enjoyable? If you want to read my next articles right when they come out, please sign up to my email list.
Share this post: