Using my global network as your eyes and ears on the ground
The following WhatsApp message captured my attention when it flicked up on my iPhone:
"Regarding Apollo Global, highest average personnel IQ of any non-tech firm. I am long and intend to hold forever."
It came from a friend who is a world-class executive in the financial industry, a high-net worth investor, and all-round clever guy.
When friends with a proven track record mention an idea to me, I listen. All the more if they have long-standing, deep insights into industries that I don't know enough about.
It has always been high on my agenda to expand my understanding of the world using the insights that exist within my network. After all, no one can know everything. The world has about 100,000 publicly-listed companies and there are more industries than any human being can possible keep abreast of. Having clever friends, colleagues, and readers is my way of keeping many eyes and ears out there.
It's how I got interested in Apollo Global Management (ISIN US03768E1055), and a real find that turned out to be!
Let Wall Street work for you (not the other way round)
If you watched Wall Street, the 1980s movie with Michael Douglas, you'll already have a pretty good idea what this company is about.
Apollo Global Management is one of the wheeling and dealing Wall Street firms that emerged as a result of the changes brought by the 1980s. The other famous names in that group are Blackstone (ISIN US09260D1072) and Carlyle Group (ISIN US14316J1088), as well as KKR (ISIN US48251W1045), even though the latter already started in the mid-1970s. The founders of these firms all began their career in the kind of Wall Street environment depicted in the eponymous movie, i.e. the Drexels and Lehman Brothers of this world. Subsequently, they all set out to build their own firms. Over time, these four firms rose to become the world's leading "alternative asset managers". They now jointly manage not billions but well over a TRILLION of client assets.
What exactly are these companies doing, how are they making money, and why should investors be interested in them?
Who could tell off the top of their head what's meant by "alternative" assets?
When my friend described Apollo Global as having one of the highest personnel IQs outside of the tech industry, I immediately thought this was an interesting way of looking at a company and one that warranted further investigation. If there is a chance to invest alongside clever people who have made billions by spotting investment trends earlier than others, why not latch onto them?
Obviously, one has to ask critical questions. E.g., given how far and wide the company's reputation has already spread and with its market cap already above USD 20bn, could it be that the moment has already passed and it's now too late to jump on the bandwagon?
I set out to investigate.
A new report that will suit some (but not everyone)
Two days ago, Undervalued-Shares.com Members received yet another of my research reports - a 44-page report about Apollo Global.
In a few words, the investment case can be summarised as:
An opportunity to make 50% over 6-18 months.
Long term, the stock could turn into a compounder with a high dividend yield.
For 2022 and 2023, the dividend yield is expected to come in at 5% and 7%, respectively. Beyond that, it will likely rise further.
Apollo Global will primarily appeal to those of you who are looking to generate income from their portfolio, albeit with a twist. This investment potentially offers you income that is higher than what you'd generate from conventional income-generating assets, and it comes with the added benefit of significant potential capital appreciation over time.
It's listed on a market that anyone with a brokerage account can access, and the stock is very liquid. Its valuation recently fell behind that of its peers, but there are a number of catalysts for it to catch up over the coming 6-18 months.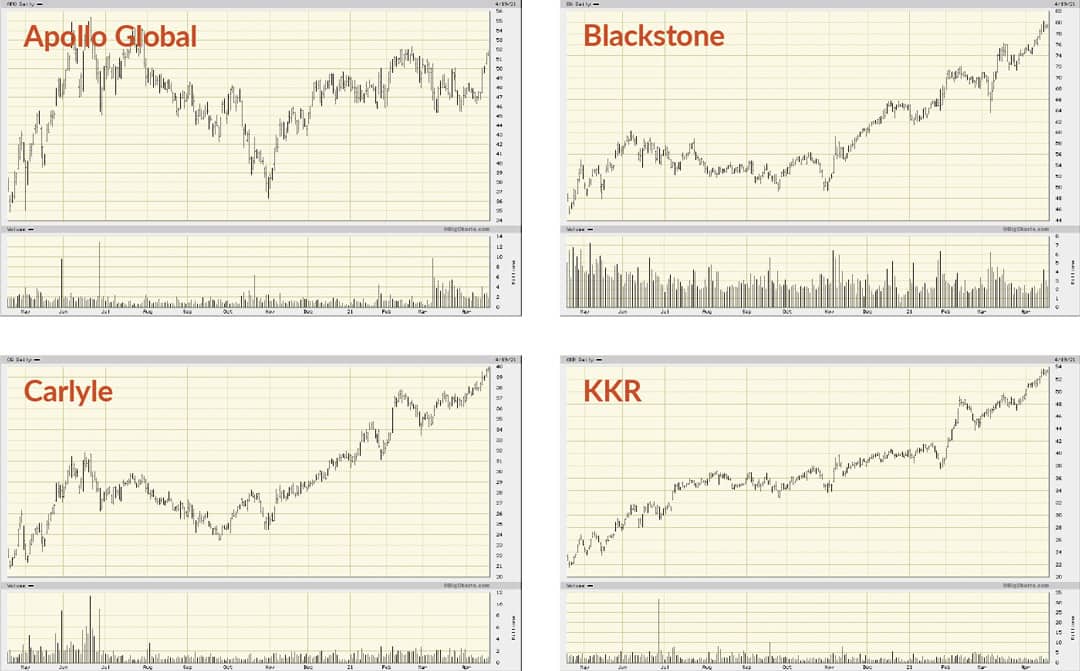 One of the reasons why this opportunity exists is complexity. Apollo Global's inner workings are quite complex, and much of what's written about it elsewhere does not exactly make it easier to understand how it all works. E.g., I've read a ton of research issued by investment banks and found most of these reports nearly incomprehensible at first. To get the hang of this industry, you need to spend lots of time learning to decipher industry lingo.
Alternatively, you can just read my latest report (available to those who've signed up for a Membership from just USD 49 p.a. – which is about the same price similar websites charge per MONTH). If anything, I promise you'll learn something about an industry that you probably knew existed, but which you are quite possibly as unaware of as I've been until recently. At the end, you decide whether this is a "stock to hold forever" for your retirement portfolio, as my friend intends to.
Utilising and broadening the network effect of my website
Undervalued-Shares.com has now been back for 28 months (following its eight-year hiatus from 2010-18), and the network behind it is already impressive. Not only do I have thousands of readers in around 100 countries, but my somewhat different approach to operating this website tends to work as a filter. My readers are smart and many of them have exclusive insights or long-standing experience in particular sectors.
My latest report about Apollo Global is another example how my work is also informed by readers, and how Undervalued-Shares.com has the potential to generate a broader set of benefits that radiate into all sorts of directions.
There'll be more of that going forward, and I am delighted to have each and every one of you onboard for the journey.
Print this article
Did you find this article useful and enjoyable? If you want to read my next articles right when they come out, please sign up to my email list.
Share this post:

Out now: Apollo Global
Do you want 500 of the world's best investment professionals to work for you?
Buy stock in Apollo Global Management, and you can benefit from the brightest of the investment industry with a stellar track record in managing private equity funds.
The NYSE-listed alternative asset manager offers an immediate opportunity to make 50% over 6-18 months. Longer term, the stock could turn into a compounder with a high dividend yield.
Is this a "stock to hold forever"? My latest report, out this week, provides the answer.