Applus Services – bidders AND activists ante portas?
Providing solutions for testing, inspecting and certifying is not the world's most fascinating business. While firms in this space may be vital for the modern world to function in a safe, reliable way, they do not overly excite public market investors.
This is why the stock of Applus Services, a leading Spanish firm in this sector, has barely moved since it went public in 2014. During the ensuing nine years, the stock has never even got back to its IPO price.
Private equity, however, loves the recurring revenue streams that firms in this industry offer.
No less than three private equity players are currently said to be evaluating a bid for Applus Services. On top of that, I believe one or more activists may join the fray.
Applus Services is a fairly unknown company, but one that could generate an attractive short- to medium-term return.
A fragmented, lucrative growth market
It's unlikely that many of my readers will have heard of Applus Services (ISIN ES0105022000, ESP:APPS) before, even if they reside in Spain. It's one of those firms that operate mostly outside of the public eye.
It is a sizeable firm nonetheless. With its range of services in testing, inspecting and certifying, Applus Services has 26,000 employees and generates over EUR 2bn in revenue from its operations in 60 countries.
Speak of a hidden champion!
Applus Services makes sure that products and services:
Comply with health and safety standards.
Don't put the reputation of a valuable brand at risk.
Fulfil environmental standards.
Live up to the quality standards promised by the manufacturer.
Age in the way they are supposed to age.
Tick the boxes of so-called ESG standards and other regulation.
In our safety-obsessed world, all of this is big business.
It's often carried out by small firms, though.
Testing, inspecting and certifying has long been an industry known as being very fragmented, which is why as early as the 2000s, US private equity firm Carlyle purchased Applus Services. There has been a two-decade play in consolidating the industry – and more remains to be done for the industry to achieve true economies of scale.
Not that public market investors would appreciate it.
Within a year and a half of the IPO in 2014, Applus Services stock dropped from EUR 14.50 to just half that. It has been bumping along ever since.
Until last week.
Reports of an upcoming bid
On 4 May 2023, Reuters reported that Apollo Global Management and Apax Group were among the parties currently interested in launching a bid for Applus Services.
The report made the stock price jump from EUR 7.60 to EUR 8.60 in a single day.
Is there more to come?
Reuters delivered a vital clue by reporting that there was more than one party looking at a potential bid.
Applus Services bears many hallmarks of an interesting bid target:
No major shareholder.
Lots of exposure to growth businesses, including ESG-related certifications (a "hot" sector).
Recurring revenue.
High barriers to entry.
Sufficient size, even for mega-size firms like Apollo and Apax.
How high a bid might someone place?
Comparable firms listed on the European stock market include:
Bureau Veritas (ISIN FR0006174348, FR:BVI)
SGS (ISIN CH1256740924, CH:SGS)
Intertek Group (GB0031638363, UK:ITRK)
After years of being neglected by public market investors, Applus Services stock is trading at quite a discount – 25-40% compared to its European peers (depending on which metrics you apply).
How this could play out
A company that has no major shareholder, is in the crosshairs of private equity, and has an undervalued stock could make for a target that attracts activist investors.
Indeed, I had a conversation with one European activist investor who believes that the shareholders of Applus Services could even see the share price go 80% higher over the coming two years, but only if the company pursued a more strategic approach that maximises shareholder value.
Applus Services' subsidiary in testing equipment of carmakers, for instance, is seen as a business with limited growth potential, and it's weighing on the otherwise more growth-orientated company – and its valuation!
Applus Services could be well-advised to first sell the automotive division in a focussed stand-alone transaction, and then sell the remainder of itself. Quite possibly, this is exactly the strategy that a firm like Apollo or Apax would want to pursue – so why leave it to them to make this extra money?
The current constellation leaves shareholders with three potential scenarios:
Nothing happens: no bid materialises and no activist(s) turn up on the stage, and the stock benefits from Applus Services' successful, profitable growth. Returns will be fairly limited due to a lack of public interest in the company, but it would probably be an okay investment.
One or more bids: private equity launches a cash bid for Applus Services, which might have to be 30-40% above the current share price to be acceptable to a sufficient number of shareholders.
Activists succeed: someone launches a campaign to have Applus Services first sell its automotive division, distribute a cash dividend that could amount to somewhere around EUR 5 per share (!), and then sell the remainder of the company for probably a double-digit share price.
Much as the last scenario requires an activist to do the hard work, it's actually something that all shareholders of Applus Services should actively work towards, if only by way of lending their support at the ballot box. The company may not have a major shareholder, but this shouldn't stop shareholders from pursuing a joint goal.
Some interesting next weeks and months
There is no guarantee that a bid or an activist campaign will materialise, but the likelihood of one or the other (or both) has jumped dramatically since news leaked last week.
Over the next couple of weeks, the key players will put their chess pieces into position. I have no doubt that there is a lot of activity going on behind the scenes right now. As Reuters wrote: "Applus has received a number of approaches in the last year, and is working informally with JPMorgan as an adviser for a potential deal."
The stock price has come off a bit over the last few days, no doubt also a result of the short news cycle and the difficulty of analysing Applus Services, a perennially complex company. This is not an industry that many investors would be knowledgeable about – even though they should be, as these developments clearly show.
Latest stock pick out now
Successful, timeless brands don't come up for a discounted sale very often.
If you ever considered looking at Dr. Martens as an investment rather than a way to channel your inner rebel, now is a good time to do so.
Undervalued Shares has already done the hard work for you.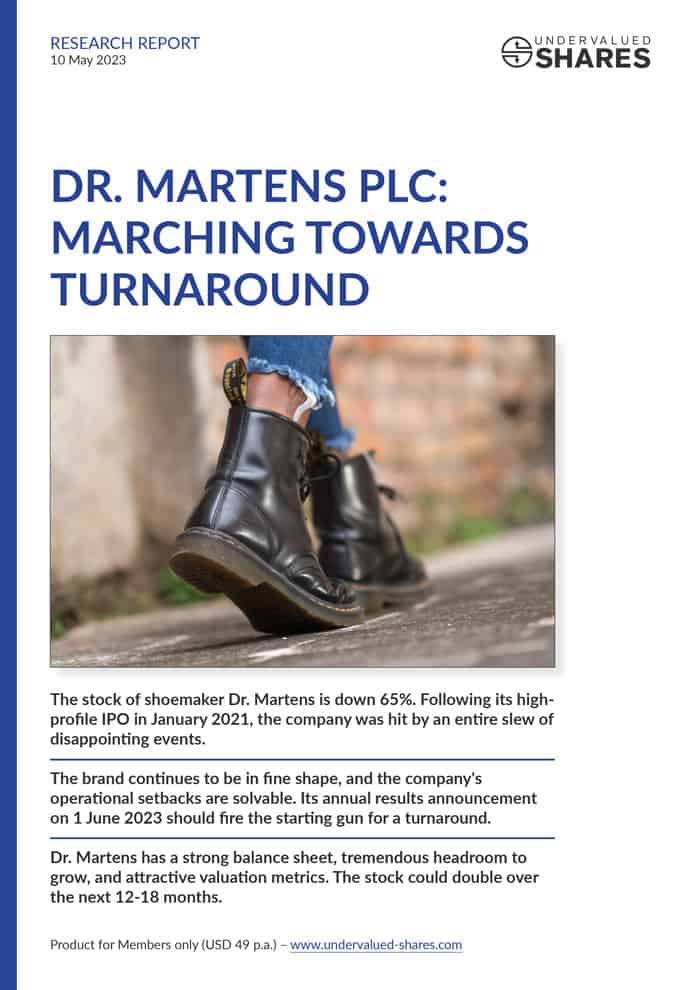 Latest stock pick out now
Successful, timeless brands don't come up for a discounted sale very often.
If you ever considered looking at Dr. Martens as an investment rather than a way to channel your inner rebel, now is a good time to do so.
Undervalued Shares has already done the hard work for you.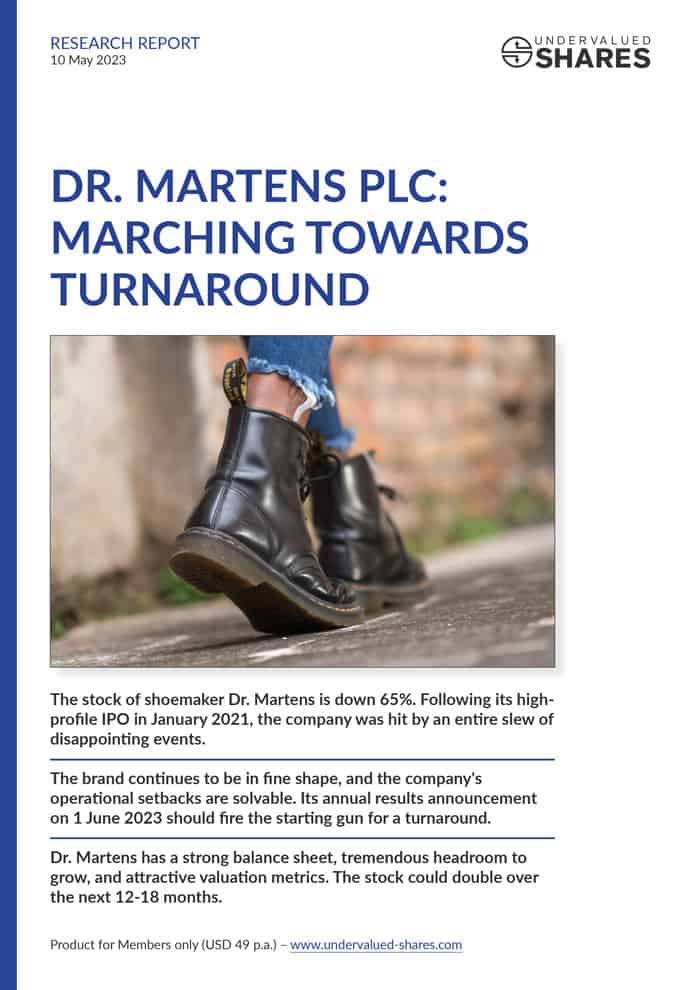 Print this article
Did you find this article useful and enjoyable? If you want to read my next articles right when they come out, please sign up to my email list.
Share this post: