Burberry – now more than just a takeover candidate
Image by andersphoto / Shutterstock.com
In a recent survey carried out by Bloomberg, fund managers named Burberry as their #1 candidate for a potential takeover bid.
This shouldn't come as a surprise to you. As early as September 2021, Undervalued-Shares.com had speculated about the company as "Burberry – the next takeover target?".
Burberry stock is up 36% since then, more than delivering on the 30% upside highlighted at the time.
With a potential bid still looming in the air, does Burberry stock have further to run?
A new leadership team
Burberry Group (ISIN GB0031743007, UK:BRBY) is as British as Big Ben, James Bond, and the Queen – and just about as well known. Ask anyone about a British luxury brand, and Burberry will likely be the first name they mention.
For an overview of the company and its performance during the past decade, take a look at the Weekly Dispatch "Burberry – the next takeover target?", published in September 2021.
Burberry has since appointed the new CEO that it had said it was going to appoint.
The new leader at the helm of the company is one of the reasons why the stock has done well. Jonathan Akeroyd joined from Versace in April 2022, and his key hire was the firm's new creative director. David Lee had previously been the creative director at Bottega Veneta, an Italian luxury brand that needed reinvigorating. A breath of fresh air was just what Bottega Veneta got after Lee joined, and he is now busy preparing to do the same for Burberry.
The duo has set out an ambitious strategy, but one that instinctively makes sense. Akeroyd vowed to make Burberry "British" again, which is the brand's obvious point of differentiation in an industry dominated by French brands. Rather than being apologetic about not being French (or Italian), Burberry wants to use its heritage to address the ever-growing global market for luxury goods market from a different angle. The strategy aims to increase sales from GBP 2.8bn to GBP 4bn over the next three to five years.
Will Akeroyd and Lee pull it off?
So far, not everyone is convinced.
In their last report of 23 March 2023, analysts at UBS, who have been following Burberry for years, rated the stock "neutral" after meeting Burberry executives:
"Overall, the meetings left us feeling that BRBY is in a much better place under the new leadership, with a lot of excitement about the story internally and among investors. Although we recognise the opportunities, which lie ahead of BRBY, we remain Neutral as we await the first signs of brand turnaround gaining speed."
Those first signs could already become apparent in September 2023, when Burberry's new collection will be hitting the shelves after the summer break.
Lee's first proper collection will be a litmus test for the company's revised strategy.
Potential bidders, too, could be waiting for this moment to evaluate their potential next steps.
"Buy British" remains en vogue
Takeover mania in Britain has continued unabated since January 2023.
During a single week in April 2023, private equity investors launched bids for three sizeable British firms with a total market cap of GBP 4bn: THG (ISIN GB00BMTV7393, UK:THG), Network International Holdings (ISIN GB00BH3VJ782, UK:NETW) and John Wood Group (ISIN GB00B5N0P849, UK:WG).
As previously reported, thanks to the depressed valuations of British stocks, these offers tend to come with an unusually high premium. Under normal circumstances, bids for public companies usually have a 30-50% premium. In the UK during the past few years, bids often enough yielded a 50-100% premium.
This included a few surprise candidates. E.g., at the end of April 2023, Deutsche Bank (ISIN DE0005140008, DE:DBK) bid for Numis (ISIN GB00B05M6465, UK:NUM), one of the City's best known corporate brokers for small and medium-sized companies. Wasn't the City supposed to be shut off from the EU (and the rest of the world) following Brexit? In any case, the German bankers didn't seem to think so and offered a whopping 67% premium compared to the last share price.
Henrik Johnsson, the German bank's head of capital markets in Europe, said: "We've been looking to increase our presence in the UK for a little while. … The UK continues to be the most important investment banking centre in Europe."
British companies are among the most accessible European companies thanks to Britain's open, well-established capital market and the currently rather low valuations. For anyone looking for bid targets and unusually high premia, the London Stock Exchange remains the continent's premier venue for truffle hunting.
Would Burberry attract a similarly high bid if it ended up in the crosshairs of a serious bidder, and what are the chances of that happening?
All the stars seem aligned
For a start, Burberry is deemed to have quite a high likelihood for a potential bid.
When Bloomberg carried out its informal survey among 17 M&A desks, fund managers and analysts, Burberry was mentioned as a bid target more often than any other company.
The counter-argument would be that this is actually too much of a consensus trade and open secret for the stock to have further potential. Isn't it all priced in yet?
On balance, it does look like Burberry has further to run. The stock is currently trading at an EV/EBITDA multiple of around 11 based on adjusted estimates for 2023. In the luxury goods industry, the scarcity of targets and the resilience of earnings often make bidders pay a price in the range of 12-20x EV/EBITDA.
From a more practical perspective, a bidder would have to offer at least a 30% premium to convince shareholders that the bid was worth considering. If the premium was lower than that, most investors would say it'd be better to just hold on.
A 30% upside with the possibility to go higher still both on fundamentals and a potential bid? Not a bad combination.
Much depends on the perception of Burberry's upcoming new collection.
What are the chances of that going well?
A 6 February 2023 article by Harper's Bazaar rounded up the new designer's track record, and it makes for interesting reading:
"Lee recently found huge commercial success heading up Bottega Veneta. … Lee will no doubt be a great asset to Burberry after being widely praised during his time at Bottega. Among his successes, Lee picked up four accolades at the 2019 Fashion Awards, including Designer of the Year and Brand of the Year. He had succeeded Tomas Maier, who had helmed Bottega for 17 years. While the brand was in a solid position as a respected Italian fashion house with impressive heritage and strong sales within the leather goods market, Lee transformed it into an 'It' label at the forefront of fashion – Bottega Veneta's show became one of the most highly anticipated on the calendar, and several of Lee's designs developed cult-like status."
You'd think that the chance of that crucial first collection to become a success are higher than just 50/50. It's badly needed, given how Burberry has fallen behind. While the rest of the luxury goods sector has gone from strength to strength, Burberry's growth has stalled.
Within the company's product range, accessories are the most important financially because they come with very high margins. Accessories are what Akeroyd aims to "broadly double" by 2027, building on Lee's success of propping up the sales of such items at his previous employer.
With such anticipation lingering in the air, it's not surprising that Burberry stock has outperformed the British FTSE 100 index since early 2023. Later this year, analysts at large banks like UBS could upgrade the stock and boost the price towards the 3,000 pence mark.
This prospect could make a bidder consider to move sooner rather than later. Chances are that a potential acquisition isn't going to get any cheaper. Or will potential bidders, too, first want to see how Lee's collection performs? It's anyone's guess.
Despite the rising share price, my assessment of Burberry is almost the same as in September 2021, with just four words needing updating:
"To succeed, a bid would probably have to be at least ≈30% higher than the current level – and could reach higher if a bidding war broke out. For someone looking for a UK bid target where a buyer could strike within the next six months, Burberry is worth considering. Worst case, if no bid arrived, both the company and the stock would likely stage a recovery next year continue its recovery because other measures have started to take hold."
It remains a stock with an attractive risk/reward ratio, because of Lee's likelihood of landing a success.
Another British brand – which could double
Other than Burberry, you could look at a slightly racier case of a British brand that is trading at an attractive valuation.
Dr. Martens is one of those successful, timeless brands don't come up for a discounted sale very often.
Now is a good time to take a closer look – and Undervalued Shares has already done the hard work for you!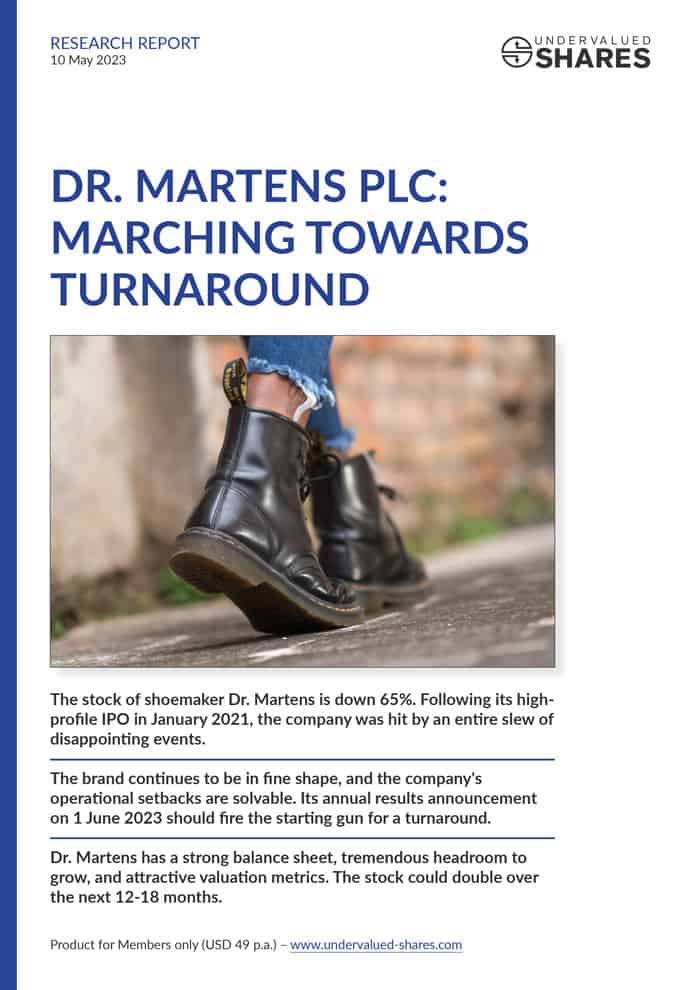 Another British brand – which could double
Other than Burberry, you could look at a slightly racier case of a British brand that is trading at an attractive valuation.
Dr. Martens is one of those successful, timeless brands don't come up for a discounted sale very often.
Now is a good time to take a closer look – and Undervalued Shares has already done the hard work for you!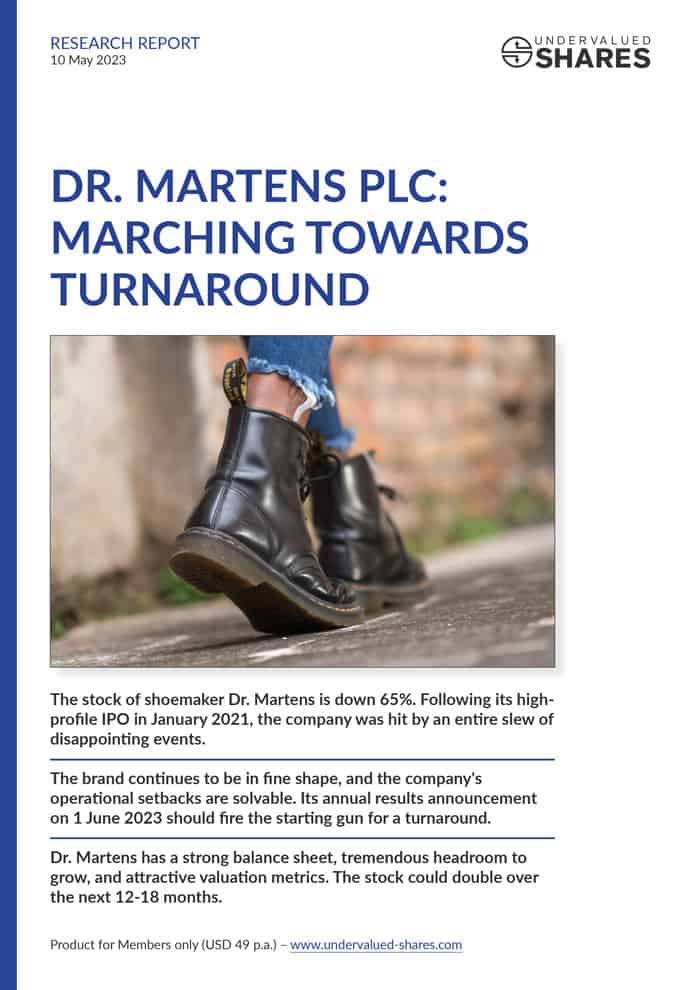 Print this article
Did you find this article useful and enjoyable? If you want to read my next articles right when they come out, please sign up to my email list.
Share this post: