Burberry – the next takeover target?
Image by Willy Barton / Shutterstock.com
Early on, and repeatedly, Undervalued-Shares.com highlighted the coming wave of bids for British companies.
Over the past few weeks, the gravy train of lucrative bids and bid speculation has reached fever pitch:
British Telecom (ISIN GB0030913577) is now "in play", following comments by its large shareholder, Deutsche Telekom (ISIN DE0005557508).
EasyJet (ISIN GB00B7KR2P84) received a bid approach from its rival, Wizz Air (ISIN JE00BN574F90). EasyJet rebuffed the approach – for now.
Entain (ISIN IM00B5VQMV65), the fantasy sports betting company, received a USD 20bn offer from its American counterpart, DraftKings (ISIN US26142R1041). Entain shareholders got 24% richer overnight.

As the Daily Telegraph put it on 8 August 2021:
"Over the last few months, just about everyone with a big open cheque book has been descending on the UK, buying everything that might be available. Relatively cheap, and often with great growth prospects, British companies are suddenly all the rage on the global market."
In the process, investors made quick gains. Because of the low valuation of UK stocks, bid premiums often came out unusually high – 50%, 70% or even 100% above the recent share price. 
It begs the question, where will bidders strike next?
Burberry, the eponymous British fashion brand, is a likely target.
Burberry's history in a nutshell
Burberry is almost as well-known globally as Big Ben, James Bond, and the Queen. Founded in 1856, its trench coats in Burberry check are one of the world's most recognisable fashion items. The company operates an expansive flagship store in London's uber-exclusive Bond Street (see cover photo), and it also sells its products in 58 other stores across the world.
Its history as a publicly-listed company is checkered – forgive the pun.
Between 2001 and 2005, the brand involuntarily became associated with football hooligan and "chav" culture (a derogatory British term for a young person, typically from a white lower-middle class background, who engages in loutish behaviour and wears flashy jewelry and tracksuits). A PR nightmare.
Things changed dramatically for the better with the arrival of Angela Ahrendts as CEO in 2006. During her nine-year tenure, Ahrendts tripled sales, and the company's market cap increased from GBP 2bn to GBP 7bn. In 2012, Ahrendts was the highest-paid CEO in Britain. If you care about the details of her work, LinkedIn carries a brilliant in-depth analysis: "How Angela Ahrendts transformed 150-year-old Burberry into the most innovative fashion company".
Since Ahrendts' departure to Apple (ISIN US0378331005), Burberry's performance has been mixed. In 2015, the company ranked 73rd in Interbrand's 100 Best Global Brands report, alongside Louis Vuitton. Fast-forward to 2020, and Louis Vuitton has risen to #17 of the ranking whereas Burberry has fallen back to #97.
Its CEO of the past five years, Marco Gobetti, managed to reduce the percentage of items that are sold at a discount, and he succeeded in attracting a younger, wealthier clientele. Margins were 15.4% when he arrived and rose to 17% earlier this year - catching up with those of luxury mega-conglomerates LVMH (ISIN FR0000121014) and Kering (ISIN FR0000121485).
However, neither Burberry nor its stock have kept up with the strong performance of Kering, LVMH, and Moncler (ISIN IT0004965148). While Burberry as a company made respectable headway, its stock has been a persistent underperformer within the luxury goods sector.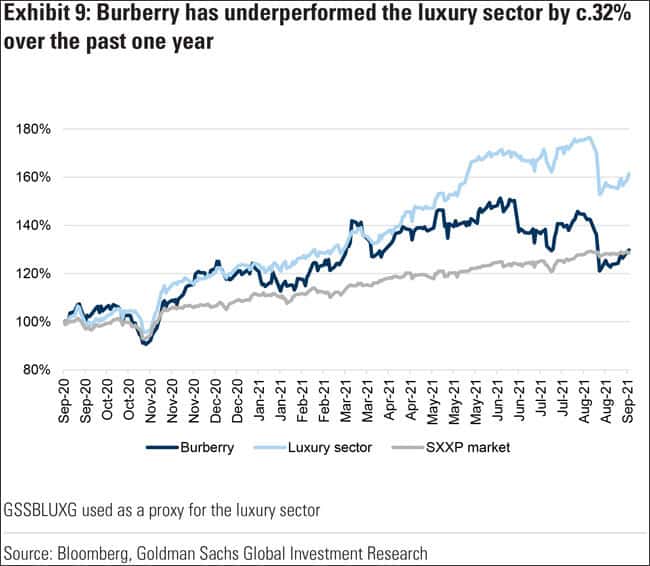 In June 2021, the company took a further hit to its market cap. Gobetti announced his surprise resignation, motivated by a desire to spend more time in his native Italy. The day following his resignation, Burberry lost nearly GBP 1bn in value. The stock has been drifting lower ever since, with the company's market cap shrunk to just GBP 7.4bn.
Will the lower stock price attract a bidder, and how much of a premium could investors expect?
Why a bidder is likely to strike soon
Burberry is currently lacking strong leadership, and its stock is weak at a time when other players are going from strength to strength.
With a market cap of around USD 10bn, the company would be a target within reach not just for mega-corporations like LVMH and Kering, but also for other emerging players in this sector. Spurred on by the success of the two market leaders, other investors have started to pour funds into creating luxury brand conglomerates (see also "5 Chinese Companies Making Major Investments in European Luxury Fashion Brands").
While Italian and French heritage brands may be more established globally, British brands have always had a particular appeal to investors. They are usually suitable for a global roll-out, and score high on history and story-telling potential.
Burberry is not the only luxury fashion house in the UK. However, can you name a more prevalent British fashion brand? Also, by embracing all things British, the company has already shown that it can turn its British origin into a valuable differentiator. It's a model that works, and which primarily needs scaling up and further fine-tuning.
Italian and French luxury brands will always command higher multiples, but Burberry has become unusually cheap even when factoring in the difference in prestige. The company is currently valued at ≈12 times estimated 2022 EV/EBIT, compared to ≈20 for the rest of the sector. As the following chart shows, the stock is trading at a stark discount.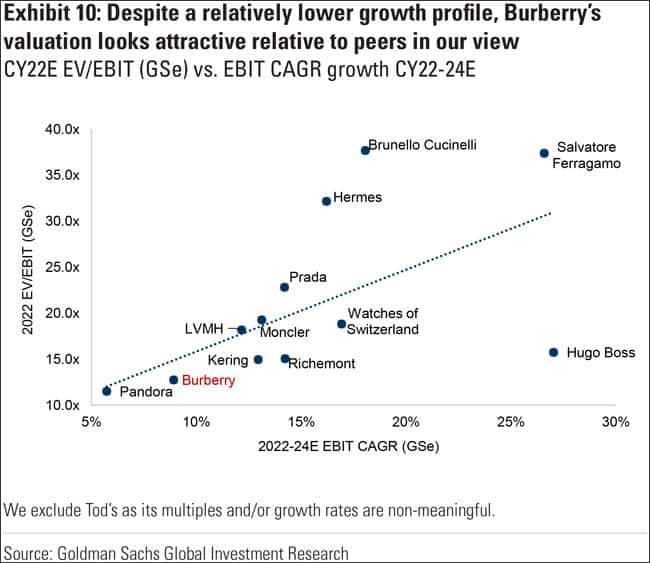 The company has multiple short-term challenges to overcome, such as its retail sales performance recently lagging those of its luxury peers and margin pressure requiring a cost-cutting plan. However, luxury brands such as Burberry can only ever be acquired during a period of weakness.
Rumours circulating in the luxury goods industry right now have it that the days of Burberry as an independent company are counted.
Indeed, the current constellation is ideal for potential bidders:
Burberry's CEO is leaving at year-end 2021, and the board has disappointed the market by not having a convincing succession plan in place.
The company's stock price is weak and the stock's valuation is low compared to its peers.
Burberry shareholders are particularly frustrated because the stock prices of other luxury goods companies have recently reached new record highs.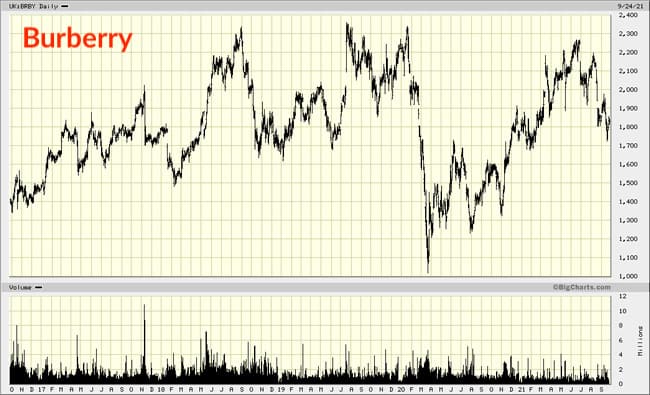 The opportunity to take over Burberry is time-limited, because this period of weakness will come to an end at some point. A new CEO will take up the post, the cost-cutting measures will pay off, and the stock will start to recover as a result. There may be surprises along the way. Burberry is nearly debt-free (excluding leases) and has almost GBP 1bn of net cash in reserve. It could fairly easily buy back as much as 5% of its outstanding stock, which could have significant impact on its stock price.
Others have already started to latch onto this bargain opportunity. In a 9 September 2021 research report, Goldman Sachs assigned Burberry an "attractive risk/reward ratio":
"Bull scenario implies 54% upside to 3000 pence/share; Bear 18% downside to 1600 pence/share. In the event Burberry can deliver consistent mid-to-high single digit sales growth, we believe this could drive material shareholder value given the scope for positive operational gearing, future earnings power and cash generation."
Any potential bidder would want to get in before Burberry has a chance to regroup its leadership and stage a recovery. In other words, a bidder would have to get going right about now.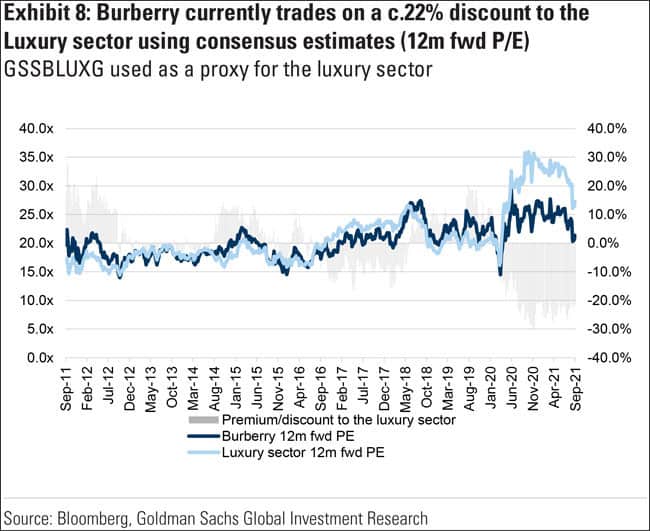 In its most recent annual report, Burberry listed just three disclosed shareholders. Three institutional investors own stakes of >5%, and taken together less than 17%. The remaining shares are widely held, and no founder family stands in the way either.
Combine the company's current position, the takeover mania in the UK, and the fact that an increasing number of investors are looking to deploy funds in the luxury brand sector – it's a takeover offer waiting to happen with a high likelihood.
To succeed, a bid would probably have to be at least ≈30% higher than the current level – and could reach higher if a bidding war broke out. For someone looking for a UK bid target where a buyer could strike within the next six months, Burberry is worth considering.
Worst case, if no bid arrived, both the company and the stock would likely stage a recovery next year because other measures have started to take hold.
As Goldman Sachs put it: "an attractive risk/reward ratio".
Own another piece of luxury…
... with my upcoming 2022 Special Edition!
No checkered pattern involved this time but Russian reindeer leather from 1786.
An ultra-rare, valuable material that my first book will be bound in - a real treasure and piece of history.
Watch me reveal it all!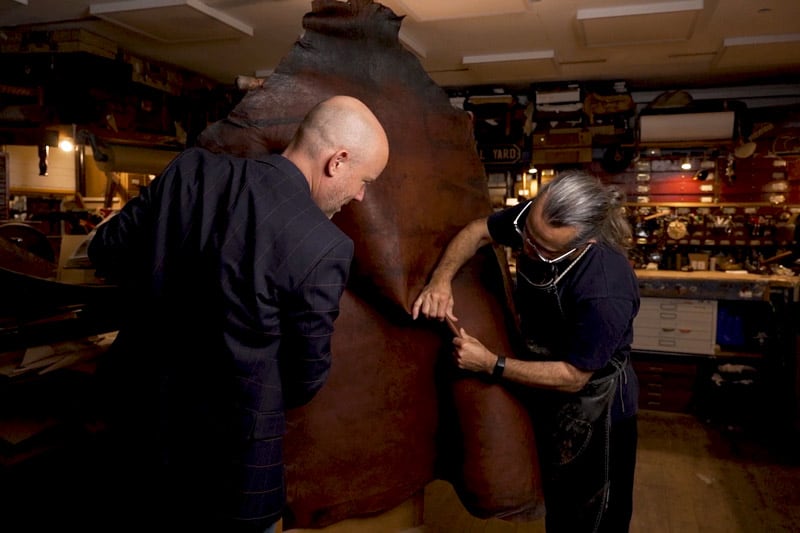 Own another piece of luxury…
... with my upcoming 2022 Special Edition!
No checkered pattern involved this time but Russian reindeer leather from 1786.
An ultra-rare, valuable material that my first book will be bound in - a real treasure and piece of history.
Watch me reveal it all!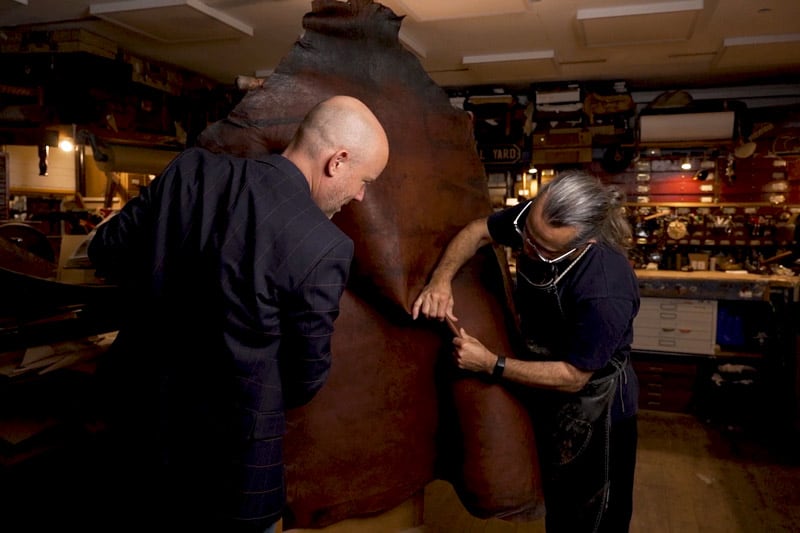 Print this article
Did you find this article useful and enjoyable? If you want to read my next articles right when they come out, please sign up to my email list.
Share this post: