Blogs to watch (part 22): Asian Century Stocks
One of the (few) regrets of my investment career is not to have spent more time early on researching stocks in Asia.
Missing out on all the money that has been made in Asia is all the more painful considering I've had it all on my radar:
I travelled to Hong Kong when it was still British.
I helped set up an investment fund for Macau as early as 2006.
I always had friends in the industry who operated from Asia.
Even so, I've never made a concerted, systematic effort to scope out the region for promising stocks.
Luckily, it's not too late. As the world's largest continent, Asia is home to over half of the world's population, and many of its economies (and companies) offer tremendous growth prospects.
And there's a blog to help you comb through them all, too: Asian Century Stocks has really fired up my enthusiasm for learning more about Asia's markets and stocks.
Here are five reasons why I've become a fan.
FREE eBook: The world's best investing blogs
What are the best blogs to help you become a better investor and improve your returns?
Check out "The world's best investing blogs" for my very own top 30.
1. Deep dives on companies that I know nothing about
One of the most difficult challenges for private investors is to take entirely new companies onto their radar:
It's difficult to get access to research reports published by investment banks.
Newspaper reports tend to be too short to really give you an idea of a company.
Reading up on corporate websites takes up a lot of your time.
This is why I appreciate websites that publish deep dives of companies. Given how much the world economy has grown over the past two decades, there are now thousands of companies that are worth knowing about but which I have no clue about.
Asian Century Stocks does what it says on the tin. It looks at those companies (and stocks) that are going to write the narrative of Asia's promising 21st century, such as:
TravelSky
Jardine Cycle & Carriage
Okamoto
A2 Milk Company
Bloomberry Resorts
QAF
En-Japan
United Plantations
BAT Malaysia
Genki Sushi
Delfi, Sarnio
Ichigo Hotel REIT Investment Corporation
Malaysia Airport Holdings
SBS Transit
Yantai Changyu
Koshidaka
Weibo
CNOOC
SATS
Major Cineplex Group
Haier Smart Home
Haw Par
Asian Century Stocks also provides a number of thematic stories, such as:
Mass-market clothing stocks
Mapping the Asian tobacco industry (one of my favourites!)
The A/H-share discount trade
The listed toll road universe
Condom manufacturing in Asia
Mapping Asia's casino industry
The website's author, a Singapore-based equity analyst, aims to deliver ≈20 such stock ideas each year, usually presented in the form of 30-50 slides each. All stocks are value-oriented, with clear near-term catalysts.
Frankly, if this hasn't whetted your appetite yet, I don't know what else to tell you!
2. Free weekly newsletter
"Blogs to watch" primarily highlights websites that are free to read. Where there is a subscription fee, I focus on those sites that are really affordable.
Asian Century Stocks strays from this course. The company deep dives cost USD 30 a month or USD 360 per year, which makes this blog the most expensive one that I'm subscribed to.
Why do I recommend it regardless?
Simple: Asian Century Stocks has one free product, and it's one that I eagerly await and thoroughly enjoy every week.
Each Monday morning, Asian Century Stocks sends out "Monday morning links", a nicely-formatted, compact email newsletter comprising links to:
Selected news about the region, to provide you with overall context.
Analysis of Asian stocks published elsewhere (including links to free reports).
Podcasts and long-form articles relevant to the overall theme.
Asian Century Stocks follows many sources that I wouldn't normally follow myself. This email alone is already worth a lot if you want to stay up-to-date on what is going on in Asian equity markets.
And it's free!
3. Chart of the week
Someone who focusses on one region will come across many statistics every week. When someone like that picks ONE interesting chart each week, it's bound to be a good one.
Asian Century Stocks' free "Monday morning links" always concludes with a chart of the week.
Check out this one about property prices in Asia. Insane! Who knew?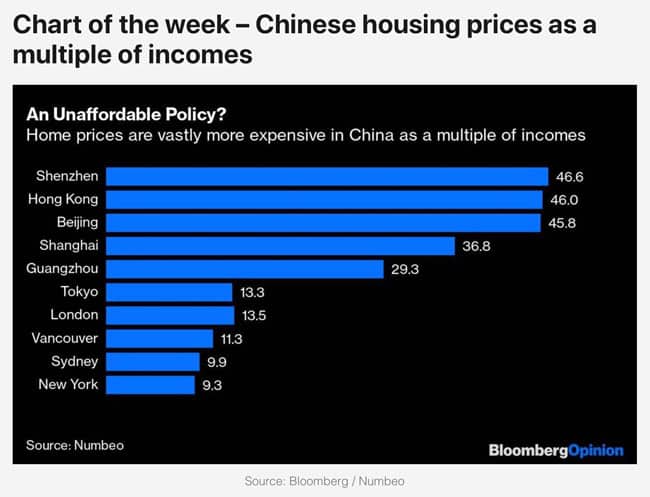 4. Reader involvement
Asian Century Stocks actively involves its readers in the choice of subjects it discusses - something that it does better than myself!
Readers can pose questions or suggest stocks, and the results are then published on the website. In recent times, this approach resulted in additional deep dives about Sony, Tencent, and Nintendo.
5. A full-time author
Asian Century Stocks' author, Michael Fritzell, is a former equity analyst and co-portfolio manager. A Swedish national, Michael lives in Singapore and Asian Century Stocks is his only job.
In other words, you get someone to work for you full-time - and it really shows in the overall quality of the website.
Multiple ways to try out the product
Asian Century Stocks was launched a little over a year ago, in August 2020. It currently has 133 paying subscribers.
I bet that if you email the author, you'll still get a personal reply. Signing up to new blogs can be all the more fun, because you can more easily engage with the author.
You can make a first step by:
If you do choose to try out Asian Century Stocks' paid-for service, there is a 30-day free trial. Careful, this is what got me hooked! (No regrets, though - to learn about Asia's markets and stocks, Asian Century Stocks is the best resource I can think of right now.)
Blog series: Blogs to watch
There's more to "Blogs to watch" than this Weekly Dispatch. Check out my other articles of this 30-part blog series.
Print this article
Did you find this article useful and enjoyable? If you want to read my next articles right when they come out, please sign up to my email list.
Share this post:

A breakout for the "secret" tech company from Israel
The market has finally woken up to one of Israel's hidden gems: the electronic payment provider that I alerted my Lifetime Members to in March.
The stock hit its all-time high this week, and it has even further to run.
If you haven't checked it out yet, now would probably be a good time. (NB: you can trade this stock with a global broker such as Interactive Brokers.)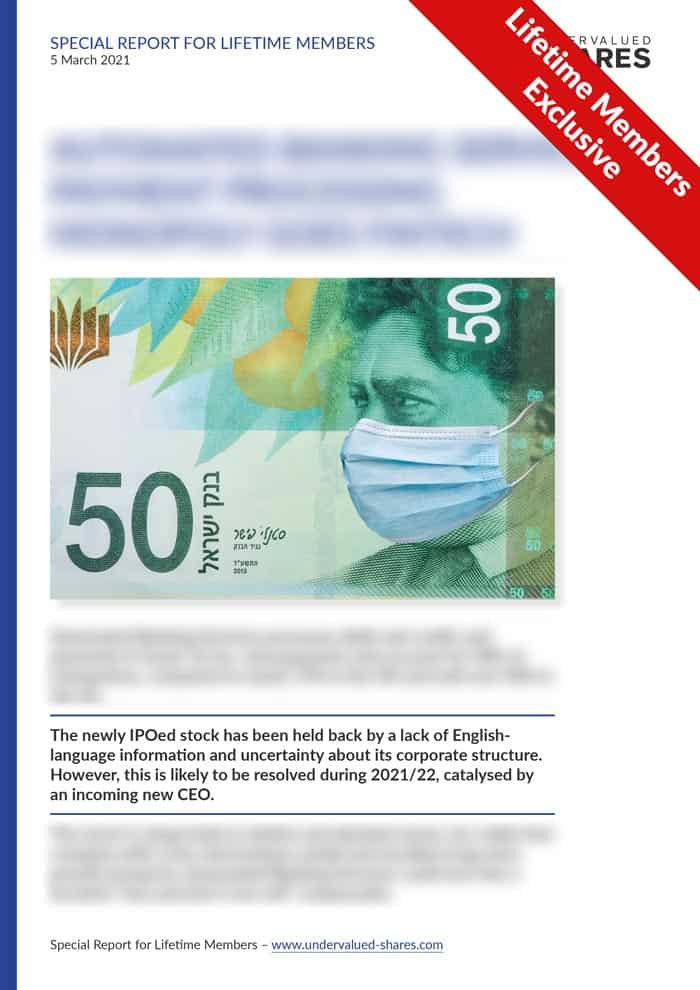 A breakout for the "secret" tech company from Israel
The market has finally woken up to one of Israel's hidden gems: the electronic payment provider that I alerted my Lifetime Members to in March.
The stock hit its all-time high this week, and it has even further to run.
If you haven't checked it out yet, now would probably be a good time. (NB: you can trade this stock with a global broker such as Interactive Brokers.)