Victoria's Angels are back – a turnaround for Victoria's Secret?
Image by FashionStock.com / Shutterstock.com
Since its IPO in July 2021, the stock of Victoria's Secret has lost 78% of its value.
It's an extraordinary drop in value for a company that still dominates its sector. In the US, Victoria's Secret has a 25% market share for lingerie, well over double the market share of the next largest contenders, Hanes (11%) and Aerie (9%).
Market share didn't protect Victoria's Secret from public scandals and corporate missteps. The company even had to cancel its legendary annual fashion show starring the "Victoria's Angels", an event that previously had been watched by hundreds of millions worldwide.
On 26 September 2023, Victoria's Secret Fashion Show will return.
Is now the right time to follow this company more closely?
The company that defined "sexy"
Victoria's Secret is one of those companies that almost everyone is aware of, but few would know its history.
The company's name is based around Queen Victoria I, who had lived from 1837 to 1901. It's a reference to the refinement of the Victorian era, when a "secret" was hidden underneath the clothes.
The company's founder, Roy Raymond, had an embarrassing experience trying to buy lingerie for his wife in the US of the 1970s. He subsequently opened a store where men would be comfortable to shop for intimates for their wives and girlfriends. For those who'd rather order from the anonymity of their own home, he launched a mail-order catalogue.
Raymond took Victoria's Secret to expand to five stores and a flourishing mail-order operation, but then decided to cash out. He sold the company to Les Wexner, a clothing retail entrepreneur from Ohio. Wexner paid Raymond USD 1m, which proved one of the best investments of the past few decades.
Victoria's Secret transformed from a burlesque brand to one that combined glamour, sexiness, and a hint of European-type luxury. The rebranded catalogue and stores presented lingerie as romantic and sensual but also tasteful. Models wearing the products were shot in ladylike poses against elegant backgrounds.
All of it proved a hit with consumers. Victoria's Secret became one of the world's fastest-growing mail-order operations, and it took Wexner all but five years to expand from 5 to 100 stores across the US. Rightly or wrongly, Victoria's Secret turned into a phenomenon that helped shape society's view of female sexuality and beauty ideals.
By the mid-2000s, the company opened its 1,000th store, capturing one-third of the entire intimate apparel market in the US. Along the way, it also launched the infamous Victoria's Secret Fashion Show, a mix of a runway show and pole dance, further propped up by the presence of A-list entertainers.
The show's models – dubbed Victoria's Angels – became a global phenomenon in their own right. As supermodel Heidi Klum once admitted, she became a global household name in no small part through her role as one of the Angels.
Wexner's stake in Victoria's Secret, originally purchased for a mere USD 1m, had made him a billionaire.
However, following its rise to dizzying heights, the company experienced a fairly severe downfall of late.
Victoria's Secret got caught up in just about every scandal and controversy that made headlines in the world of fashion and showbiz. Harvey Weinstein, Jeffrey Epstein, #MeToo – Victoria's Secret was usually involved somehow. New, polarising trends and movements such as body positivity also proved a challenge for a company that famously only stocked a limited range of sizes because it promoted skinny as sexy.
All of this played out in full view of the investing public.
Spin-off and IPO
Victoria's Secret used to be part of Wexner's L Brands Group, where it was managed alongside operations such as Bath & Body Works and Abercrombie & Fitch.
Following a major drop in sales caused by the pandemic, L Brands tried to sell its lingerie subsidiary, but the offers received fell short of expectations. Wexner felt it would be best to separate Victoria's Secret from the group's other operations, and the company went public as an independent business. As a separately listed company, it was supposed to be transparent and accountable.
Shares were sold at USD 57 and quickly reached USD 75. Given the brand's global reputation, investors initially flocked to the newly listed stock. They expected that the company would come roaring back once the world opened up again following the end of lockdowns, and with the various scandals all firmly in the rear mirror.
It proved a costly misjudgment. Anyone who invested in Victoria's Secret following its IPO will now be down massively. 2023 was a particularly dreadful year for shareholders, with the stock falling from USD 45 in January 2023 to now just USD 17.
What led to the massive loss of investor interest?
There doesn't seem to be a singular reason but an entire mixture of adverse developments:
Victoria's Secret and its other brands not hitting the zeitgeist anymore, with many younger female consumers feeling the brand was married to values that had been defined by what men want.
Macroeconomic headwinds and US consumers feeling the pinch.
The market for intimates and women's apparel in the US growing at a comparatively paltry rate of 2% p.a.
Investors realising that a company that already controls 25% of a market probably only has so much further to grow.
Pressure on margins, in no small part from online-only competitors.
Interestingly, even during its initial hype, Victoria's Secret never traded for particularly high multiples. Since it became public in 2021, the company's price/earnings ratio has always been below 10. Many of its peers have been trading at significantly higher multiples.
Clearly, the market simply never viewed Victoria's Secret as a dynamic company, or maybe it applied a valuation discount because of the controversies and scandals.
Could it all change again, though? After all, even Victoria's Secret has lived through some laggard periods and scandals, only to subsequently come back stronger.
Efforts to make the brand "in" again
Following its entanglement in just about every possible controversy, Victoria's Secret cancelled its fashion show in 2019.
Instead of scantily-clad supermodels with angel wings, the company introduced its "VS Collective", a mixture of traditional models, activists, celebrities, and influencers. This was an effort to replace women famous for their proportions with women famous for their achievements. As the New York Times put it at the time, the introduction of the VS Collective was "an effort to redefine not just itself but also the very idea of what 'sexy' is". The new troupe of brand ambassadors included an inclusivity advocate, a size 14 woman, and a transgender model.
Was it a hit with consumers?
Barely so.
The underlying problem was pretty basic: multiple other brands already cater to consumers who care about body positivity and transgenderism. These brands had such themes from the outset, and as a result, are authentic in what they represent.
Victoria's Secret's DNA and brand heritage, on the other hand, originally had an entirely different set of values. The company was adamantly against themes such as body positivity until a drop in sales forced it to experiment with them. Consumers can smell such opportunistic behaviour from a mile, and they don't like it. Victoria's Secret only changed its marketing slogan for a lingerie collection from "The perfect body" to "A body for every body" when it came under activist pressure. Such decisions simply didn't convince anyone. After spending not just years but decades being all about exclusivity rather than inclusivity, the sudden change simply wasn't credible.
Where should the company go from here?
Clearly, trying to be all things to all people hasn't worked these past few years. Common sense dictates that trying more of the same is unlikely to lead to a dramatic change in fortune.
Victoria's Secret seems stuck, unless something truly dramatic changes.
That's why I paid notice when I spotted a headline about the upcoming relaunch of the Victoria's Secret Fashion Show on 26 September 2023.
Will the company return to its roots? Could a revival of the Victoria's Secret Fashion Show be the first step towards a proper turnaround?
In any case, for anyone following this stock, the upcoming show is an event worth taking note of.
The return of the Angels
Victoria's Secret Fashion Show will air on Amazon Prime on 26 September 2023. "The Victoria's Secret World Tour" will be more of a 1.5h documentary, but some media outlets already had a preview of a 12-minute trailer.
Their verdicts are mixed, at best.
The trailer plays to some of the themes of the old fashion shows, but also tries to cater to themes such as diversity and inclusivity. As Victoria's Secret described it: "We haven't forgotten our past, but we're also speaking to the present."
According to preview articles published by the likes of The New York Times, Vogue and The Cut, it doesn't seem like the show's relaunch will be an earth-shattering success. It's more likely for the public to conclude that it's just another effort to be all things to all women.
As Vogue concluded:
"The 12-minute clip of the film balanced stories of the global artists and artisans with typical Victoria's Secret bravado. It reflected the company's mission to champion diversity and authenticity rather than the glamour and artifice with which it was once synonymous."
In other words, it's not a real change of direction for Victoria's Secret, but more of the same of what it had already tried over the past few years.
How likely is that to succeed?
A lower forecast from UBS
Following a disappointing Q2/2023, the market seems to be getting used to the idea that Victoria's Secret is unable to break out of its current situation and caught in gradual erosion. Current revenue forecasts for the coming years barely even keep up with inflation. While in 2022, the company had made net profits of USD 646m, this figure is likely to fall to USD 416m in 2023. Come 2024, and Victoria's Secret will probably only make USD 148m.
Source: UBS, 31 August 2023 (click on image to enlarge)
Looking at its chart and deteriorating fundamentals, who would be surprised to see the stock heading lower still?
UBS Evidence Lab has run an extensive analysis, which does not make for pretty reading. In its downside scenario, UBS believes that Victoria's Secret could even hit 2% annual revenue shrinkage combined with a drop in operating margin. As a result, the stock price could fall as low as USD 2, which would be down another 90% from the current level.
"Go woke, go broke" has been a slogan of late. It's a politically charged expression, and experience shows that it's not right to tar all companies with the same brush. For some of the newer competitors of Victoria's Secret, catering to the woke crowd has been a boon.
In the case of Victoria's Angels, however, it does appear that catering to trends and values that are not inherent to the brand (or even diametrically opposed to it) does not lead to a good outcome. So far, investors are down 78% since the peak. What's more, it does not look like the relaunch of the fashion show will generate anywhere near its previous hype and attention. It'll be neither fish nor fowl.
With that in mind, I'd stay well clear of Victoria's Secret for now. That's true for the stock, but also for the upcoming fashion show.
Introducing: bid target with 40% upside
Interested in a takeover target from Switzerland?
The company in my latest research report has come into the crosshairs of one of the best activist investors in Europe.
I expect a bid to come in at least 40% above the current share price over the next 3-12 months – a "quick flip" situation.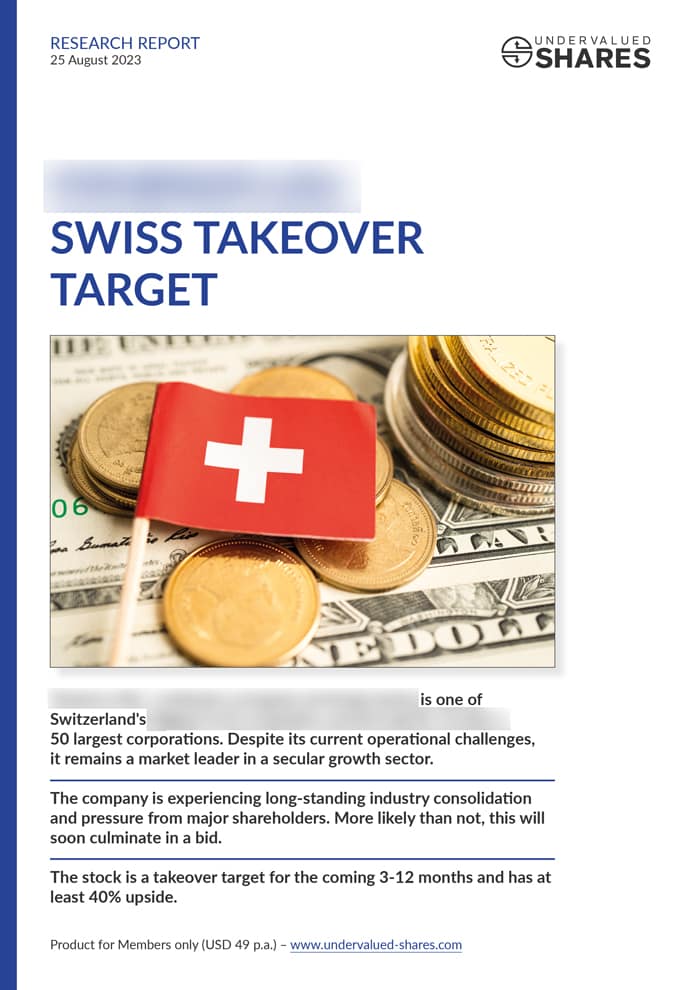 Introducing: bid target with 40% upside
Interested in a takeover target from Switzerland?
The company in my latest research report has come into the crosshairs of one of the best activist investors in Europe.
I expect a bid to come in at least 40% above the current share price over the next 3-12 months – a "quick flip" situation.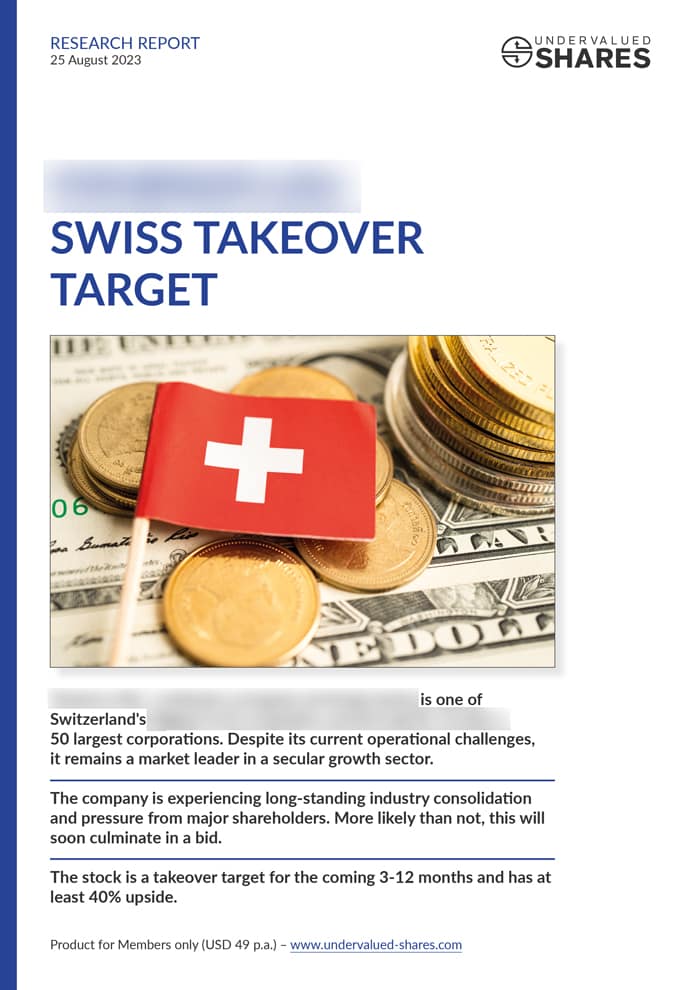 Print this article
Did you find this article useful and enjoyable? If you want to read my next articles right when they come out, please sign up to my email list.
Share this post: