Woulda, coulda, shoulda – is Naked Wines a buy even after its 13% jump?
All of us have experienced that feeling of "I've missed it": after watching a stock for a while and considering to invest, it makes a leap before we got around to buying it.
"Damn, that one got away", is what you will conclude before moving on to other investment opportunities.
You could have had such a feeling about:
Berkshire Hathaway at USD 50,000 in 1998 (now USD 436,000).
Apple at USD 20 in 2012 (now USD 152).
Netflix at USD 60 in 2016 (now US 700).
All of these stocks had made huge, quick gains at the time. You might be among those investors who didn't buy back then because they felt that they had missed the boat. How wrong!
Quite often, a stock making a huge one-day gain is a sign that you should jump in – rather than write it off as something you've missed out on. If the long-term prospects are there, it's better to buy into something that has already started to move.
Is Naked Wines (ISIN GB00B021F836) another such case?
The stock was up 35% in New York's relatively illiquid trading last night, and closed the day in London today with a gain of 13%. It also got featured on CNBC. You could say that the secret is out.
I certainly kicked myself last night for not having acted fast enough. I had planned to feature Naked Wines in an extensive research report for my Members, and wasn't all that happy to see how hot the stock had become overnight.
Here is what you need to know about one of the best-performing stocks of this week.
A platform for those who love wine and bargains
Naked Wines is an online wine retailer. Its business model is based on offering customers a unique deal that has proven extremely popular.
Customers, so-called "Angels", enter a subscription agreement to pay a monthly fixed amount, which starts at around GBP 20 (USD 30). Naked Wines uses this monthly income to sign exclusive agreements with independent winemakers from around the world. These winemakers don't have the staff or capital needed to run global marketing campaigns, which is what Naked Wines effectively runs on their behalf.
Independent winemakers can access the company's subscriber base to sell large quantities of wine without marketing costs.
Naked Wines, in turn, offers its customers unbeatably good prices because it purchases wine in bulk. That's besides offering access to interesting winemakers that customers would never have found themselves.
Add to this a strong social network element. "Angels" are encouraged to post reviews of their purchased wines, and to interact with other wine lovers.
With these and other clever features, Naked Wines had quickly penetrated the UK market. Even though it was only set up in 2008, the company managed to stage a reverse takeover of Majestic Wine in 2015, one of the UK's leading high street wine retailers up to that point. Following its merger with Majestic Wine, Naked Wines sold and renamed the company, and thus ensured its own stock market listing through the back door.
The company currently has 886,000 active customers, and sells 1,500 different wines from 235 independent winemakers hailing from 17 countries. Its website features a staggering 30m reviews, showing just what a dedicated audience the company has managed to build. Over the years, the client base has internationalised, with customers now split between the US (48%), the UK (39%), and Australia (13%).
During the pandemic, the stock of Naked Wines - like most other e-tailers - proved a hit. It surpassed 800 pence in April 2021, compared with around 200 pence before the pandemic started. People who were stuck at home had ample time to surf the web and purchase wine.
Most recently, the stock had fallen back to around 650 pence.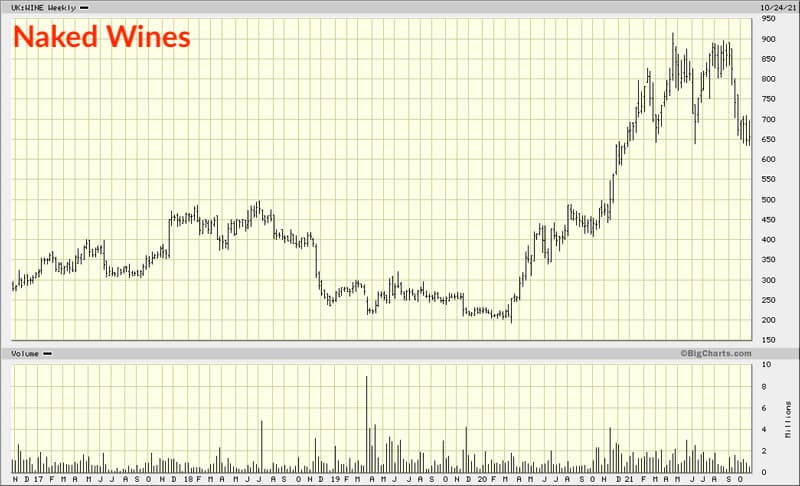 A great find at a high-calibre investor conference
I did hear about Naked Wines in early October, when Simon Caufield, a private, highly-experienced investor from the UK, introduced the company at the Cyprus Value Investor Conference.
The invite-only annual event is organised by the Cyprus-based fund manager, Sophocles Sophocleus, and involves two days of presentations of undervalued stock ideas, and lots of informal banter between likeminded investors.
Needless to say, I was delighted when I got an invite. This is the sort of event that I love attending to help source new investment ideas for you.
As Simon put it during his 15-minute pitch, the stock of Naked Wines was likely to benefit from three factors:
A unique, low-cost business model.
A long runway, with fast and profitable growth.
A cheap stock price.
Naked Wines customers get to buy wines at a 50% lower price of comparable wines sold elsewhere. This claim has been disputed occasionally, and it's true that price comparisons for wines are an inherently difficult, flawed proposition. However, the company's success is strong evidence that consumers believe they are getting a better deal than elsewhere.
Using digital marketing campaigns, Naked Wines signs up customers at such low acquisition costs that they quickly become profitable for the company. As such, it pays for Naked Wines to plough as much cash into acquiring new customers as possible.
Its subscription-based model gives Naked Wines a steady, predictable cash flow. As a company that doesn't produce wine itself but provides an online platform for independent winemakers, it's an asset-light operation.
Naked Wines doesn't show a profit yet - which is primarily because it reinvests the profits generated from existing "Angels" into acquiring yet more customers. Under accounting rules, these investments have to be expensed. Therefore, Naked Wines reports no statutory profits even though at its core it's highly profitable.
It's a neat company with huge potential for growth. In the US alone, the company's addressable market is 20-50 times larger than its current revenue. More and more consumers enjoy taking a closer interest in wine, and the social element of the platform as well as the attractive pricing should keep the cost for acquiring more customers low.
During the past four years, Naked Wines has grown at a compound annual rate of 19%. It's realistic to expect that it will continue to grow at about 20% p.a., potentially with a one-off year of a lower rate once the pandemic-induced boom is over.
To get a handle on the stock's valuation, it's best to compare its enterprise value to its sales. Compared to many of its peers, Naked Wines stock looked heavily undervalued when Simon made his presentation in Cyprus:
Another way to value the company would be to make assumptions about its profitability if it stopped growing its customer base (but kept replacing customer churn). In such a steady scenario, Naked Wines would be trading at about 13-14 times its enterprise value based on today's stock price.
That's before the company has focussed on generating more revenue out of its existing customers. Wine lovers gravitate towards more expensive wines once they become more knowledgeable, and Naked Wines shouldn't find it too difficult to upsell a decent percentage of its "Angels" to more expensive subscription packages eventually. Owning such a database of subscription-based clients and tens of millions of reviews is akin to a valuable data treasure. Over the coming years, Naked Wines should be able to exploit its database to further improve the efficiency of its marketing and to increase margins.
Without a doubt, for a profitable growth opportunity like Naked Wines, the stock price is cheap.
That's the conclusion someone else recently came to.
Naked Wines at yet another high-calibre investor conference
Naked Wines also just made it into the Sohn Conference in San Francisco, an event which calls the world's most successful investors to give presentations.
As Glen Kacher, founder and Chief Investment Officer of fund management firm Light Street Capital, put it in his analysis of Naked Wines, the stock has the potential to quadruple. In a subsequent interview with CNBC, Kacher said: "We think this stock's a four bagger in four and a half years and much better than a 10 bagger over 10 years."
Kacher says his fund had purchased a 9.9% stake in the company.
"It's really similar to the evolution that we saw with Netflix... They've got a huge head start in really building moats around this business."
With such an enthusiastic and serious endorsement, retail investors in the US went on a stampede. Not realising that the US stock market listing of Naked Wines is a relatively illiquid market, they bid up the stock like there was no tomorrow. At one point, it was trading up 177% (!) in a single day. It later finished the day up 35%. The intraday chart of yesterday's trading in the US is a sight to behold (and a sign why you should always use limit orders).
London is the more liquid market for Naked Wines stock, and it was only natural that the stock wouldn't gain quite as much during the following trading day in London. At the close of Friday, the London price was up 13%.
The valuation of Naked Wines hasn't changed that much yet. Anyone taking a longer-term perspective will find this investment about as interesting as it would have been at the slightly lower price a few weeks ago. If anything, the investment thesis has become even stronger through the endorsement of someone like Kacher putting down serious money to buy a 9.9% stake in the GBP 490m (USD 660m) company.
For now, I have put the idea of writing an in-depth research report about Naked Wines aside.
Why?
Undervalued-Shares.com endeavours to deliver you investment ideas that you couldn't find anywhere else.
Nakes Wines is no longer an exclusive investment idea, though:
Speaking as a publisher, I did miss the "exclusive reporting" boat.
The underlying investment case, however, is a different matter altogether.
Naked Wines does seem to stand a good chance of becoming the "Netflix of wine", and the stock does not yet reflect the company's long-term growth potential.
With an outspoken US investor onboard and a growing customer base in the US, it's probably just a matter of time before the company shifts its primary listing to the US. Experience shows that US investors pay higher valuation multiples for growth stocks than anyone else. A US listing is just one of several potential catalysts that could lead to another leap for the stock.
I may yet write more extensively about Naked Wines, but for now, I'm going to wait and see if we get lucky enough to see another dip in share price for reasons unrelated to the company.
As your world-travelling investment sleuth, you can count on me to continue to turn up in the right places to collect intel on your behalf. I may not always be able to write reports fast enough to beat the competition, but I'll give it my best!
Investing in Russia for massive profits
Russia's stock market offers some of the highest dividend yields in the world. Which stocks are worth a closer look? What other extraordinary opportunities exist in countries that you never would have considered?
In my hour-long chat with fellow contrarian investor Mikkel Thorup (Expat Money Show), we look at the importance of investing overseas - and why being called a "weirdo" is actually not too bad after all.
There's a podcast for those who prefer to just listen in, and a video if you'd like to see us in person!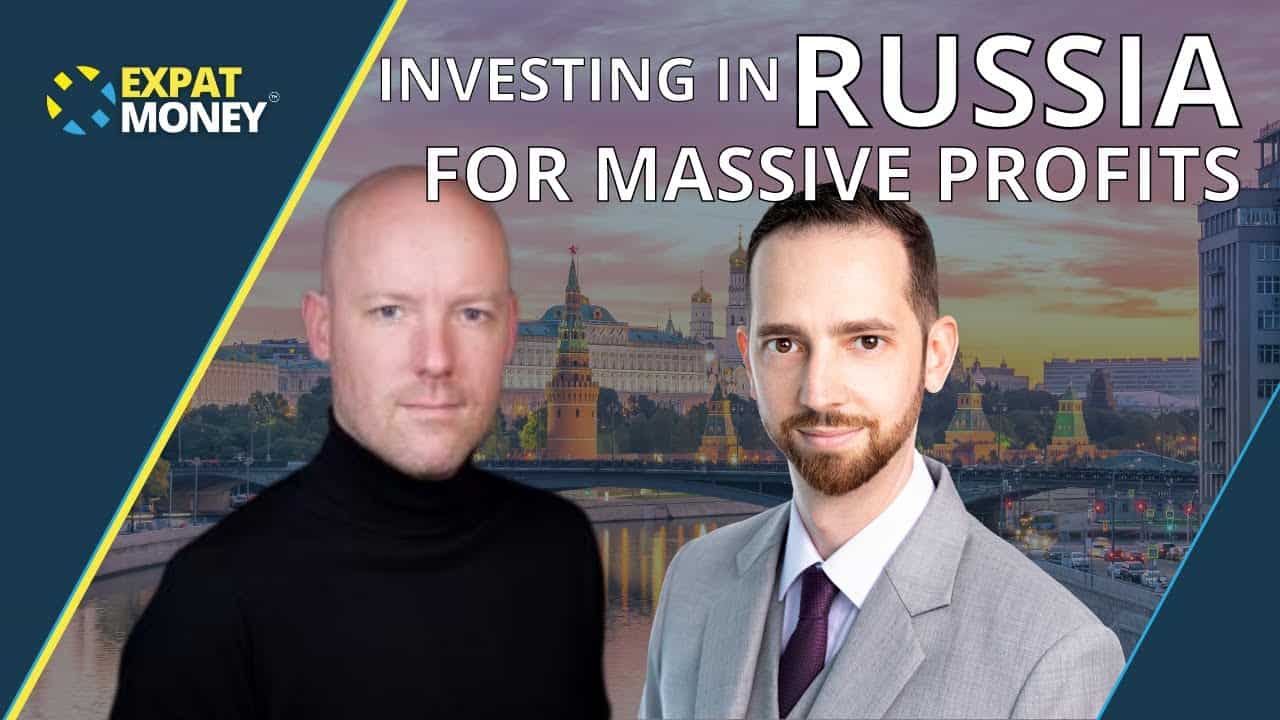 Investing in Russia for massive profits
Russia's stock market offers some of the highest dividend yields in the world. Which stocks are worth a closer look? What other extraordinary opportunities exist in countries that you never would have considered?
In my hour-long chat with fellow contrarian investor Mikkel Thorup (Expat Money Show), we look at the importance of investing overseas - and why being called a "weirdo" is actually not too bad after all.
There's a podcast for those who prefer to just listen in, and a video if you'd like to see us in person!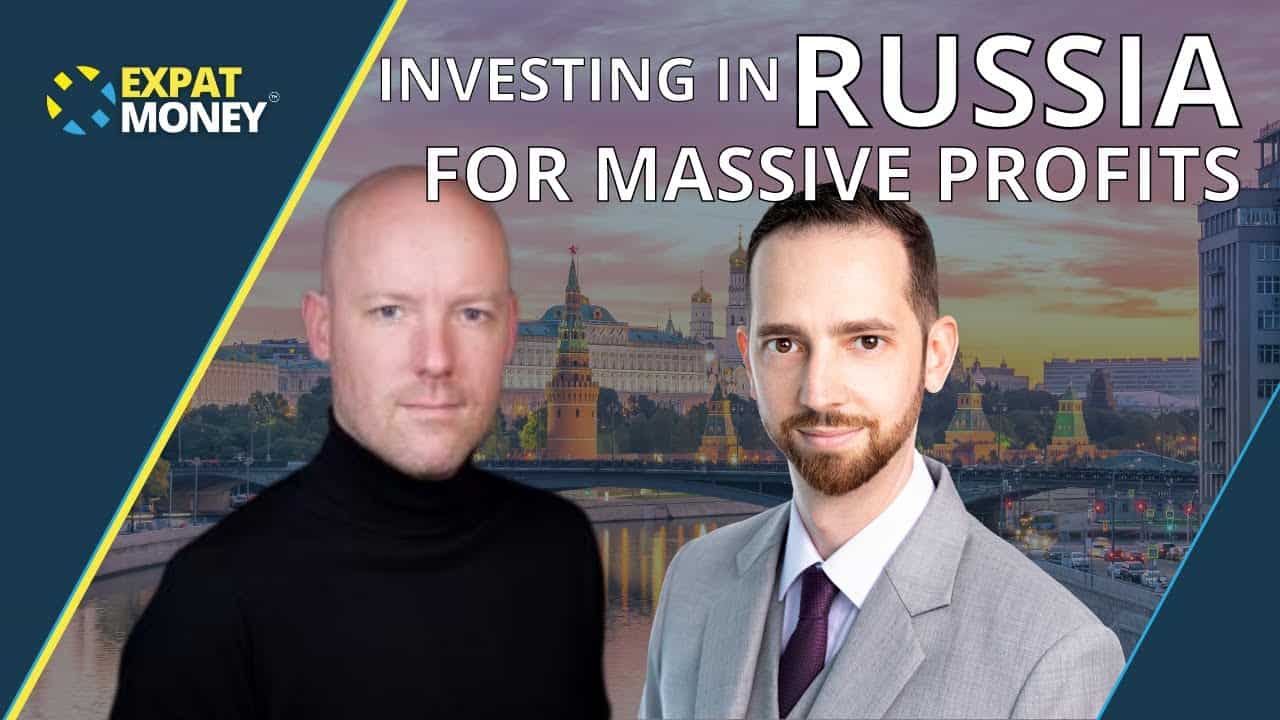 Print this article
Did you find this article useful and enjoyable? If you want to read my next articles right when they come out, please sign up to my email list.
Share this post: