The art and science of reading "Signals"
Over the next three years alone, our world will create more new data than during the entire human history.
The flood of data is making it evermore challenging to keep up with developments – particularly for us investors. After all, we are supposed to understand where existing industries are moving and which new industries are emerging. However, no one can keep on top of everything by themselves. Today's fast-moving trends require help from people who are good at explaining the world without taking up too much of your precious time.
Which is why earlier this year, I backed a crowdfunding campaign for a new book: "Signals – Charting the New Direction of the Global Economy".
Its authors wanted to distil mountains of data about the world's most important industries and markets. The results were then going to be used to produce an informative, easy-to-comprehend set of infographics about the world. The ultimate aim was to show the important trends driving the world economy, and where they will probably lead over the next decade or so.
Having just received the hardcopy book, I felt many of you would enjoy it as much as I did.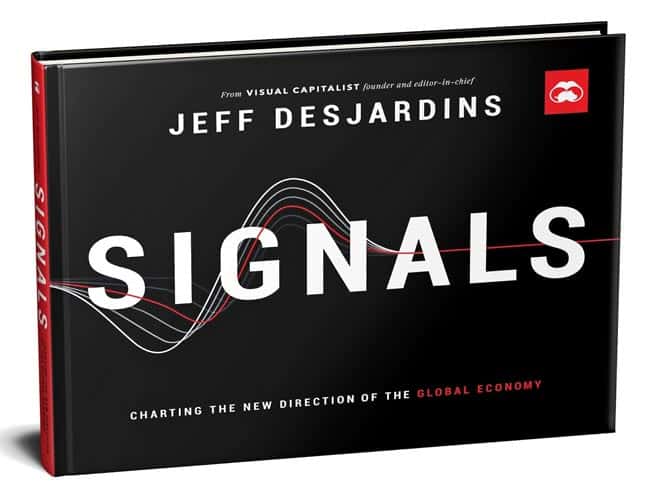 The latest product from "Visual Capitalist"
Visual Capitalist has become such a viral success in recent years that it barely needs an introduction anymore.
Its Canada-based team has eked out a lucrative niche in online publishing. They collect vast amounts of data about topics such as financial markets, technology, energy, and the global economy. To help their followers (hundreds of thousands across their own channels alone) understand the bigger picture, they create "data-driven visuals" – beautiful infographics that explain, at a glance, what's going on.
Their service has become a synthesiser that enables people to put together the right information at the right time and to think critically about it.
Does that sound relevant for your investing?
Exactly. That's why I backed their latest ambitious project - together with 1,292 others. In total, we've contributed USD 120,000.
Much as I love digital content, there is nothing quite like a hardcopy book that you can flick through and let your thoughts wander. Even more so when it's focussed on finding and explaining the most important trends currently shaping our world.
Enter "Signals".
What to expect from Signals
The crowdfunding campaign promised a book that would highlight "27 distinct signals that can help in piecing together the future direction of the economy, society, and markets".
Each "signal" would be supported with the following:
A graphical road map to explain the origin of the story.

A data-driven dashboard that highlights the most pertinent and relevant data.

Supporting charts and data visualizations to show its impact on the global economy.
At the time, the team didn't disclose which subjects they would deal with. Defining what deserved to get into the book – and what didn't – was part of the exercise. Needless to say, the book's creation at the time of a global pandemic added yet another angle to the research work.
I can now reveal the 27 chosen subjects to be:
Society and demographics

Aging world
Urban evolution
Rising middle-class
Decentralisation of media
Rising wealth inequality
Environment

Climate pressure
Water scarcity
Electrification of everything
Digital world

Information overload
Data as a moat
Cyber's Wild West
Technological innovation

Accelerating technology
The 5G revolution
The new space race
CRISPR: Gene editing at scale
Money and markets

Indebted world
Falling interest rates
Central bank impotence
Stock market concentration
Dwindling corporate longevity
Sustainable investing
Consumer behaviour

Frictionless retail
The rise of meatless meat
Connected health
Geopolitical landscape

Bipolar world
Peak globalisation
Splinternet
How is that for a tour de force of relevant trends?
While many of the subjects are well-known and have been established for a long time, others aren't. CRISPR, anyone?
Signals summarises how our world is likely going to change over the next decade - which ties in nicely with the research and writing I do on behalf of my readers.
It even makes for a good coffee table book (it has actually replaced my previous one, an interior design book). Whenever I get a quiet moment in front of the fireplace (rare as that is right now), I like to pick out one of the infographics and then do a bit of further research on it. As a self-declared nerd, I also appreciate the extensive bibliography at the end of the book (though because it's mostly based on links, you need to get the softcopy to make proper use of it).
Why doesn't the finance industry see more such cool products?
There is a real opportunity waiting for bloggers and other independent content creators in the finance industry. More of them should ask their followers to actively participate in backing specific products, and use crowdfunding to create something extraordinary. Money and investing still need to become accessible, and making it a bit more fun wouldn't go amiss either.
You can count on me to look out for similar products, and feature them on my website when I find something worthwhile. Just like Visual Capitalist, I will be sure to filter out the best for you.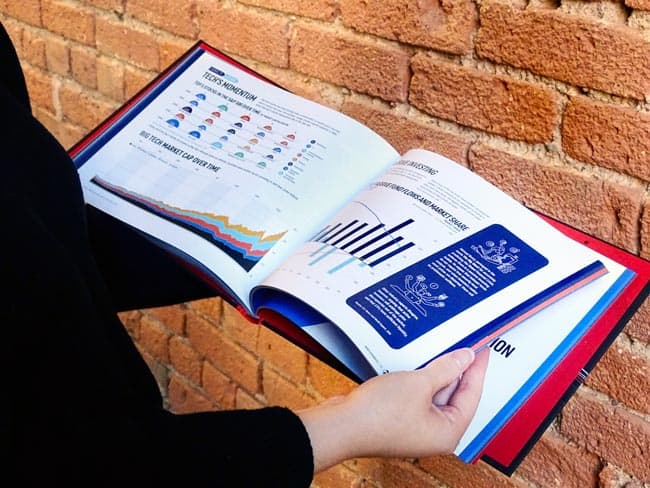 Would you like a copy of Signals?
I don't get paid for this recommendation. I even paid for my own review copy!
Two weeks after Signals was delivered to its backers, I still haven't found a single review on the web. Maybe because it's difficult to review, given the density and broad scope of the content, or maybe because other authors are just plain envious.
In any case, if you are looking to educate yourself about what's happening in the world, Signals could be a good one to read over the coming holidays.
If you are a large corporation, you can even bulk-buy and get the Visual Capitalist team to give a presentation to your staff. How is that for an astute strategy in engaging a website's audience?
Credit where credit is due – Visual Capitalist has pulled off another good one.
For more information and to order:
Hardcopy: USD 29.90 plus shipping and handling
Softcopy: USD 9.95
Print this article
Did you find this article useful and enjoyable? If you want to read my next articles right when they come out, please sign up to my email list.
Share this post:

Who in their right mind would touch Twitter right now?
I would!
I've dug deep into the ugly duckling of the world's publicly-listed social networks. There is plenty going on behind the scenes, and Twitter could indeed become a high-growth story once again (in fact, as soon as 2021!).
How come?
Find out in my latest research report - now available for Undervalued-Shares.com Members.